With the recent addition of Mt. Fuji, Japan can now claim 17 UNESCO World Heritage sites. The thirteen cultural and four natural locations that comprise the list represent an impressive set of historical and scientific significance.
When you combine Japan's reverence for tradition with the nation's masses of travel aficionados, it's no surprise that these sites are popular sightseeing destinations, particularly during the numerous three-day weekends that pepper the work calendar here. Even better, several of these World Heritage sites are found in areas with breathtaking scenery, adding a bit of romance and making them the perfect retreat for high-minded couples, who in a recent survey selected the top 10 World Heritage sites they'd like to visit with their dating partner or spouse.
9 (tie). Nikko – 8.7 percent
First up, 8.7 percent of survey respondents chose Nikko, a city two hours north of Tokyo, in the mountains of Tochigi Prefecture. Nikko's main attraction is the Tosho-gu Shrine, one of the town's many religious sites. Often cited as the region's most opulently designed shrine, Tosho-gu is dedicated to Tokugawa Ieyasu, founder of Japan's final shougunate which ruled Japan for three centuries.
Travelers also flock to Nikko in the fall to see the changing of the leaves, especially around its two famous waterfalls, Kegon no Taki and Ryuzu no Taki.
9. (tie) Himeji Castle – 3.3 percent
Hyogo Prefecture's Himeji Castle is easily visited as a day trip from Kobe, less than 40 minutes away by train. One of Japan's few remaining original fortresses, Himeji Castle was never besieged, and the resulting lack of battle damage has earned it the reputation as the country's finest example of authentic castle architecture. Unfortunately, its traditional construction necessitates periodic bouts of maintenance, during which large portions of the building are covered with tarps and scaffolding. The current round of renovations is scheduled to finish in 2015.
8. Shirakawa-go / Gokayama – 4 percent
Gifu Prefecture's Shirakawago and Toyama Prefecture's Gokayama villages are lumped together in UNESCO's certification, due to both being home to colletions of farmhouses built in the traditional gassho-zukuri style, several of which visitors can tour the interiors of. In contrast to compact modern Japanese living quarters, these were spacious homes in which extended family members often lived together. They included workspaces for repairing tools and, in some, cases, making gunpowder, for which the region was an early production center.
Gassho literally means "hands in prayer," and is a reference to the buildings' steeply slanted roofs, designed to prevent dangerous amounts of snow from accumulating and causing the structure to collapse. Fittingly, Shirakawa-go and Gokayama are popular winter destinations.
7. Mt. Fuji – 5 percent
Japan's most famous peak took the number seven spot, in all likelihood bolstered by its recent addition to the UNESCO club. The timing of the survey, conducted in August, may have also given Mt. Fuji a boost, coming during the peak summer climbing season when the maximum number of tourist facilities in the area are in operation. We'd recommend viewing the mountain and surrounding lakes from a spot similar to that pictured above, however, as up close the mountain itself is nowhere near as aesthetically pleasing.
6. Ryukyu Gusuku – 7.3 percent
Although currently a prefecture of Japan, the Okinawan Islands were, for several centuries, the independent Ryukyu Kingdom, with a unique seafaring culture with heavy trade and diplomatic ties to China as well as Japan.
Aside from the reconstructed Shuri Castle, visitors can tour the ruins of several gusuku,, distinct Ryukyu stone-walled fortresses, such as Naka-gusuku.
5. Ikutsushima Shrine – 8.7 percent
The tori gate and shrine buildings of Hiroshima Prefecture's Ikutsushima Island, more commonly known as Miyajima, remain among the most consistently iconic images of Japan. Like Nikko, visitors come in droves to see the autumn leaves turn colors, munch on the local specialty of maple leaf-shaped cakes, and pose for pictures with the dozens of tame deer which wander through the town's streets.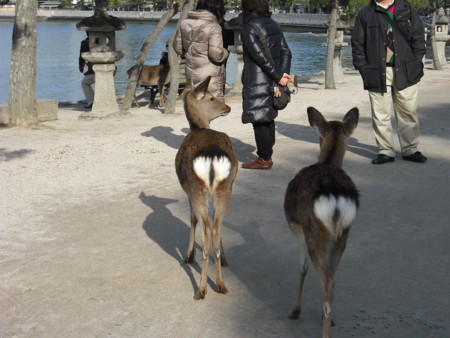 4. Shiretoko – 9.7 percent
The only entry from Japan's northernmost island of Hokkaido, Shiretoko, also designated as a national park, is an outdoor enthusiast's dream. The park is located on a peninsula jutting out from the eastern edge of the island, with its tip only accessible by boat or hiking trail. Shiretoko's attractiveness as a travel destination continues through the winter, when tourists in wetsuits show up to walk and wade among the chunks of ice floating in the sea.
3. Kyoto – 11.3 percent
The numerous World Heritage sites of Japan's old capital made the city the choice of 11.3 percent of respondents. Among the most-visited are Kiyomizu Temple, with an expansive veranda providing beautiful views of crimson leaves in autumn and cherry blossoms in spring, and Kinkakuji, also known as the Golden Pavillion.
2. Ogasawara Islands – 14.7 percent
Although 1,000 kilometers (620 miles) south of Japan's capital, these islands are jurisdictionally part of Tokyo. This can make for a tantalizing tease if you're a resident of the country's biggest city and glance at the mid-winter weather report only to see the balmy temperatures of the tropical Ogasawara Islands listed.
The islands' remote location makes them home to a number of unique flora and fauna. With no airport, boat is the only way to reach the 30-odd Ogasawara islands–only two of which, Chichijima ("Father Island") and Hahajima ("Mother Island"), are in habited.
1. Yakushima – 20 percent
The runaway favorite was Yakushima, an island located off the southern tip of Kagoshima Prefecture. Mountainous and frequently shrouded in mists, Yakushima's  most famous attraction is its millennia-old cedar known as the Jomonsugi.
If you're thinking the ethereal landscape of Yakushima looks more like something out of an anime than real life, you're not alone, as the island served as the inspiration for the forest scenes in director Hayao Miyazaki's 1997 hit The Princess Mononoke.
Of course, all of this greenery wouldn't be possible without a proportionately corresponding amount of precipitation, and you and your sweetheart should expect rain to be a possibility on just about any day you're on Yakushima.
Of course, if you really are meant for each other, getting caught in a shower together should just make everything even more romantic.
Source: Qzoo
Top image: Gambo
Insert images: Yahoo! Japan, Mapple, Himeji City, Kabegami, Yamanashi Kankou, Naha Machima, Nakagusuku-jo, Photozou, Hatena, Shiretoko National Park, FC2, Kyoto Tabiya, Kyoto Kanko, Nifty, OCN, WBF