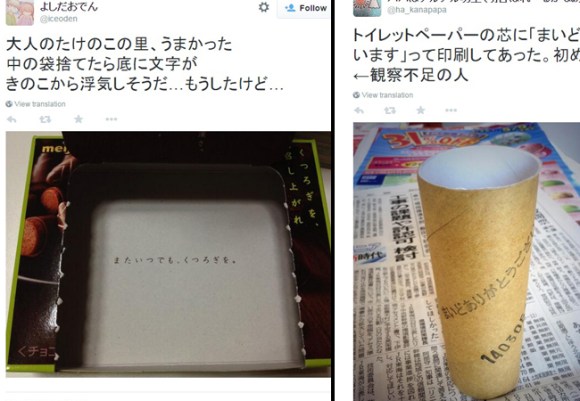 Enough has been said about the level of customer service found in Japan that its reputation pretty much speaks for itself. But did you know that even the packaging your food comes in contains a message of appreciation for the customer?
If not, you're not alone. In fact, many Japanese people might be surprised to find that their cartons of milk or box of chocolates contain hidden words of thanks, especially because these sentiments may not reveal themselves unless you eat everything or recycle the package properly.
■ Drinks
The advised method of recycling milk cartons in Japan involves washing it out first. Then you cut it into a single sheet and hang it to dry before recycling it. That's a huge pain in the butt, but for those willing to go the extra mile for the environment your milk carton rewards you with a simple but uplifting "Thank you for recycling."
▼ "I opened up the milk carton because it was empty and this thing was there. lol Thanks for recycling lol impressive."
牛乳がなくなったので牛乳パックを開けたら、なんとこんなことが書いてありました。笑

リサイクルありがとう。

感動した 笑 pic.twitter.com/qUvrFS92Ob

— なる (@masa_ars0708) February 23, 2013
▼ "My milk carton thanked me today. People who don't like soy milk, buy milk and let's recycle."
今日は牛乳パックくんに感謝されますたー 豆乳が苦手な人は牛乳買ってリサイクルしましょー pic.twitter.com/inl21bqaFu

— かおりってぃ@ナムジャララタック(/ _-) (@Caori_c2) February 7, 2014
As you might notice from the photos, the message is printed on the fold opposite of the side you open into a spout. This means you'll never notice it unless you break down the carton for recycling.
It's a good plan but clearly not foolproof.
▼ "I opened the milk from the other side. I was suckered in by the bold printing of 'Expiry Date' and underneath where it said 'Open Before.' Even before taking a sip the milk carton revealed a message: 'Thank you for recycling.' Surreal…"
https://twitter.com/katsuki9292/status/383215345227427842
Aside from milk, beverages sold in drinking boxes also have a hidden message if you fold them neatly before discarding. Two examples are Kagome's fruit and vegetable drinks and Kikkoman's flavored soy milks which goes an extra step and adds a little heart.
▼ "I was thanked for drinking my vegetable juice and folding the carton when throwing it away!"
https://twitter.com/chinana20/status/490639742719897600
▼ "Woah (*´∀`*) when I folded my soy milk pack… (*´∀`*) 'Thank you for folding♥' "
https://twitter.com/happa526/status/563721184328417281
■ Chocolates
Glico's Takenoko No Yama chocolates are also quite considerate. Upon opening the top flap of the box you're greeted with a welcoming: "Help yourself."
▼ "I opened this pack or Otona Takenoko No Sato and found some writing. It's not so important but I could really feel the commitment of the company."
https://twitter.com/shery1993/status/460318329341624322
Once the box is emptied you are given another message: "Any time you want to relax some more…"
▼ "I finished a box of Otona Takenoko No Sato and I noticed this written on the bottom before throwing it away. I do want to eat it again."
https://twitter.com/kakitsu_44/status/454614918621175809
■ Ramen
Sometimes businesses, although good-natured, can get a little too pushy with regards to their messages.
▼ "In my Tenkaippin bowl there was an invitation that read: 'We're looking forward to tomorrow too.' I may not refuse."
天下一品のどんぶりに「明日もお待ちしています」と誘われた。断れないかもしれない。 pic.twitter.com/UPLZvapHnw

— 古賀 稔久 (@toshikoga) February 28, 2013
■ Toilet Paper
Yes, even individual rolls of toilet paper in Japan contain a message of thanks. Actually I never noticed on mine because those last two pieces of paper always seem to be soldered on and impossible to remove without shredding to pieces so I just chuck it covered up.
▼ "'Thank you always' is printed on toilet paper rolls. I (observationally challenged person) just noticed."
トイレットペーパーの芯に「まいどありがとうございます」って印刷してあった。初めて気付いた。←観察不足の人 pic.twitter.com/amX7pcKakD

— 南斗!良いパパ拳 (@ha_kanapapa) April 26, 2014
■ Danone
Perhaps the most prolific message bearing packages come from yogurt maker Danone. The inside surface of their yogurt cup lids seem to contain every type of message from words of support to trivia.
▼ "I was encouraged by the back of my Danone lid. Okay, I'll go for…something."
ダノンのふたの裏に励まされた。うん、頑張る。(←何を) pic.twitter.com/xFTmr2u3ei

— やの._. (@kayanacs_9) December 22, 2013
▼ "This was written on the lid of my Danone yogurt lololol"
LID: "The scientific name for a gorilla is Gorilla gorilla."
ダノンのヨーグルト食べたら蓋の裏にこう書いてた笑笑 pic.twitter.com/Ua0vsOegyx

— カナオ シュンスケ (@KnoSjiu) March 2, 2014
▼ "I had apple and yogurt for breakfast, and I was inspired by the back of my Danone lid."
LID: "I hope you have a wonderful day!"
https://twitter.com/maikoooon/status/436638125746425856
In fact, the comments are so widespread that it would seem Danone Japan is having a tough time coming up with new ones. So, they're outsourcing online by letting anyone submit slogans such as the one below.
LID: "This part is the most delicious, right?! [by Konboi, Tokyo]"
ヨーグルト ダノンBIOの蓋裏コメントwwww

貴様!見ているな?(バーン!) pic.twitter.com/YWELUhJM2V

— ヒーリングっど♥ にょろり3 (@nyorori_3) August 20, 2014
If you'd like, you can visit the website (linked below) for Danone's Bio brand of yogurt to enter your caption. I'm not sure if there is a language requirement for comments, but you'll probably need an understanding of Japanese to navigate the site.
So the next time you pick up a box or carton of something, keep an eye out for hidden regards. Although these are all spotted in Japan the trend may be going on right under your nose in your own country too.
Source: Naver Matome (Japanese)
Top Image: Twitter 1, 2
Submit a caption for Bio yogurt lids (Japanese)