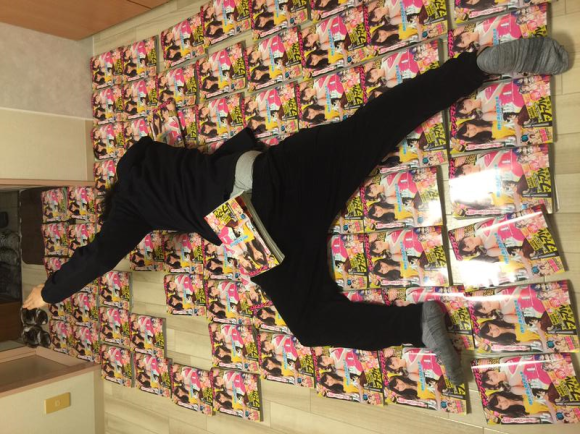 In recent years, the idol singer industry in Japan has put a lot of power in the hands of fans. Multi-vocalist units like AKB48 and its numerous tri-letter, dual-digit sister groups often hold "elections," in which votes are tallied to see which members will get the most prominent roles in upcoming music videos, live performances, and the like.
The idol world isn't a perfect democracy, though, in that concepts like universal suffrage and "one person, one vote" don't exist within it. Ballots are often packed inside CDs, DVDs, or other commercial goods, and the more you buy, the more you can vote, which is leading one dedicated fan to try to corner the market on manga anthologies.
For at least the last 20 years, weekly manga magazines and gurabia, Japan's corps of models who pose in swimwear and other revealing outfits, have enjoyed a comfortable alliance. Gurabia appear in the pages of most manga anthologies, and are often plastered on their covers with far more prominence than the serialized comics that are ostensibly the publications' main selling points.
Recently, Kodansha's weekly Young Magazine has been involved in a collaborative effort with the extended AKB48 idol-verse. The publisher selected a number of idols from AKB48, Osaka's NMB48, Nagoya's SKE48, and Fukuoka's HKT48, with the eventual goal of choosing one to appear in an exclusive gurabia photo shoot for the magazine. The list has now been whittled down to 20 contestants, and Shueisha is asking readers to make the next round of cuts by filling out a card included with new issues of Young Magazine.
Even though each volume is hundreds of pages long, weekly manga anthologies are printed with inexpensive materials, and an issue usually runs in the neighborhood of 500 yen (US$4.20). That affordable price point means that superfans like Twitter user Ryosuke@Boku Lager Man can afford to vote for their favorite idol multiple times.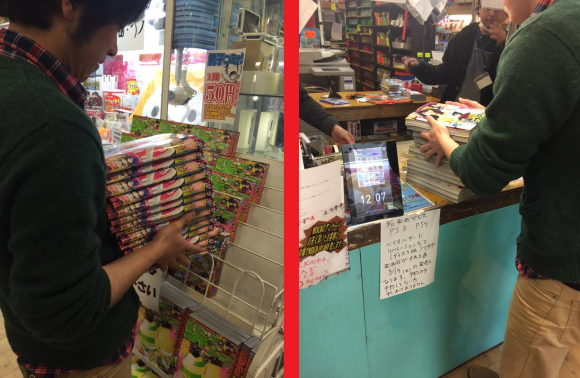 あやなんの為にヤンマガ購入の監督です👏 pic.twitter.com/k4ePqIYQH5

— りょ♡ ーすけ♡ (@miki140404) March 14, 2015
That's at least a dozen issues he's buying there, and possibly at two different locations, too. But while it's obvious he's doing this because he wants as many ballots as possible, it raises a storage question. It's one thing to buy every copy of a magazine off the rack at the convenience store, but unless you've got a similar set-up at home, where do you keep them?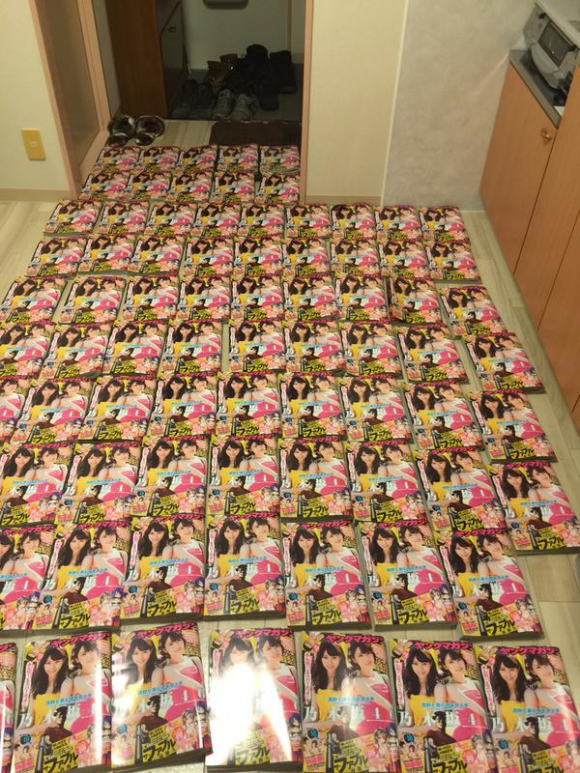 Oh, of course, on the floor. How silly of us to ask.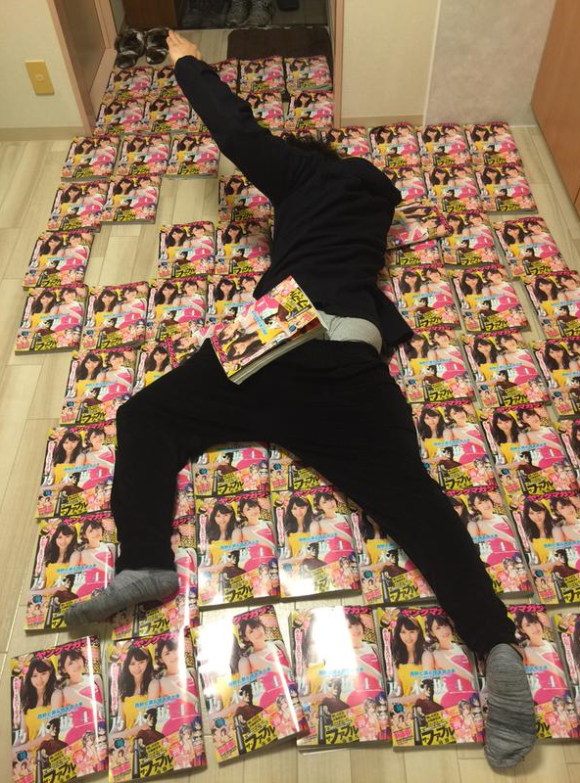 Fear not, in the above picture, it only looks like Ryosuke is humping his treasure trove of idol photos. As he explains in his tweet, he's actually swimming the crawl, inspired by the AKB48 hit Sayonara Crawl, in celebration of having just gotten over a cold.
風邪治ったのでヤンマガでさよならクロールしました👏 pic.twitter.com/OJiflwNtww

— りょ♡ ーすけ♡ (@miki140404) March 18, 2015
We're glad to hear that Ryosuke is once again of sound body. His mind, on the other hand…
Source: Livedoor
Top image: Twitter (edited by RocketNews24)
Insert images: Twitter (1, 2) (edited by RocketNews24)