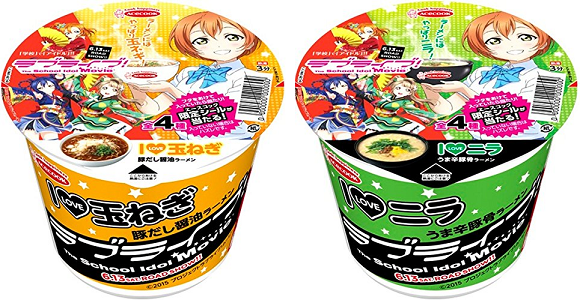 Idol anime Love Live! and instant noodles? We're not sure if that's exactly a match made in heaven, but we imagine there are plenty of fans ready to get their hands on these instant noodles, especially since snagging a box of the instant noodles gets you a limited edition clear file!
So, sensing that they were going to have a hit on their hands, the Akihabara branch of anime and manga merchandise store Animate initially decided to offer their truckload of instant noodles at the stroke of midnight. They were drumming up buzz on Twitter…until there was a last-minute change of plans!
Here's Animate's tweet announcing that the instant ramen noodles would be available at their store.
[tweet https://twitter.com/animateakiba/status/603844343200354305 align=center]
【Late night ramen! ↑↑】 We're taking orders for the praised Love Live! cup ramen! ☆There are two flavors with soy sauce and tonkotsu [pork stock]. If you buy a full box, you can get a special edition Love Live illustrated clear file (up to three boxes per customer)!
It doesn't matter how many clear files you're getting, we don't think anyone needs more than three boxes of instant noodles anyway!
The next tweet is Animate bragging about their massive truckload of instant noodles and announcing the midnight release.
[tweet https://twitter.com/animateakiba/status/604124275637813248 align=center]
【Please RT!】 We'll start selling the two types of Love Live! noodles, "I Love Onions" and "I Love Chives," from midnight to 1 a.m. on June 1st! For those of you wondering if we have enough, yes, we have enough.
At this point, we imagine fans of Love Live! and instant ramen alike were getting in afternoon naps so they'd be ready for the midnight sale…and maybe practicing their dance moves? We're not really sure how this all works…
But then a change of plans appeared!
[tweet https://twitter.com/animateakiba/status/604590056620195841 align=center]
【Apology】Announcing a change to the Love Live! cup ramen release time
Thank you for your continued patronage of Animate. We apologize sincerely for this change of plans.
Regarding the midnight release of the Love Live! cup ramen, we have determined that it would be difficult to guarantee the safety of our neighbors, so the release has been pushed back to 7 a.m.
We imagine a lot of fans were disappointed by the sudden change of plans. Especially since the tweet was sent out at 7 p.m. — just five hours before the release! How rude! And we can't really imagine midnight cup noodle buyers going insane and tearing down neighboring stores, so this just seems like a weird move to us.
However, some Internet commenters have wondered if the concern came from someone else. Maybe someone with a bit more authority.
▼ Hint, hint
[tweet https://twitter.com/_neoss/status/605689978354401281 align=center]
As one commenter wrote: "I wonder if they were told to change it by the police." Another commenter added, "There have been a ton patrols by the police in Akihabara lately."
On the other hand, some commenters thought the whole thing was kind of silly to begin with. "Deciding to sell such a large volume in the middle of the night? Are you stupid?!"
While we wouldn't call anyone stupid, it certainly isn't how we would normally go about selling instant noodles. But, then again, these aren't you normal cups of ramen!
▼ Love Live! "I Love Onions"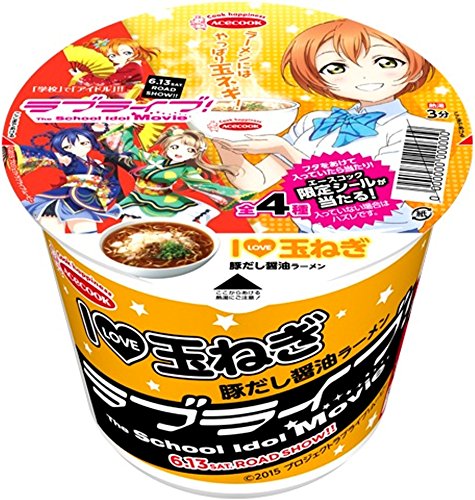 Amazon Japan
▼ Love Live! "I Love Chives"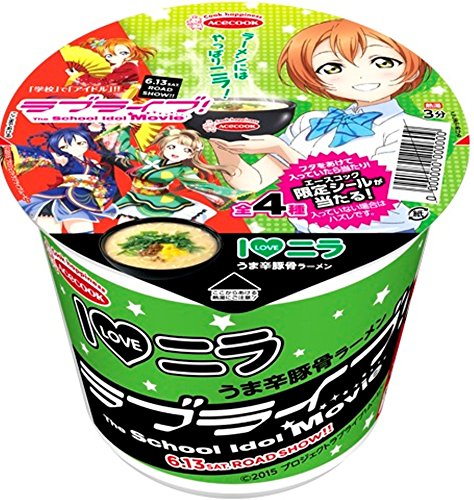 Amazon Japan
If you yourself would like to get a box of Love Live!-branded cup noodles, you can buy them on Amazon Japan! One box costs 2,592 yen (about US$20.80) and holds 12 cups. So, that's breakfast lunch, and dinner for at least four days! Not a bad deal, we'd say.
And in just a few weeks, you can see the Love Live! movie, which opens in Japan on June 13. Here's the movie trailer, in case you haven't seen it yet.
Hopefully the theaters will let you bring in your own food just this once so you can eat Love Live! noodles while watching the Love Live! movie and wearing your Love Live! jacket! Just watch out for crazy dudes with bottles of water.
Sources: Jin115, Amazon Japan
Images: Amazon Japan