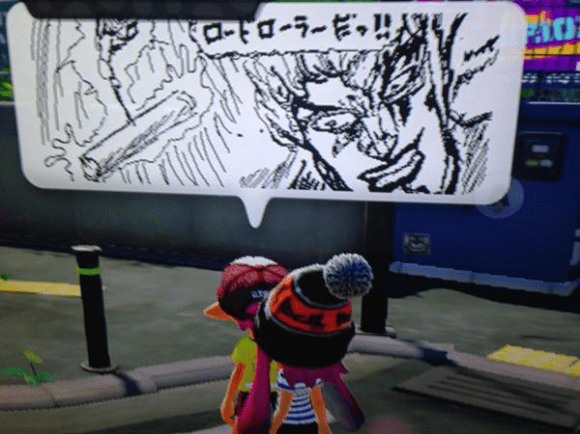 Released only a week ago, Nintendo's Wii U game Splatoon has definitely been leaving its mark. The hugely popular video game challenges players to a splatter turf war competition as they attempt to ink out their enemies paintball-style in a virtual world.
In a twist to the game's premise, Splatoon has been drawing a following on Twitter as creative users are turning the tables and posting sketches created inside the game.
With only the game's engine to create these illustrations, the drawings are limited to black and white sketches in a small rectangular box about the size of a cartoon speech bubble, but some are pretty impressive.
Check out the collection of drawings created from within Splatoon that has cropped up on Twitter:
黒星紅白さん。 #Splatoon #スプラトゥーン pic.twitter.com/ryauupT3W7

— 野村イクミ (@NOM193) June 2, 2015
https://twitter.com/tochishige/status/605745463917035522
The people who play Splatoon have really good taste and a sense of humour:
スプラトゥーンやる人センスありすぎ pic.twitter.com/6dCOQdmYXN

— zero_meronsoda (@zero_meronsoda) June 2, 2015
A tribute to hit anime Jojo's Bizarre Adventure's Dio-sama and his road roller:
https://twitter.com/1214te/status/605736126951780353
"What to draw next?" ponders one Splatoon-playing Twitter user:
次はどんな絵描こうかな #スプラトゥーン pic.twitter.com/E0D0l73uYX

— 036 (@kuuga_036) June 2, 2015
True story:
https://twitter.com/Dumoria67/status/606046843747704832
#splatoon pic.twitter.com/g6Xl94jmeS

— davidsolar (@davidsolar) June 3, 2015
あんざイカ先生 #スプラトゥーン pic.twitter.com/6u1GUGWV2H

— KsK (@KsK_studio) June 1, 2015
Like seriously! Ditto what he said.
How in seven hells are some people this good at drawing??? #Splatoon #Nintendo pic.twitter.com/10gH8h6ViK

— MMBA Benji (@Bentendo64_) May 31, 2015
It looks like the game is spawning talented cartoonists rather than Splatoonists.
What's your best drawing on Splatoon?
Source: Togetter
Top image: Twitter/@1214te