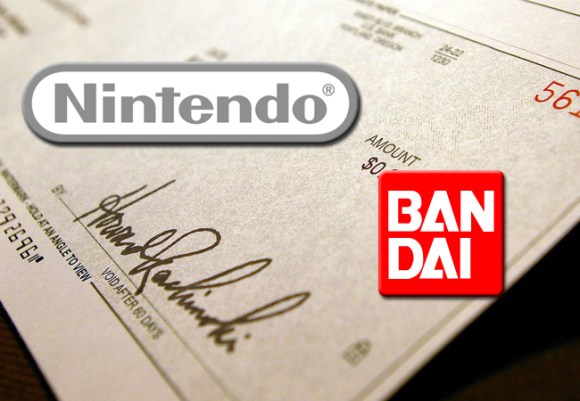 Nintendo and Bandai are two of Japan's biggest companies with the former really needing no introduction. Although Bandai (now under the auspices of Bandai Namco) is not quite the household name that Nintendo is, its name should be instantly recognizable to even modest video game and toy fans.
As such, you might expect these two organizations to be cold, merciless machines of corporate greed pursuing nothing but the fuel of money to continue their heartless existences…and you might be right. However, here is a small anecdote that says different in a classy chance exchange between these two titans of toys.
The story was tweeted after being pulled from what appears to be an unnamed newspaper article discussing business philosophy and etiquette in general.
"When Nintendo unknowingly infringed on Bandai's copyright, Nintendo's [then] president Mr. Yamauchi sent them a blank check with the note reading 'Our mistake.' Bandai sent the check back with '0 yen' written on it. Business is a relationship of trust between people."
https://twitter.com/ExposedCranium/status/607508786475958272
Aw see, who says a story about intellectual property rights can't make you feel all warm inside. Even if the cockles of your heart weren't warmed a little, you can still see how injecting a little more trust and goodwill into business matters may help everyone in the end.
Online commenters were impressed by the respect the companies showed for one another.
"If that's true it's great!"
"Bandai was good back then…"
"( ´ ▽ ` )つ[¥∞-]"
"That's neat."
"Those were the days."
Taking things further, I suppose Nintendo could have sent the check back again with a one and bunch of zeroes written in before Bandai's zero with a note that said "no really, we insist." And then, Bandai could have somehow morphed the one into another zero with a similar colored pen and sent it back again…
Source: Twitter (Japanese)
Top Image: Wikipedia – Bandai, Trisreed, Michael Kooiman (Edited by RocketNews24)