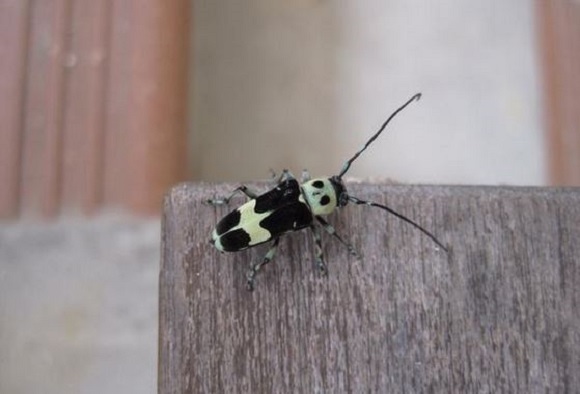 Late last month, Hiroshima City's Asa Zoological Park shared a tweet displaying a picture of a beetle that has a unique black-and-white design on its back. Japanese net users have been getting a kick out of the little guy, who, according to some of them, has been described as being decorated like a panda!
The insect in question is a small, 10-20 millimeter (0.39-0.79 inch)-long species of longhorn beetle known as ramie-kamikiri (ラミーカミキリ) in Japanese (scientific name: Paraglenea fortunei). It gets its name from ramie, a type of flowering nettle found in Eastern Asia, on which the beetle can often be found. Though indigenous to Mainland Southeast Asia, China, and Taiwan, the species can now be found in parts of Western Japan, as far east as Shizuoka and Kanagawa Prefectures.
Here's the original tweet posted by Asa Zoo in Hiroshima describing its panda-like appearance:
ある職員が「パンダおったよ」と言うので、「え、レッサーですか??」と聞いたところ、まさかの昆虫でした。ラミーカミキリと言うそうです。確かにパンダが直立しているように見えますね! pic.twitter.com/rbrkC5m7zQ

— 広島市安佐動物公園【公式】 (@asa_zoo) May 24, 2015
"One of our staff members said, 'Hey, there's a panda here,' so I asked, 'You mean a red panda??' not expecting him to say that he was talking about an insect. It's apparently called a ramie-kamikiri. It definitely looks like there's an upright panda on its back!"
To add to this humorous exchange, it's worth noting that the beetle wasn't even an escapee from any exhibit at the zoo–it was just a wild insect that happened to be hanging out in the zoo grounds.
Not all Japanese net users seemed to immediately spot the panda on the beetle's back. Here's what the beetle reminded some other people of:
▼ This person seems to think that ramie-kamikiri looks like a robot wearing a vest.
回転・拡大してみました。ねっ ベストを着たロボットに見えませんか? #ラミーカミキリ (名前は朝、教わりました) pic.twitter.com/OgxObVP1Ws

— 矢沢曖( 夏至 乃東枯 6/21 - 6/25 ) (@yazawaai52th) May 26, 2015
▼ This Twitter user is reminded of a tuxedo-wearing Gachapin.
タキシードを着たガチャピン(  ̄▽ ̄)でおなじみ、ラミーカミキリ。 pic.twitter.com/GFL56tTvla

— くさびらじかる (@myco_radical) May 15, 2015
 ▼ This net user says that he sees a middle-aged man wearing a tuxedo and sunglasses.
今日の一枚、ラミーカミキリ。横浜市内にて。道端や空き地に生えるカラムシという植物につく外来種。「礼服をきたガチャピン」とも例えられます。僕にはサングラスとタキシードを身に着け、ピシッと背筋を伸ばしたオジサンが見えます… pic.twitter.com/ircMgzujpa

— 尾園 暁 (@PhotomboOzono) May 30, 2015
What's your own personal interpretation of the design on the back of the ramie-kamikiri beetle? Use your imagination!
Source: ITmedia Inc.
Top image: Twitter/@asa_zoo