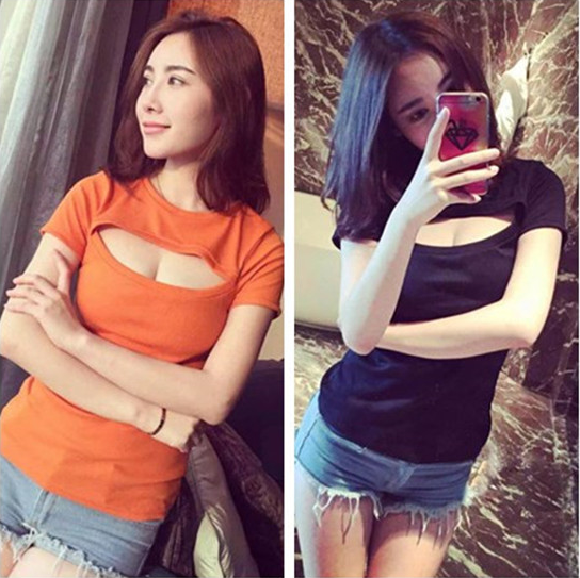 Summer is in full swing, which means it's time to put away your overcoat, scarf, and gloves. Oh, and also your boob turtleneck sweater that kept you warm above the neck, and considerably more exposed below it, during the cold winter months.
But if you're still in the mood to give the gift of an extra-large helping of cleavage to passersby, fear not, as Japan now has a warm-weather option in the form of the summery short-sleeved boob T-shirt.
Online retailer Mountain-Hop has recently started offering this daring top through Rakuten. It's as appropriate for those who don't find a regular T-shirt revealing enough as it is for those who, deep down inside, would like to wear a halter top, but are worried about sunburning the top of their shoulders and/or collarbone.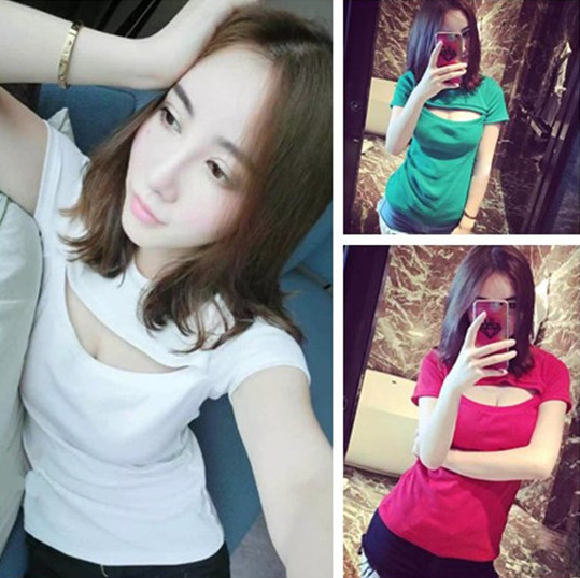 Officially called the "open at the chest short-sleeve" (mune hiraki hansode in Japanese), the shirt comes in your choice of white, black, orange, green, or red. Made of a cotton/polyester mix, Mountain-Hop describes it as "A wonderful fashion item with a sexy design." The company also boasts that each shirt is "a new item that hasn't been previously worn," which frankly does more to worry us than put our minds at ease, given that's usually something we'd assume should go without saying.
Mountain-Hop also cautions customers that the shirt should not be machine-washed, no doubt to keep the chest window from tearing or stretching which would provide even more of an eyeful than intended. If that sounds like too much trouble, there are alternatives in breast-themed T-shirts, but if the pictures here have you ready and willing to do the wash by hand, the open at the chest short-sleeve can be ordered here for 3,013 yen (US$24).