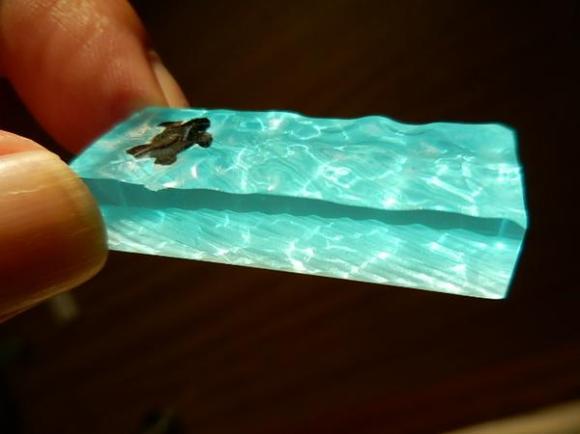 We've seen some amazing things Japanese artists have created out of resin before, but the one problem with them is just that: they're too amazing. They're all miniature masterpieces that you'd be too scared to touch, much less carry around with you.
But now artist and Twitter user @tokibo has come up with a solution: creating beautiful, realistic resin replicas of the ocean that you can put in your pocket to feel like you're at the beach anytime you want. Skeptical? Take a look at some of the pictures; if they don't make you feel like you're in an underwater paradise, then your (unspent) money back!
Here's the tweet that @tokibo sent out that has thousands of netizens swooning online:
▼ "These are resin pendants that have captured the feeling of the ocean. I'm making them to sell at flea markets. The light bending and ripples are supposed to be like a timewarp, bringing back your own memories of the beach. Take a quick trip down memory lane with one of these."
(Click photos to enlarge.)
海の雰囲気をギュッと詰め込んだレジン製ペンダント フリマ参加めざして製作中です。光芒と水紋を眺めながら 思い出の海へタイムワープ。時空を旅するアイテムのひとつに加えていただきたいです。 pic.twitter.com/7EYAyBjoun

— 時 (@tokibo) July 17, 2015
If you haven't clicked on the larger versions of the pictures yet, you really need to. The pendants are so realistic they make it look like you're holding an actual piece of the clear blue ocean in your hand.
Japanese Twitter users have of course fallen in love with the pendants by the thousands online, with cries of "I want one!" and "Where can I get one?!" being posted faster than @tokibo can handle them.
Unfortunately right now they're planning on selling them only at flea markets and not online, so if you've been entranced and want one of your own then you're going to have to head to Osaka and do some searching.
In the meantime, here are some more photos of the gorgeous sea pendants, to help soften (or worsen?) the pain of not being able to get your own:
▼ They come in a variety of colors, each one with its own unique, hand-crafted ripple-patterns.
水紋と光芒のレジン 陽光に誘われて撮影。まったく同じ模様になるのがいやなので 波紋と砂紋を少しずつ変えて作ってます。 pic.twitter.com/xEQqvtc8eE

— 時 (@tokibo) July 11, 2015
▼ "Ew, turtle! We told you not to do that in the water anymore…."
ちっちゃいこ頃 あこがれた ジュースの海。思う存分 潜ってます。 pic.twitter.com/I4CSjVkMyH

— 時 (@tokibo) July 11, 2015
▼ Pick a color based on how you remember the oceans from your childhood looking.
太陽が顔を出したので 昨日作った光芒とカメさんのレジンを撮影。良となったのは 左の青ひとつ。 pic.twitter.com/dDQAt6dfWU

— 時 (@tokibo) July 10, 2015
▼ Some "defective" ones, which still look absolutely gorgeous.
不良品になると カメさんごめんなさい みたいな感じになる。これまでレジン工作してて初めての モヤモヤした不思議な感覚。とりあえず甲羅干しさせたいただきました。 pic.twitter.com/gkOY59IsY8

— 時 (@tokibo) July 9, 2015
▼ All wrapped up and ready not to be sold online! :(
ようやく みっつ できました。 pic.twitter.com/teCX3Ywm63

— 時 (@tokibo) July 1, 2015
▼ A darker blue with the sun shining through, just like you're snorkeling in tropical water.
ようやく陽がさしてきましたので、水紋と光芒を観賞。軟らかく揺らぐ光のカーテン いい感じです。 pic.twitter.com/HZ4mOLieDR

— 時 (@tokibo) June 20, 2015
▼ And I feel like I'm in paradise. I can't believe a little pendant is capable of giving these feels….
https://twitter.com/tokibo/status/611537013276147712
▼ Some earlier prototypes. Not quite as majestic, but it's net to see where they started out.
光芒+ 他の水紋と見分ける目印の亀さんを ひっつけましたが、 波乗り状態では不自然なので 波紋の下を泳でいる感じにした方がいいかも。 pic.twitter.com/edn3Vneiv8

— 時 (@tokibo) June 15, 2015
So is there a petition somewhere we can sign to get these for sale online? No? Then how about the next best thing: let's all follow @tokibo on Twitter and show him there's a couple hundred English-speaking maniacs who want to buy their art! What could possibly go wrong?
Source: Twitter (@tokibo) via netgeek
Featured/top image: Twitter (@tokibo)