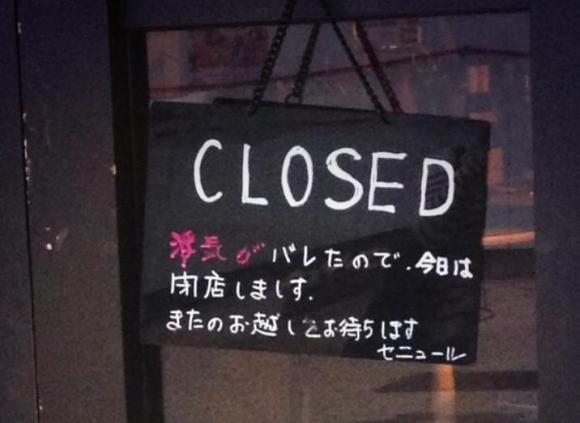 Running your own store and being your own boss can be tough. You have to work long hours, pick up the slack of any slacking employees, and if the customer isn't happy it's on your head. But not having to answer to anyone but yourself also has its perks, because you can close up shop at any time and for any reason you want! And the following store owners did just that, as evidenced by these hilarious "closed" signs.
Having a bad day? Tired of dealing with ungrateful customers? Well, if you're the one running the show, you have the power to call it a day and come back tomorrow with your job and position still intact. The following 10 store owners demonstrate the wide range of reasons for throwing in the towel for the day.
1.

かなしい、、、 pic.twitter.com/FYNRP8FBWo

— toku (@toku_N_frente) July 31, 2015
"The soup was a failure." And I guess there was nothing else to serve?
2.

今まで見た中で誰一人予想出来なかったんかいという休業のお知らせ pic.twitter.com/CoJGG6u2u8

— たかぴっぴ (@silver1031) February 5, 2015
"Due to being unable to pass through the stairwell, the live Hawaiian performance by [famous sumo wrestler] Konishiki today has been cancelled." Because even after retiring from the sport, Konishiki is still a pretty big guy.
3.
"Because someone said the watermelon isn't good, my brother lost his nerve and closed for the day. He prefers positive reinforcement, you know!" I'm sure the watermelon's feelings were hurt more…
4.

ワロタ pic.twitter.com/p6EXxewd4g

— ❹ さま📷🚗🏍️🍜⛺🤓💪 (@4yonsama) November 29, 2014
"Closed temporarily because Sayumi Michishige graduated from Morning Musume 14. (Getting over it by listening to MomoClo)" Idol fandom at its saddest…
5.
https://twitter.com/mizinko_pon/status/438991622743662592
"Closed today because I was caught cheating. I look forward to serving you again." Way to air your dirty laundry!
6.
https://twitter.com/trm_f/status/494019523956064256
"Temporarily closed due to couple's argument." Any relation to the shop owner above?
7.

【敗戦ショック小話】いつも通ってるスポーツバーが敗戦ショックで臨時休業してて山口にもブラジルがあったんだと思いました∑(゚Д゚) pic.twitter.com/wWntXprIbf

— りおた|イラストレーター (@riota2gaoe) June 15, 2014
"As Japan's team lost the soccer match, the shop owner is not feeling well so we will be closed temporarily. We will resume service as usual tomorrow from 11:00."
8.

店の休みの理由…。だからなんだよ(笑) pic.twitter.com/aPhFwverVF

— のぶやん🐼 (@nobuyan30) January 11, 2015
"I'm in Saga. – Owner" …Okay!
9.

メキシコ料理店の店長がまた唐辛子探索のために店閉めてた pic.twitter.com/R2XVpjsk1z

— ひれん (@mokkorihiren) September 5, 2014
At a Mexican restaurant: "Will be closed from 8/31 (Sun)-9/9 (Tues). In search of chili peppers." Must be hard work hunting down those peppers.
10.

すごいな pic.twitter.com/j7nxBpZZHy

— ゆきんこ (@44da_schnee) November 2, 2014
"Oww… Owww… Closed today for feigned illness." I guess that's reason enough!
Source: CuRAZY
Top image: Twitter/@mizinko_pon