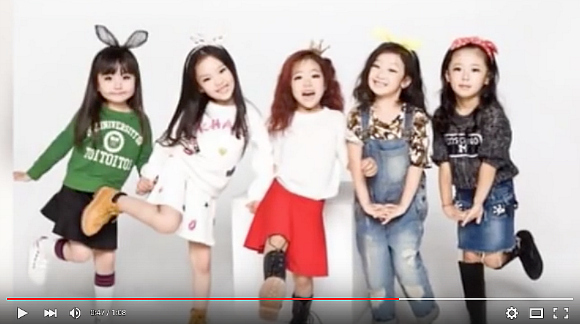 These kindergarteners might be mini in stature, but not when it comes to talent!
Mini Girls is a new children's idol group managed by The China Children's Model Association, with five members that are all around the age of five, although one member is currently four and a half.
Mini Girls' manager, Cai Shuang, decided to recruit the girls after attending one of their preschool dance classes.
Last year they made their big debut, but the group has met with a mixed response. A number of people take issue with the way they dress and dance, saying that it seems too provocative for children so young. Yet others say that as long as the girls are having fun and no child labor laws are being broken, there shouldn't be a problem with it.
Shuang himself has argued that that The China Children Model Association isn't exploiting the girls and further stated that since they don't have anything to do with the "business aspect of their activities," there should be no legal issues. He further contends that Mini Girls is only incorporating jazz dance, which shouldn't be misconstrued as something sexual.
▼ You have to admit, it looks like they're having a pretty good time.
Despite criticisms, the girls want to continue pushing forward, and at the moment they're recording their first single, with a release date yet to be announced. If anything, we bet they have a shot in Taiwan, where another dancing youngster became a sensation last year.
Source: YouTube/Bishojo Kumiai -MoonLight China- via JpopAsia
Images: YouTube/Bishojo Kumiai -MoonLight China-