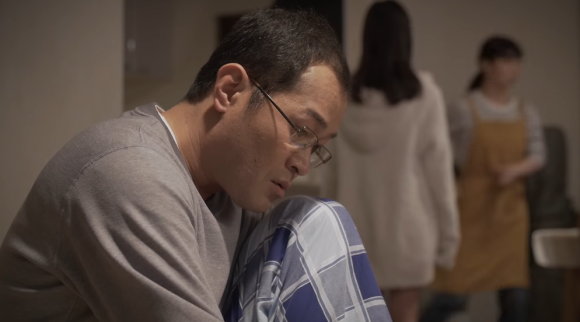 A father and daughter who can't see eye to eye, a couple with a rocky relationship, and an international group of roommates all feature in short film Tempest -Night of the Blackout-.
In April of 2016, changes to the governmental regulations in Japan allowed a number of new energy providers to enter the market, leading to increased competition. Among the options consumers have is Kansai Electric Power Company, also known as KEPCO, which has been supplying its customers with electricity since 1951.
After six decades in its field, KEPCO has developed a deep appreciation for the importance of electricity in people's lives. Not only does dependable power make our lives more convenient, it provides the backdrop for many of the times when we're making connections with friends and family, as shown in Tempest -Night of the Blackout-, a short film from KEPCO's Kanden Theater video series.
▼ Tempest -Night of the Blackout- preview
The film opens on a dark and stormy night, with rain falling and thunder echoing through the night skies of Japan's central Kansai region (something driven home by the fact that all of its characters speak in Kansai dialect). With the weather worsening, we're introduced to the three households Tempest gives us a look into.
▼ Tempest -Night of the Blackout- full version
First is a family of three, in which the daughter about her clothes being washed in the same load as her father's (a common complaint from teenage girls in Japan). The girl has no qualms about voicing her grievances in earshot of Dad, who can be seen un-suavely clipping his toenails in the background.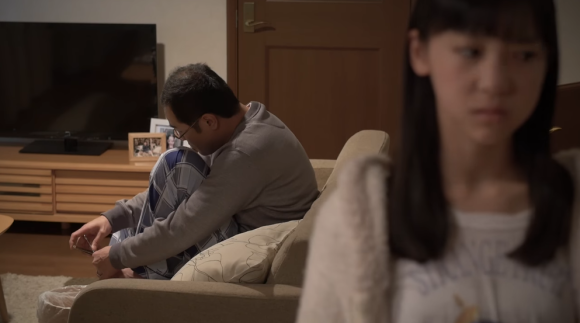 Next comes a cohabiting couple whom we join in the middle of an argument.
▼ Mikako is steamed that her boyfriend of several years snuck off yesterday to have dinner alone with a girl she's never met.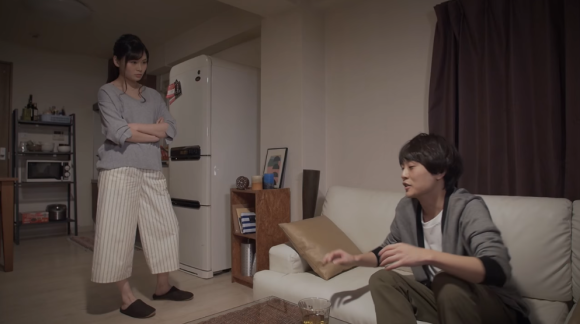 And finally, we come to a trio of guys who share an apartment, one of whom, a man named Jeff, has moved to Japan from overseas.
▼ They seem to be a pretty tight bunch, given that they're all hanging out playing cards and drinking beer, and the roommate in the center even says he's picked up some eclairs for everyone to snack on.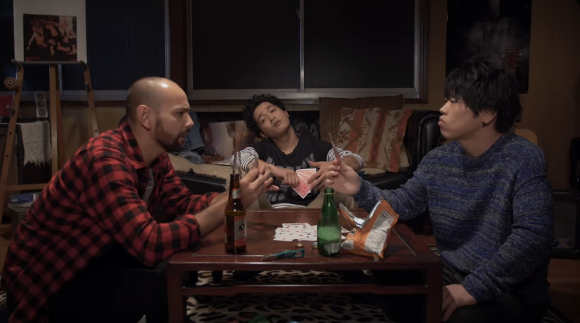 But then there's a flash of lightning, and as the accompanying thunderclap echoes, all three homes find themselves without power.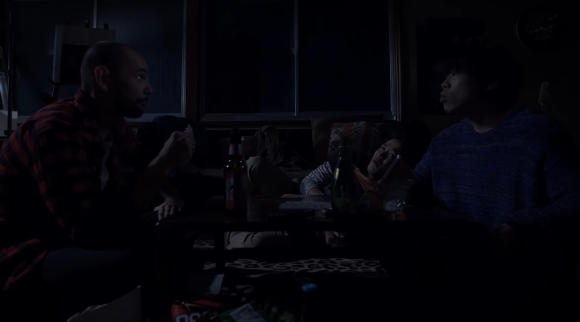 The film cuts back to the family of three. Dad has stopped clipping his nails, and leaps into action. "Everyone, stay calm," he tells his wife and child. "First we'll need candles and matches. It's dangerous, so I'll go get them. The two of you stay put."
His level-headed, sour-faced daughter, though, has a more modern solution, as she simply switches on the light on her smartphone.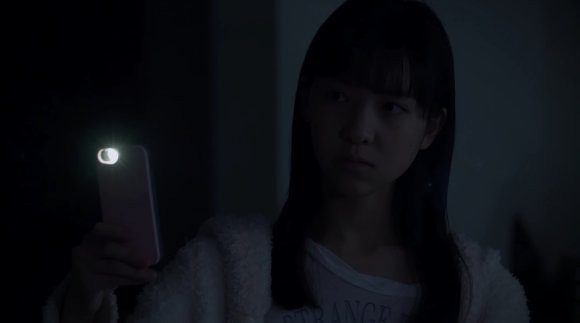 Things aren't looking any cozier with the live-in boyfriend and girlfriend, as they start bickering over who's more freaked out by the sudden blackout. Eventually, an exasperated Mikako says "You know, let's just call it quits. There's no point in going on like this forever…How many years have we been dating already?"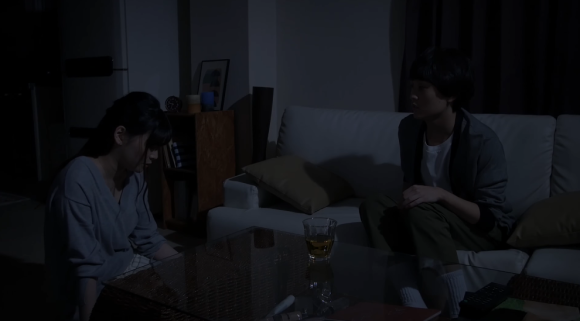 The scene once again shifts to the family's home, where Dad has managed to secure some matches and candles.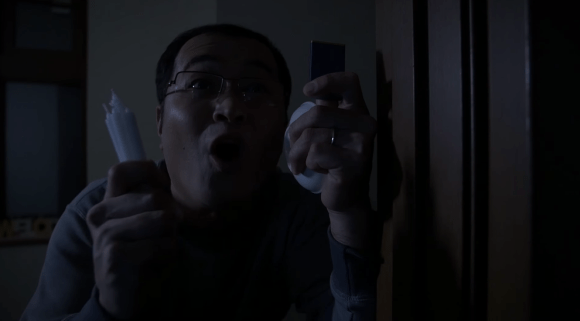 Unfortunately, he's still not able to secure much respect from his daughter, as he crashes into a table while trying to traverse the living room and fails to properly strike a match.
▼ Once again, his daughter has her own idea, handing him an trigger-type gas candle lighter to use instead.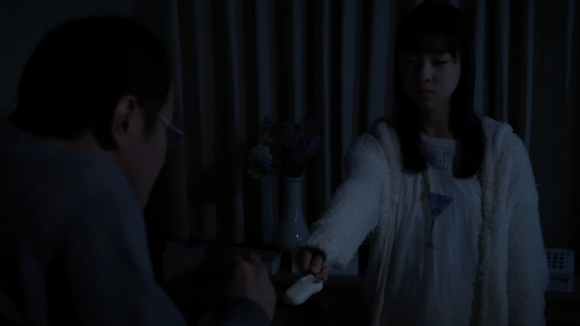 The three roommates seem to be having the fewest problems, though the two Japanese men are both clearly scared by the darkness. Jeff takes the power outage in stride saying they're a common occurrence in his home country. Eventfully, his roommates head off to look for a lantern together, but not before his Old Maid opponent warns him not to look at their cards while they're away.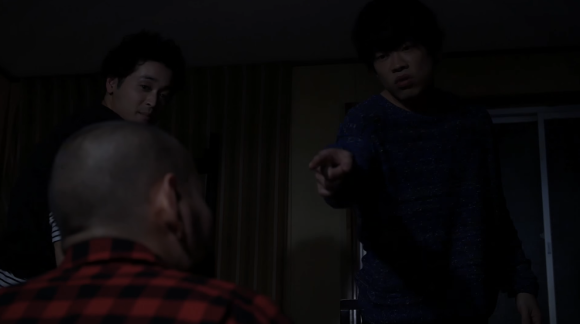 Meanwhile, Mikako's boyfriend finally opens up to her about Eri, the woman he had inner with the day before. She's even more disappointed in him when he mentions that Eri is a married woman, until he says that the reason he met with her is that he wanted to ask her for advice about wedding planning and ring shopping, since he's finally ready to ask Mikako to marry him.
▼ Unfortunately, the darkness means his attempt to get down on one knee doesn't go so smoothly.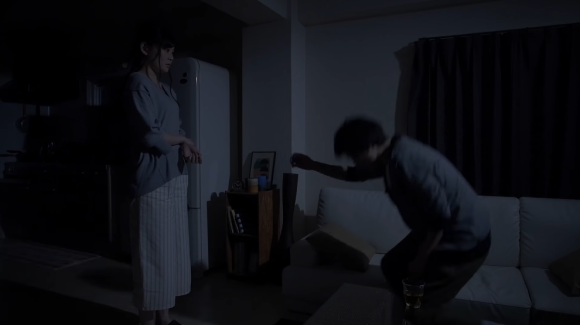 Dad is also ready to take decisive action, as he dramatically announces he's going to go secure food and water for his family.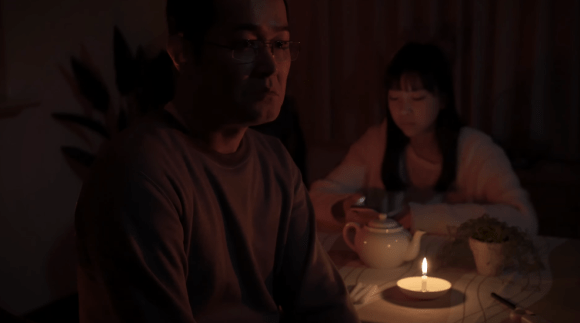 But then, the power finally comes back on, revealing that Dad thoroughly trashed the living room while clumsily making his way around in the dark.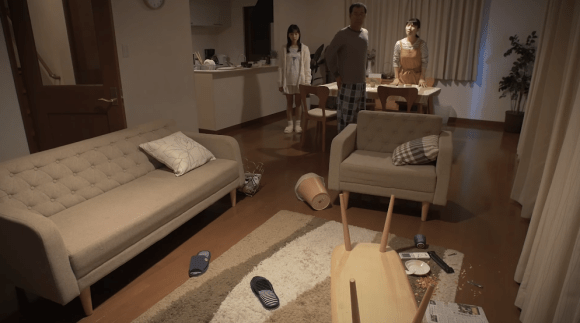 But even clumsy attempts to help out in a crisis come from a place of kindness, and his daughter finally seems to show some appreciation for his efforts, asking if he wants to share some pudding.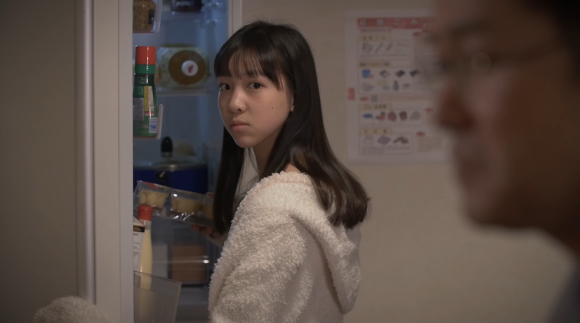 Mikako and her boyfriend have also patched things up. While he initially asks her to wait until her can save up enough for a fancy ring and lavish ceremony, she tells him "Who cares about money, a ceremony, or a ring? All of that can come after…You already decided to be with me forever, right?"
▼ "Yeah," her normally high-strung boyfriend responds with a calm smile.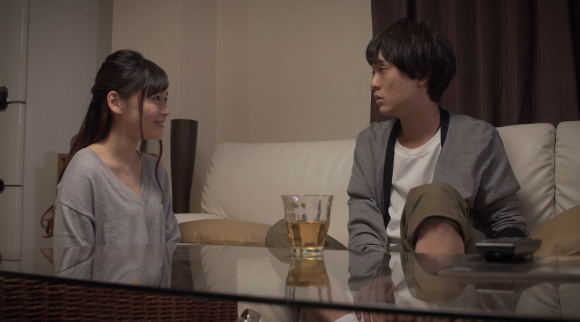 And finally, Jeff looks to have had a happy ending of his own, helping himself to at least one, and possibly all three, eclairs under the cover of darkness.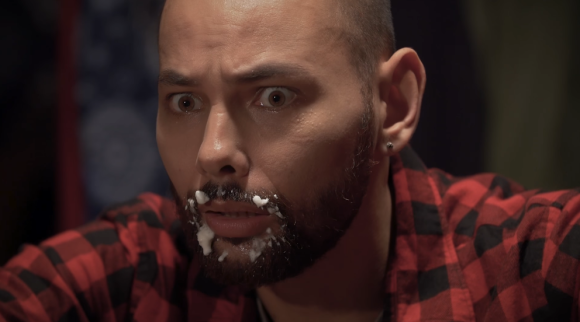 Finally, the film wraps up with a shot of stalwart KEPCO maintenance technician, still at work despite the late hour. "Come on, we're off to the next site," calls his unseen coworker, to which he responds with a confident "All right" before dashing off to make sure that other homes, just like the three we've just seen, have the electricity they need to illuminate their own life stories.
Related: Kanden Theater
Images: YouTube/関西電力株式会社
When you visit this post, Omnibus K.K. collects and uses your non-personal information. This information is governed by their privacy policy http://e-omnibus.co.jp/privacy.html (Japanese).
Sponsored by The Kansai Electric Power Company