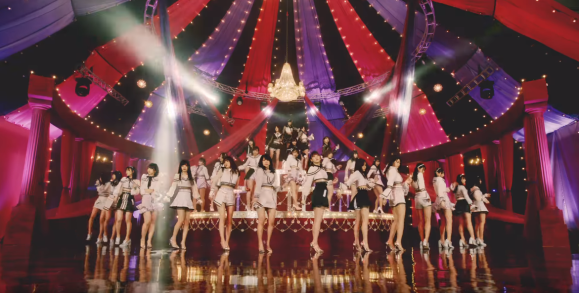 Akihabara-based mega-group reasserts its dominance over the idol singer industry.
There's no denying that this is the golden age of idol music in Japan, which is actually sort of a double-edged sword for performers. While demand and enthusiasm for upbeat tunes from costumed vocal units is higher than ever, so is the amount of competition for fans' hearts and wallets.
Staying on top of the idol game is particularly hard, since the genre prizes fresh-faced youthfulness above just about anything else. But while there's definitely a "root-for-the-underdog" mentality that contributes to sales of certain up-and-coming groups, AKB48, the mega-group that kicked off the modern idol era, has once again demonstrated that it wears the sparkly crown of the idol industry, as its newest single, "Teacher Teacher," has now sold three million copies.
▼ "Teacher Teacher"
This makes "Teacher Teacher" the best-selling AKB48 single ever, an impressive feat considering it's the group's 52nd single. What's even more amazing, though, is that this is only the third time in history that a Japanese single CD has broken the three-million mark in sales. The most recent song to share that distinction was "Sekai ni Hitotsu Dake no Hana" by boy band Smap, released in 2003 with sales to date of roughly 3.12 million, and the remaining member of the three million CD single sales club is 1999's "Dango San Kyodai" a song about three anthropomorphic rice dumpling brothers that originally appeared as part of a children's television program.
▼ "Dango San Kyodai," Japan's best-selling CD single of all time
In other words, "Teacher Teacher" is now the third-best-selling CD single ever released in Japan. However, it sits a few slots lower on the overall single sales chart, behind 1970s hits "Oyoge! Taiyaki-kun" and "Onna no Michi," both of which have some of their sales from record and cassette tape releases.
Still, this is a major feather in the collective cap of AKB48's many vocalists. How many copies of "Teacher Teacher" are still in the hands of the people who purchased them, however, is a different story,
Source: Music.jp News via Jin
Top image: YouTube/AKB48
Follow Casey on Twitter, where it's impossible for him to type, say, or even think about the word "taiyaki" without wanting to eat one.