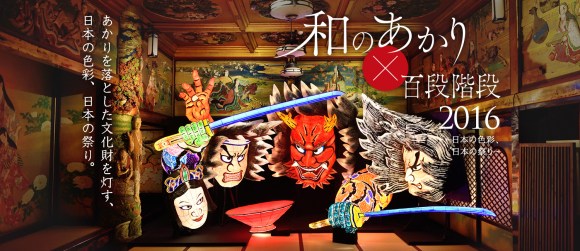 The second year of this event at the famous Meguro Gajoen in Tokyo promises to be even better than last year!
In 2015, the gorgeous traditional event space Meguro Gajoen held a exhibition called Wa no Akari (literally The light of Japan), and it proved so popular that over 60,000 people visited during its two-week run. This event consisted of art and light installations in the rooms at the top of its Hyakudan Kaidan (100-step staircase). Thankfully, the exhibition folks realized that there's no such thing as too much of a good thing, so they brought the event back this year, but made sure it is even bigger, better, and longer in every way possible!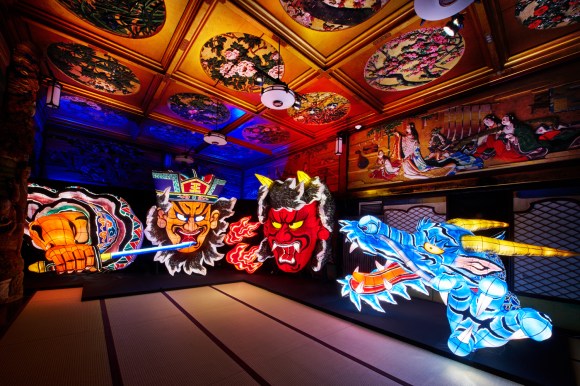 The exhibit, which opened on July 1 and runs through August 28, has nearly doubled in size compared to 2015's, with 36 exhibitors gathering from all over Japan to create an experience focused on Japanese festivals, art, crafters, and traditional entertainment. In addition to the art illuminations that give the exhibition its name, visitors will be able to take in the works of Japan's only female bath house mural painter, Tanaka Mizuki. Getting to see her "Meguro Hot Springs, Bath House Art" display takes a little bit of commitment, though; after all, the public bath house is only reachable by climbing all 99 steps of the Hyakudan Kaidan and making your way to the 8th room down the hallway. However, there's no doubt it's worth the effort!
▼ Tanaka Mizuki's ode to traditional bath house murals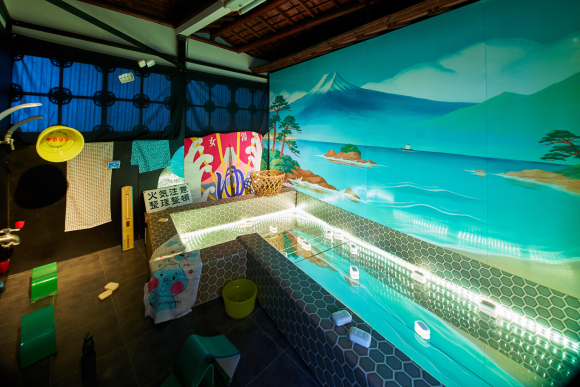 Possibly the best part of the exhibit, however, is the haunted house. This year's illuminations, titled Heisei Hyakki Yagyou 3D Picture Scroll, are based on the legendary Hyakki Yagyou (Night Parade of 100 Demons). The creator for this spooky experience is artist Michio Hiroyuki, making him the one responsible for the fantastic fright you'll experience upon entering the creepy room, which is filled with 100 yōkai waiting to greet you!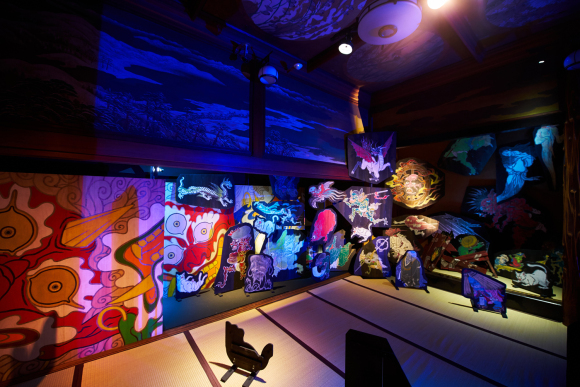 If you're in the Tokyo area, by all means you should head over to the Meguro Gajoen. The Meguro Gajoen and its Hyakudan Kaidan are popular sightseeing destinations in their own right, but this event runs through August 28, so there's still plenty of time yet. With the variety of entertainment options available, there's definitely something fun for everyone!
Event Information
Hyakudan Kaidan at Meguro Gajoen / 目黒雅叙園の百段階段
Address: 1-8-1 Shimomeguro, Meguro-ku, Tokyo
東京都目黒区下目黒1-8-1
Dates: July 1 – August 28, 2016
Days and Times: 10 a.m. – 6 p.m. (Sunday-Thursday); 10 a.m. – 7 p.m. (Fridays and Saturdays)
Cost of Admission: 1,200 yen (about US$11.76)
Featured image: Meguro Gajoen
Images: @Press
[ Read in Japanese ]