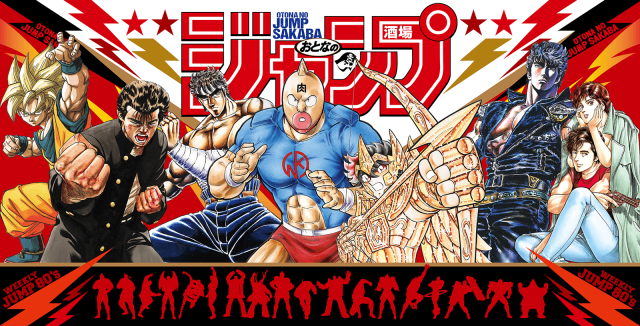 This new establishment pays particular homage to manga that were serialized in Weekly Shonen Jump in the 1980s.
Children today who read Weekly Shonen Jump, the best-selling shonen manga anthology, are being raised on healthy doses of My Hero Academia, One Piece, and Haikyu!!, to name but a few of its currently serialized hits. Travel just a couple of decades back, however, and you'll find a generation who grew up looking forward to an entirely different set of classics such as Slam Dunk, Yu Yu Hakusho, and Rurouni Kenshin.
Travel back just a bit further still, though, and you'll connect with those who grew up in the 1980s. Weekly Shonen Jump is now honoring that particular generation by opening the Otona no Jump Sakaba ("Adult Jump Bar"), a place for grown-ups to indulge in a popular adult pastime while reminiscing over their childhood action heroes. Opening on July 11 and located just a short walk from Tokyo's Shinjuku Station, the bar will remain open for exactly one year.
▼ Longtime fans will appreciate the interior decor, which includes some life-sized character statues and plenty of nostalgic Jump magazine covers.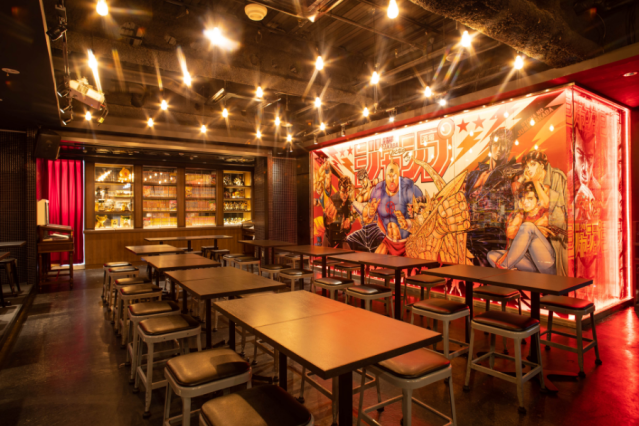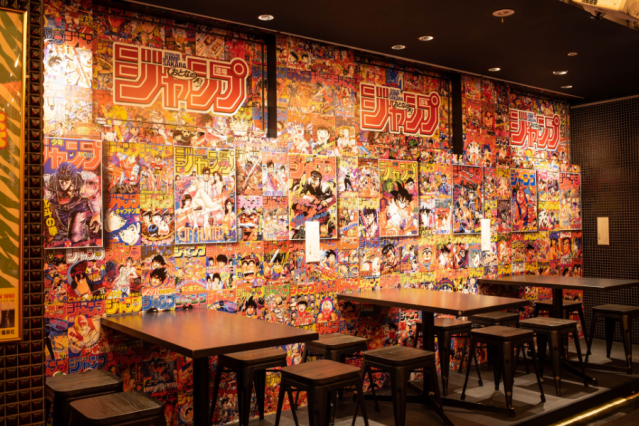 ▼ Now that the children of the '80s are working adults, they can finally splurge on all that character merchandise that they couldn't afford back in the day!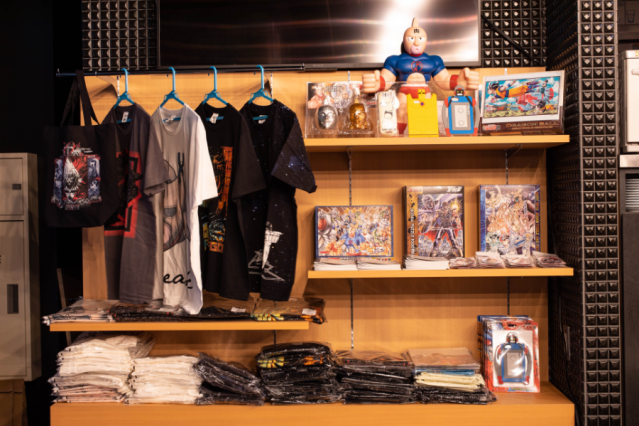 The bar proudly offers 42 food menu items and 52 drinks to choose from. Diners can order individual plates or indulge in the two-hour all-you-can-eat-and-drink plan, which costs 3,000 yen (US$28) per person. The food options include fairly standard izakaya (Japanese pub) fare consisting of small bites, simple rice bowls, and stir-fried dishes.
Perhaps the biggest food draw for visitors, however, is the Jump collaboration menu that showcases characters from seven of the magazine's biggest '80s hits in clever nods to their respective series: Kinnikuman, City Hunter, Rokudenashi Blues, Sakigake!! Otokojuku, Saint Seiya, Dragon Ball, and Fist of the North Star. These collaboration menu items range from 730 to 1,200 yen in price and are not included in the all-you-can-consume plan.
Here's sampling of the collaboration dishes, which includes both permanent items and rotating items:
▼ (From left to right) Muscle Docking Burger (Kinnikuman), Genji Togashi's Jumbo Shrimp Oil Bath al Ajillo (Sakigake!! Otokojuku), Kaori Makimura's 100-ton Hammer Cobb Salad (City Hunter)

▼ Diamond Dust Reimen [chilled noodles] (Saint Seiya), Dragon Meatball (Dragon Ball), Shuren of the Flames Grilled Meat Sushi (Fist of the North Star)

You can almost taste the nostalgia, can't you? Furthermore, check out some of the freebies that patrons can score by ordering at the bar:
▼ (Clockwise from top left) Menu cover, randomly selected original coaster, chopsticks pouch, souvenir bag
As a special bonuses, patrons can receive a sticker (for ordering something from the collaboration menu) or a beer mug (on their seventh visit to the bar).
Reservations for Otona no Jump Sakaba can be made online. If you do make it there, perhaps someone can make a wish on seven Dragon Meatballs to have Jump open a '90s manga version of the bar next year.
Restaurant information
Otona no Jump Sakaba / おとなのジャンプ酒場
Address: 160-0021 Tokyo-to, Shinjuku-ku, Kabuki-cho 1-18-9 WaMall Kabuki-cho 5th floor
東京都新宿区歌舞伎町1丁目18−9 ワモール歌舞伎町 5F
Open: 5 p.m.-11 m.m. (Monday-Friday), 2 p.m.-11 p.m. (Saturday-Sunday)
Website
Source, images: Otona no Jump Sakaba
● Want to hear about SoraNews24's latest articles as soon as they're published? Follow us on Facebook and Twitter!