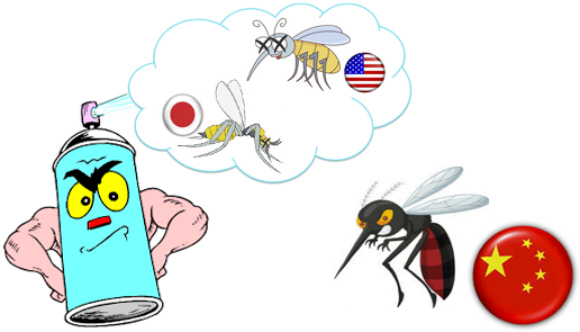 The best advances in technology aren't always digital. I know summers have become much more tolerable since countries like the U.S. and Japan started upping their mosquito repellant game. And since mosquitos are something we can all agree are annoying no matter where you go, it's not particularly surprising to hear other countries like China have started arming themselves with imported repellants to fight off these pesky blood-suckers.
But what is surprising is that, according to recent headlines, buyers of imported mosquito repellants on China's Taobao Marketplace say that these repellants are no match for Chinese mosquitoes! So we have to wonder, what exactly makes these Chinese mosquitoes so tough?!
According to a story originally posted on Singaporean media outlet Liahne Zaobao, in order to gear up for mosquito season Chinese shoppers turned to Taobao Marketplace, a popular global marketplace similar to eBay and Amazon, for mosquito repellant. Many of the brands featured on the site and purchased by buyers were imported from Japan and the U.S.
Upon receiving their purchases, the majority of customers were left disappointed, however, commenting that these imported products – especially the liquid spray type – did little or nothing to keep the Chinese mosquitoes at bay. With claims from both China and abroad that this must mean that somehow Chinese mosquitos are stronger than their foreigner counterparts, it quickly became a hot topic, and experts starting weighing in on what might likely be the cause.
After experimenting with Japanese repellants that claimed to have "three times the effect of getting rid of mosquitoes", studies found that while smaller mosquitoes were repelled, it had very little or no effect on the larger variety. Therefore it was concluded that domestic Chinese mosquitoes were likely to have a stronger resistance to chemical repellents, and these findings were later backed up by the Nanjing Disease Control in Jiangsu Province.
Experts believe that because of lax Chinese laws regarding pesticide use, such as DTT, each year Chinese mosquitoes are developing stronger chemical resistances. Although resistance levels differed between regions, mosquitoes found near fields where a large amount of pesticides were used were the most chemical-resistant.
With stronger mosquitoes come stronger chemicals to combat them, causing concerns over how this cycle will only further environmental pollution.
For those living in China or planning a visit, it looks like for now domestic repellants are your best bet for helping you stay bite free this summer!
Source: Focus-Asia/Yahoo! Japan News via Toychan.net
Top image: Classroom Clipart, CanStockPhoto, Go Graph, edited by RocketNews24
Insert image: Taobao Marketplace