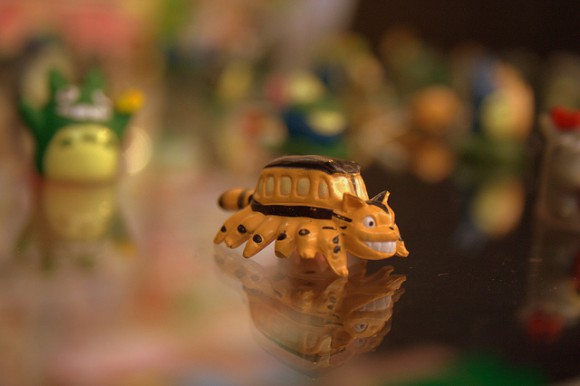 My Neighbor Totoro is one of the most magical of all of Studio Ghibli's films, and instantly recognisable all over the world due to its iconic and other-worldly characters: cuddly Totoro, the loveable soot mites, and the magical Catbus which main characters Mei and Satsuki are treated to a ride inside. At the Studio Ghibli Museum in Mitaka, Tokyo, kids can even climb inside a life-size Catbus replica.
But if that wasn't reason enough to fit a visit to the Ghibli house into your Japan sightseeing schedule, here's another – it's the only place in the world you can watch the 2002 short sequel to the much-beloved 1988 film, Mei and the Kittenbus!
Even if you're a hardcore Ghibli fan, there's a strong chance you'll have missed Mei and the Kittenbus, since it has never been released on DVD format, and has only been briefly shown in theatres in the United States. But now's your chance!
Mei and the Kittenbus was created in 2002 and written and directed by Hayao Miyazaki himself. The film follows younger sister Mei Kusakabe from the original My Neighbor Totoro. In it, Mei encounters a Kittenbus and takes a ride inside it into the deep forest where she meets more Kittenbuses, their mother, Catbus, Granny Catbus, and even three Totoros!
The short runs for 13 minutes and is only viewable at the Studio Ghibli Museum's theatre on selected days, which will be announced on the Studio Ghibli website. There is currently a roster of nine shorts being played per year, and the shorts for each month are only announced for the following three-month period. Right now, the theatre is playing "Chuuzumo" in August, followed by "Hoshi wo Katta Hi" in September and "Kujiratori" in October. But after that, there's every chance Mei and the Kittenbus will be next!
▼ Totoro awaits your visit.
If you're interested in visiting the Ghibli Museum, you can check out the website here. The list of films currently being played in the theatre is updated here, so be sure to check it before you make your trip.
Source: Naver Matome, Ghibli-Museum.jp
Main Image: Flickr – Danielle Griscti