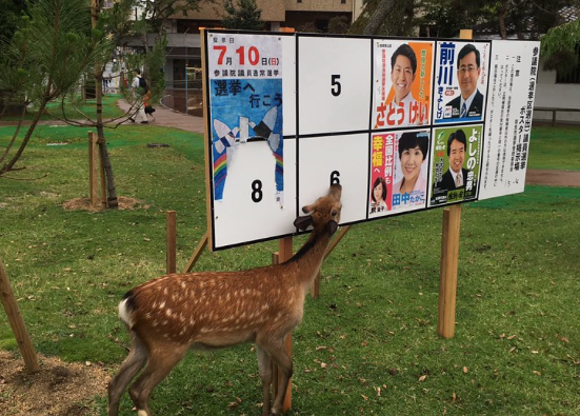 And Japanese Twitter users are quick to provide us with some hilarious political commentary.
If you've been to Nara, you'll know just how endearing and frightening the deer in the area can be. Allowed to roam free, the four-legged animals can be seen in beautiful, leafy areas in adorable Bambi-like poses just as often as they can be seen crowding around young children offering up deer crackers and chasing after fleeing visitors in a zealous attempt to eat all the food they possibly can.
▼ Don't worry; they're harmless! We hope…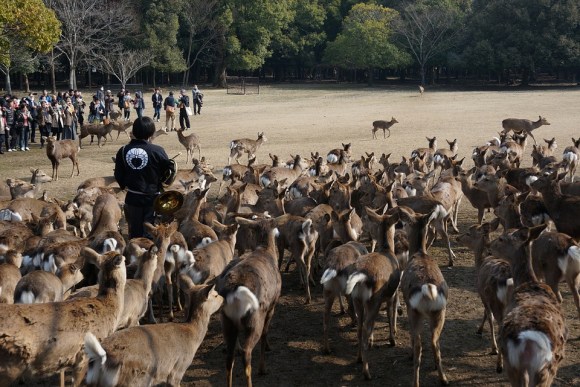 One Twitter user captured the sweet yet potentially menacing character of the Nara deer in a photo that also serves up a dash of political commentary. The image shows one of the city's deer-folk getting its jaws around an advertising poster on a white electoral board, commonly erected in designated areas ahead of an election to advertise candidates. Since posting the picture, it's been retweeted more than 8,000 times.
選挙ポスター鹿に食われてるしwww pic.twitter.com/9t2gfhngVk

— ごるご (@golgo_juusou) June 22, 2016
The deer has successfully eaten through the bottom half of a poster that reads, "Let's go to the election!", and appears to be heading towards the images of local candidates next on its path of destruction. Twitter users are intrigued by the deer's quiet individual protest, with comments like:
"I can relate – I have the right to vote from this year but there's nobody I want to vote for."
"The deer will be arrested for this!"
"The poor thing's just attempting to increase awareness of the deer suffrage movement"
"That poster would have tasted disgusting"
"He's just showing his anger at all those false election promises"
"Isn't this a violation of the Public Office Election Law?"
"Maybe we should use deer to predict winners like Paul the octopus who predicted the winners of soccer matches!" 
It appears that this is not the first time a deer in the area has taken to eating political campaign posters, with this young buck below showing total disregard for laws and the political system back in 2013.
https://twitter.com/y_y_BB/status/357452840723173376
With approximately 1,200 deer allowed to roam free in Nara park alone, this may not be the last time we see images of inadvertent animal protests. Regardless of what party posters they show a preference for, we hope somebody covers those boards soon to prevent deer from eating all that paper!
Source: Hamusoku
Top Image: Twitter/@golgo_juusou (edited by RocketNews24)
Insert Image: Pixabay