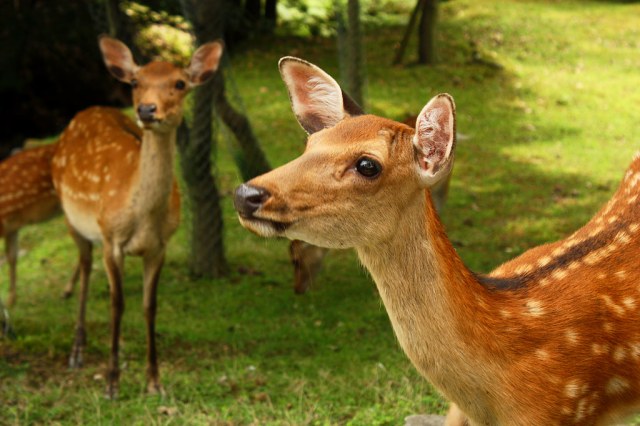 A clever play on words tugs at the heartstrings.
As the number of tourists to Japan rises year by year, so too do the number of visitors to Nara, where more than two million foreign travellers descended upon last year.
Unlike the big, spread-out cities of Tokyo and Kyoto, though, many of Nara's main tourist sites – including Kasuga Taisha, Kofukuji, and Todaiji and the giant buddha – are located in one central location at Nara Park, which is also home to over 1,000 free-roaming shika (native deer).
With all the main attractions conveniently located in one place, and just 45 minutes away from Kyoto by train, tourists to Nara often only visit for the day before heading back to their accommodation in Kyoto or nearby Osaka, which is also less than an hour away by train. However, Nara is trying its best to change all that, by tugging on tourists' heartstrings with a new promotional poster that has their deer asking people to stay.
▼ Take a look at the poster below.
梅田駅に貼られてた奈良の観光ポスターは切実過ぎてさすがに笑ってしまった pic.twitter.com/xbnTtfjDFl

— 西 (@2outni4) March 18, 2019
The poster, shared online by Twitter user @2outni4, who saw it at Osaka's Umeda Station, shows a sight that isn't unfamiliar at Nara: deer crossing the road at a pedestrian crossing. However, what is unusual is the Japanese word "tomare", which is written in large white characters in front of the crossing.
In Japan, the word "tomare", meaning "stop" is often written out on roads like this ahead of stop signs and crossings. However, the kanji for "tomare" in these cases is written as "止まれ". Another word that's pronounced exactly the same way is "泊まれ" ("tomare") which means "to stay", as in to stay over at a place or accommodation, and this is the "tomare" used for the poster.
▼ The poster reads like a heartfelt plea, asking people to "stay".
梅田駅に貼られてた奈良の観光ポスターは切実過ぎてさすがに笑ってしまった pic.twitter.com/xbnTtfjDFl

— 西 (@2outni4) March 18, 2019
Since it was shared online, the poster has attracted a lot of interest from people on Twitter, who've been impressed by the ad, with some even likening it to the cover of the album Abbey Road by The Beatles.
ビートルズ見たいwww pic.twitter.com/ZXlGPklKzM

— アルフレッド・イズハル (@macross0718) March 18, 2019
Many empathised with the plight of Nara City, which is said to said to rely on tourism money for its survival, and its constant battle to compete against its more popular neighbours for overnight stays. But what touched people most was the poster's earnest plea and forlorn-looking deer, which commenters described as "heartbreaking".
So next time you're traveling to Kyoto and Osaka and looking to escape the crowds, you might want to consider a stay in Nara to support the city and its deer. Not only is it extra peaceful before the daytrippers arrive, you'll get to enjoy quiet evenings around the park, when the deer are full from eating all day and are more interested in relaxing than chasing after you for food.
Source: Hachima Kikou
Featured image: Flickr/Andrea Schaffer
● Want to hear about SoraNews24's latest articles as soon as they're published? Follow us on Facebook and Twitter!