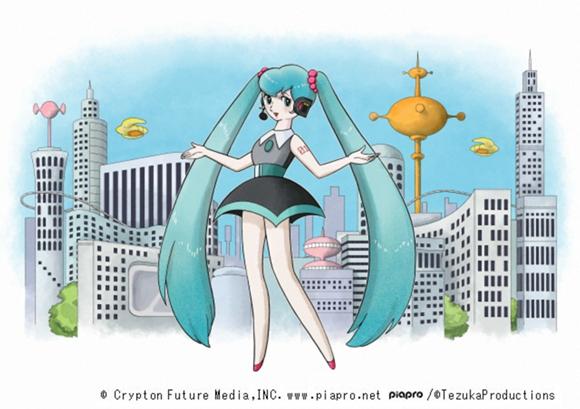 Vocaloid star Hatsune Miku meets the "God of Manga," Osamu Tezuka, in new exhibition.
Images of Vocaloid mega-star (and government employee) Hatsune Miku have been nostalgically re-imagined in the style of Atom Boy creator Osamu Tezuka to form the centrepiece of a new exhibition. With the death last year of Tomita Isao, the composer behind many of the theme songs to Tezuka's animations and who worked with Miku in recent years, the images above and below were produced for a special memorial service concert held in November last year.
Now, to celebrate Hatsune Miku's 10th birthday, the Osamu Tezuka Manga Museum in Takarazuka city, Hyogo Prefecture, has announced its new 71st temporary exhibition will be centred on Tezuka-style characters and 3DCG models including Miku, to be held from July 1 to October 23 this year. The museum has in previous years brought us a number of similar re-imaginings including Evangelion and Ultraman so who else might appear in the new exhibition alongside Hatsune Miku?
While the great man himself passed away back in 1989, his distinctive drawing style continues to live on through the work of contributing artists in such collaborations.
For those who can't wait until next month for their next Osamu Tezuka art fix, the current exhibition featuring his most famous creation, Atom Boy,  entitled "Atom: The beginning," runs until June 26. The museum also features a number of permanent exhibitions commemorating the works and vision of the "God of Manga."
Museum information
Osamu Tezuka Manga Museum / 宝塚私立手塚治虫記念館
Address: Hyogo-ken, Takarazuka-shi, Mukogawacho 7-65
兵庫県宝塚市武庫川町7-65
Open 9:30 a.m. – 5:00 p.m.
Closed Wednesdays (except July 19, July 26, and throughout August)
Admission 700 yen (US$6.30)
Website
Source, top image: Tezuka Memorial Museum