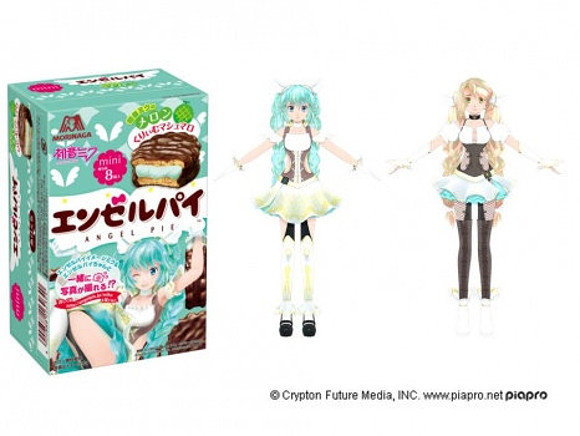 These delicious-looking cream-filled sweets take sound bites to a whole new level.
Japanese Confectionery company Morinaga first produced their Angel Pie biscuit back in 1958. Now in its 56th year, the well-known sweet is getting an anime-style facelift with the help of virtual singer Hatsune Miku and the MikuMikuDance (MMD) freeware animation program.
The limited edition range of biscuits will feature an all-new flavour and two very special girls created specifically for the project: Angel Pie Miku (below left) and Angel Pie-chan (below right).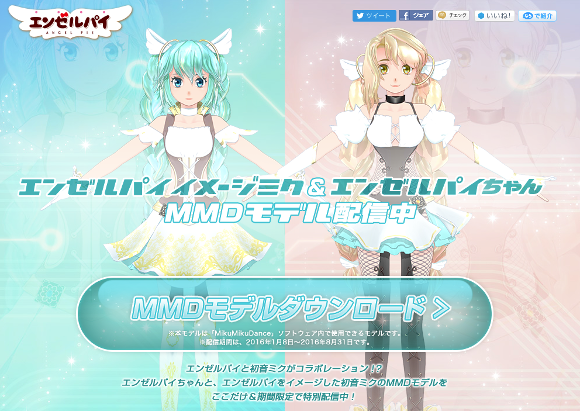 The new boxes each contain eight mini-sized chocolate coated biscuits, which will be filled with a soft, melon-flavoured marshmallow cream in the vocaloid's distinctive aqua colour. In addition to the delicious sweets and gorgeous packaging, there will be a number of tie-in goods and exclusive apps available to play with during the promotional period, which is set to begin on February 19. Customers who download special photo frames featuring the two characters and post photos of themselves with the hashtag "エンゼルパイミク" or "Angel Pie Miku" can be in the running to win boxes of the sweets and specially branded Quo gift cards which can be used at major convenience stores around Japan.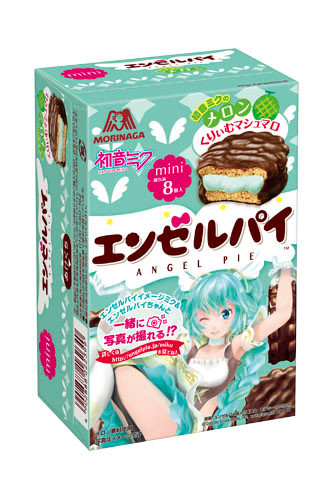 And if that's not exciting enough, MMD models of the two characters will be available to download from the official collaboration site, meaning anyone can interact with them, putting them in any number of creative scenarios and environments, just as this Twitter user shows below.
あの森永のエンゼルパイミクさんは配布されてるから誰でもいじれるで  MMDで使用できるエンゼルパイイメージミク&エンゼルパイちゃんMMDモデル無料配信中 https://t.co/PzG9d565Et pic.twitter.com/b0XNPPAT82

— ナルパジン (@narupajin) February 17, 2016
Available in stores from February 23, there will be four beautiful designs to choose from, with Angel Pie Miku appearing either on her own or with her new and equally long-haired friend Angel Pie-chan. With each pack retailing for 180 yen, we'll definitely be buying them all!

Source: Maker News
Top Image: Maker News
Insert Images: Maker News, Morinaga Japan