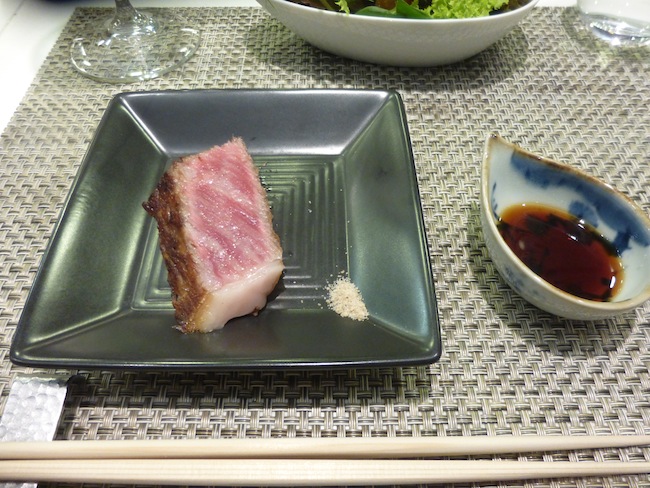 Japanese beef, or wagyu, as it's also known, is certainly something the people of Japan delight in and cherish. Quality wagyu is a special (and pricey) treat, even for those of us living in Japan. WAGYU DIRECT,  an online service operated by retail company VIVA JAPAN and dedicated to exporting wagyu and bringing its lovely taste to the rest of the world, held a seminar and cooking/tasting session on wagyu earlier this month at the Shinjuku Isetan Department Store.
The seminar was open to just 10 people, and as fond of beef as we are, we promptly entered the draw to participate in the session, which promised to be both informative and delicious. Well, we were in luck, as we were one of the fortunate ten selected to attend the seminar. Join us as we spend an evening learning a little about wagyu and enjoy a feast as well!
The seminar was hosted by Hisato Hamada, founder and CEO of VIVA JAPAN. Hamada previously worked in the entertainment industry and at one point was involved in importing foreign movies to Japan. One of the movies he was responsible for bringing into Japan was the academy nominated documentary film FOOD, INC.  His involvement with the movie got him thinking about the quality of food, and through the contact he had with Japanese wagyu farmers in the process, he eventually began a business focused on exporting and disseminating information on wagyu beef, so his goal is not just running a successful business but also helping people around the world to appreciate authentic wagyu.
▼ Here's the Kitchen Stage at Shinjuku Isetan, where the seminar was held. It features an impressive kitchen and a row of counter seats, plus some additional regular seats behind the counter.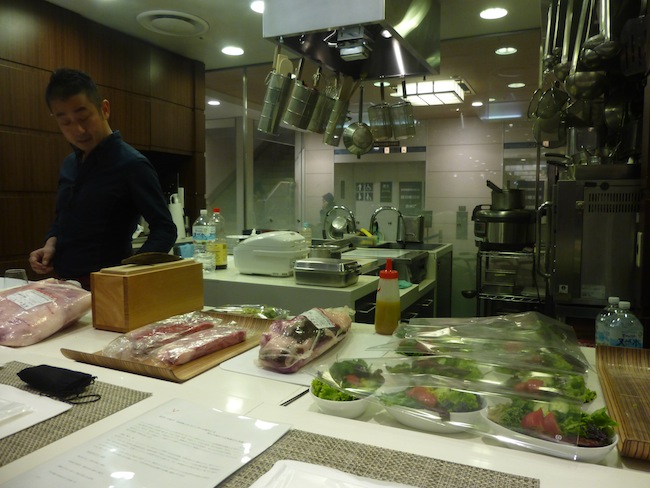 Hamada went on to explain that there is a distinction between Japan-raised beef (kokusangyu) and wagyu. Only four specific breeds of cattle can be classified as wagyu — the Japanese Black (Kuroge Washu), the Japanese Shorthorn (Nihon Tankakushu), the Japanese Brown (Akage Washu) and the Japanese Polled (Mukaku Washu). The Japanese Black is the most common breed, accounting for roughly 95 percent of wagyu, including famous varieties such as Kobe and Matuszaka beef.The Japanese Shorthorn survives well in cold weather, and is grown mainly in northern Japan. The Japanese Brown has a reddish-brown coat and is raised mainly in Kumamoto Prefecture on the southern island of Kyushu, with a smaller number also raised in Kochi Prefecture on the island of Shikoku.  The original ancestors of present-day wagyu are thought to have come into Japan from the Asian continent about 2,000 years ago.
All cattle grown in Japan that is not wagyu is is referred to generally as kokusangyu, including dairy breeds like Holsteins and Jerseys, as well as crossbreeds (a cross between the Holstein and Japanese Black being the most common).
▼ We were absolutely thrilled to see the beautiful beef set out before us! Today, we were going to have Hida beef (Hidagyu) raised in Gifu Prefecture, provided through the Japanese beef specialty shop Kojima, which is located on the B1 Floor of Shinjuku Isetan.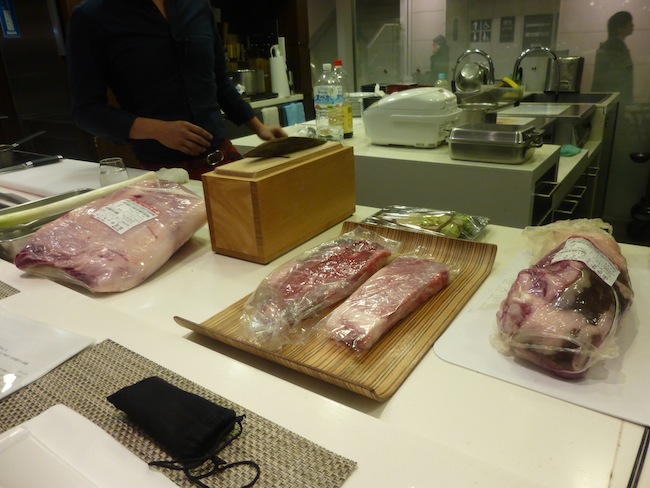 ▼ Each wagyu cattle in Japan has a traceable individual identification number which anyone can check online. Today's meat came from cattle number 0858575972, a female cow with genetic roots that trace back to the famous bull Yasufuku, originally from Gifu Prefecture.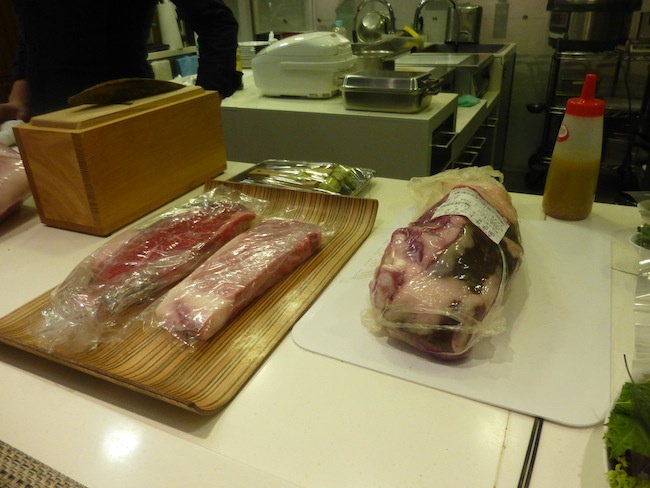 ▼ A simple yet elegant table setting was prepared for each seminar participant…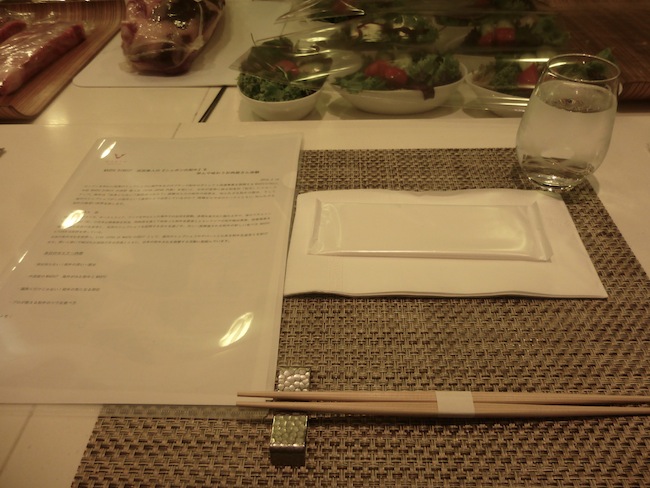 ▼ …complete with reference material on WAGYU DIRECT and also the beef and other ingredients that were going to be used for the seminar.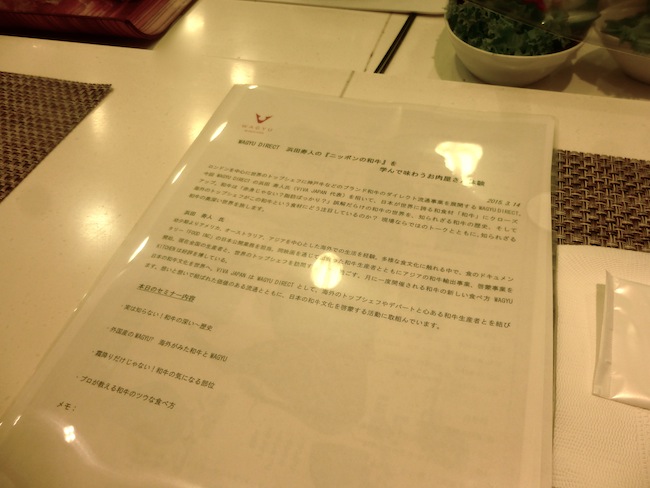 ▼ There was even a visually entertaining diagram illustrating the different parts of beef. It's interesting to see that there are specific names for all these parts, much like with tuna.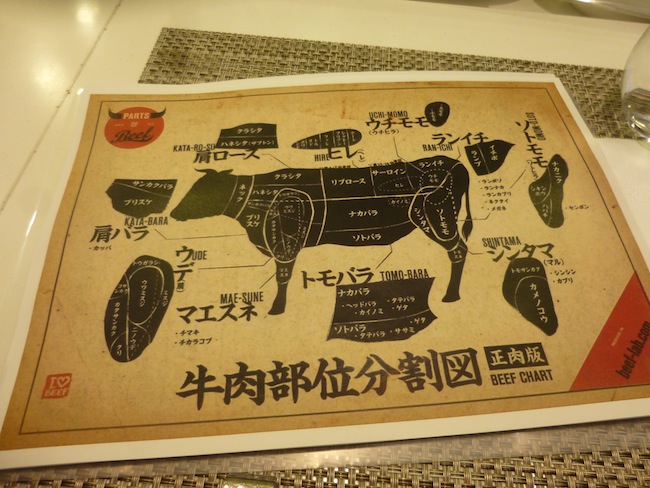 ▼ Okay, we were ready to start cooking some meat!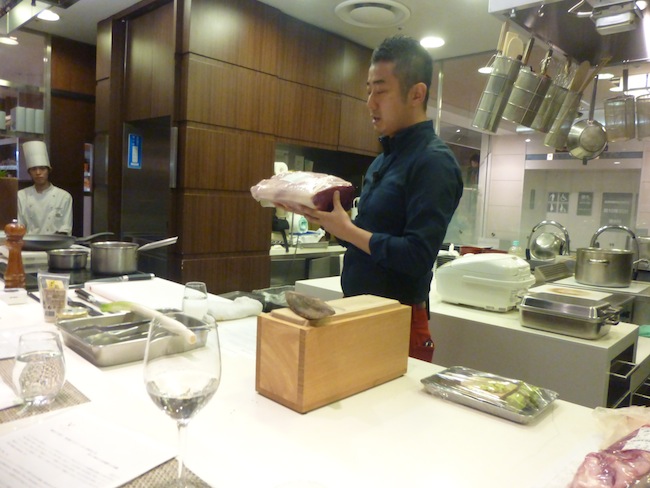 ▼ First, we were going to be served some lovely sirloin. Quality wagyu contains a higher percentage of omega-3 and omega-6 fatty acids than typical beef, so that it doesn't feel too heavy, even if there is a considerable amount of fat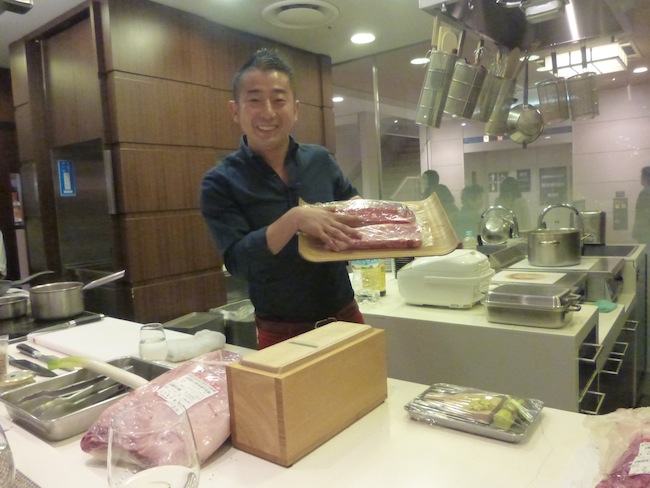 ▼ We were working with some beautifully marbled meat here.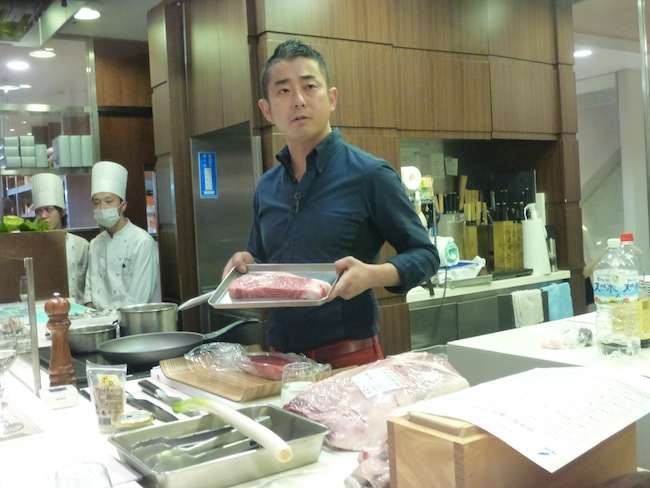 ▼ With such beautiful beef, you don't need a whole lot of seasoning. Just a sprinkling of salt should do the trick.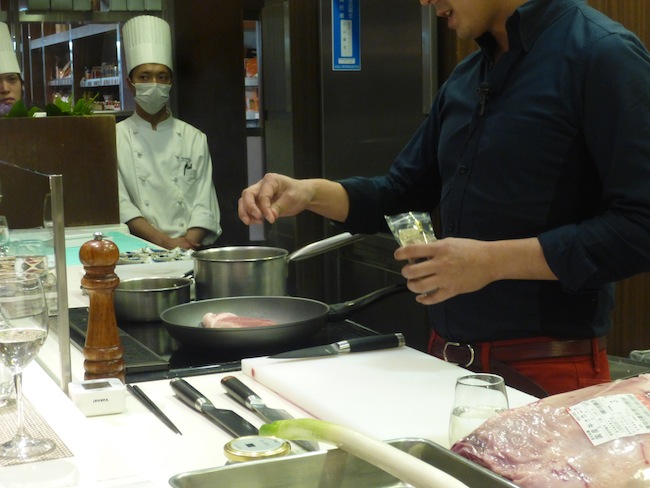 ▼ The beef doesn't have to be cooked thoroughly, as it can be eaten quite rare. Also, since fat conducts heat well, sirloin, with its high fat content, cooks relatively quickly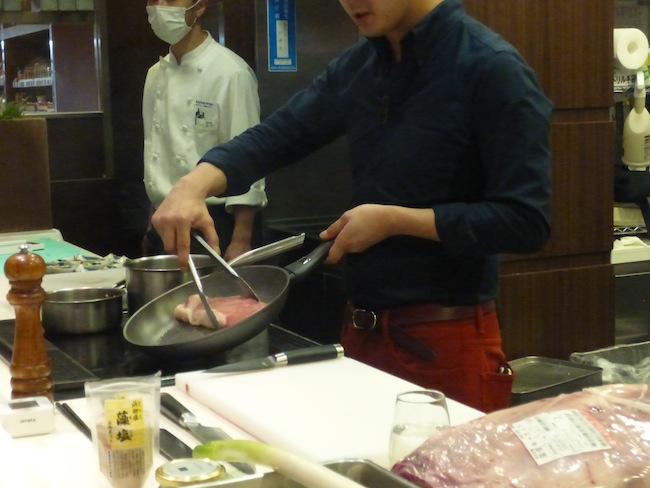 ▼ According to Hamada-san, you may want to cook one side relatively well, and then be a little quicker with the other side, depending on your preference.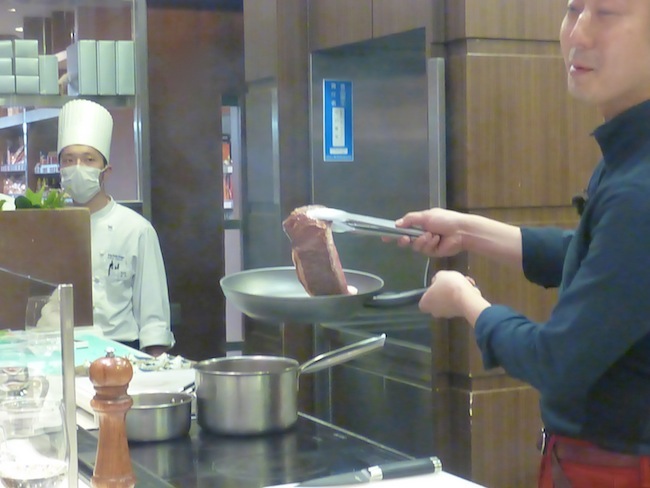 ▼ Mmmm … this looks just about right!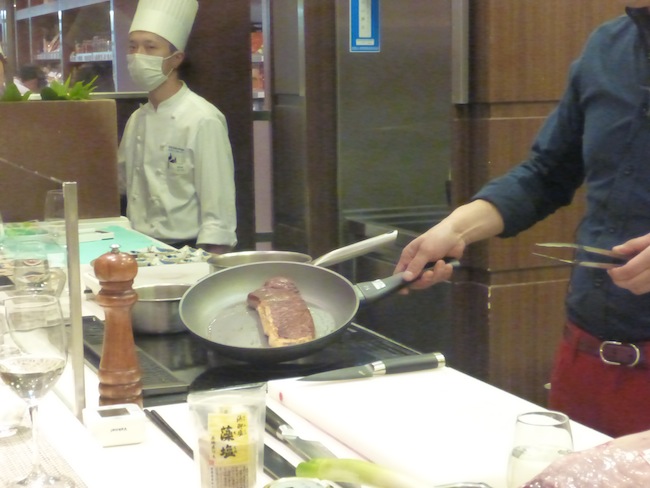 ▼ The meat was carefully cut…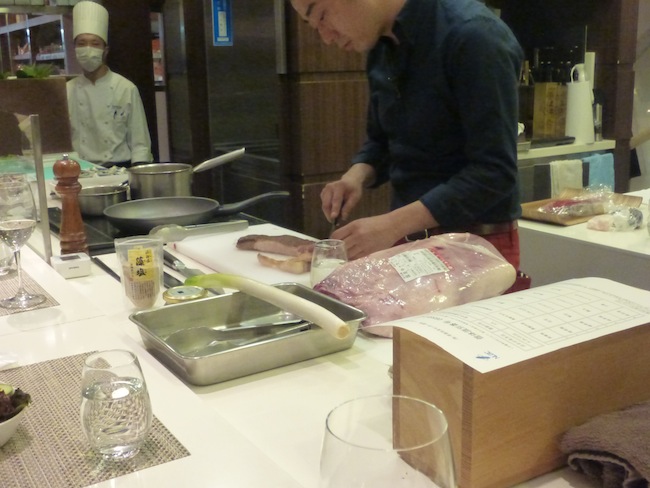 ▼ …and was served with salt and soy sauce on the side.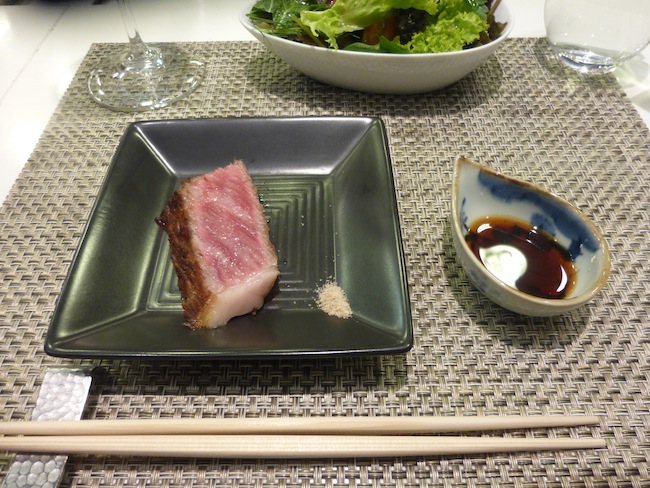 ▼ Heavens, the gorgeous marbled pattern of fat took our breath away! Then it melted in our mouth, as the succulent flavor of beef  nearly overwhelmed us.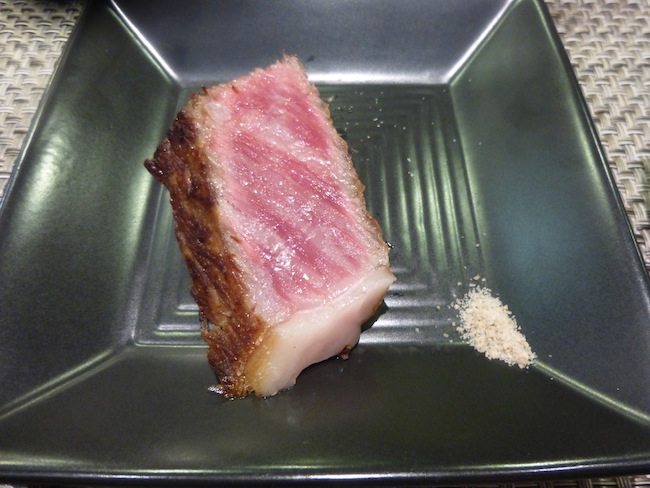 ▼ We even had some sake served with the beef, and in a wine glass, no less! Here, we're having Matsumoto Shuzo brewery's "RISSIMO Momo no Shizuku". When we tried it, the sake was refreshing, but the flavor was also quite strong and perhaps slightly overpowering, but people who enjoy sake would probably find it perfectly satisfying.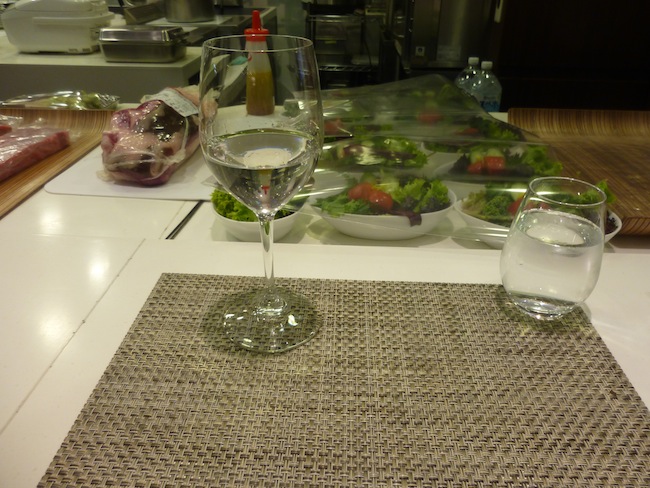 ▼ Next, we were going to have meat from the shoulder.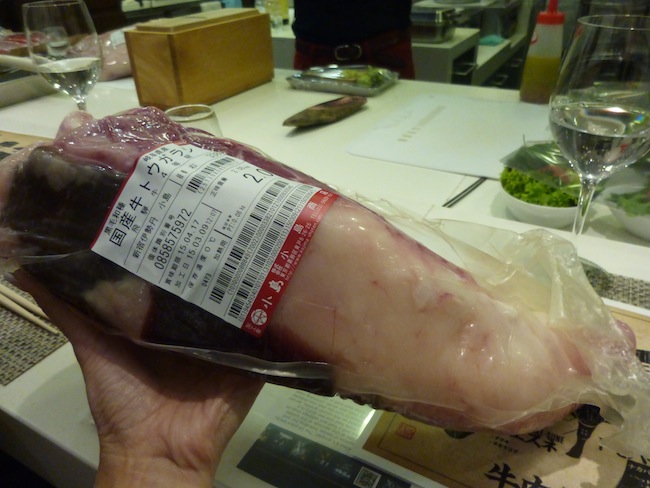 ▼ This meat came from the area outlined in red below. This particular cut from the shoulder is called the "togarashi" (chili pepper), because it's shaped somewhat like a chili pepper.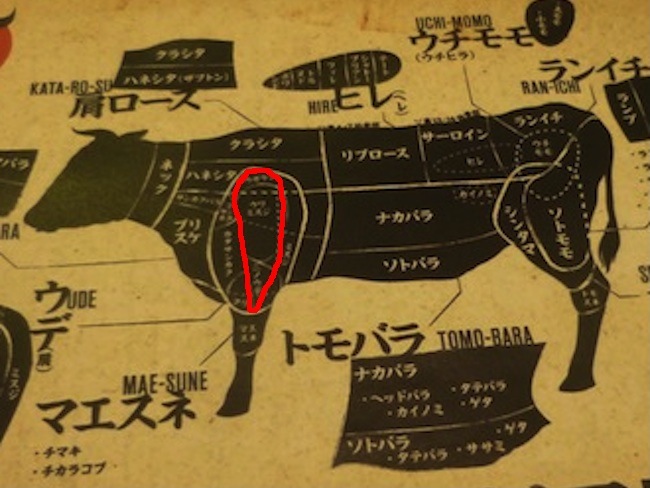 ▼ The shoulder area generally doesn't contain as much marbled fat as the sirloin, but there was some fat covering the surface of the cut, which Hamada expertly removed.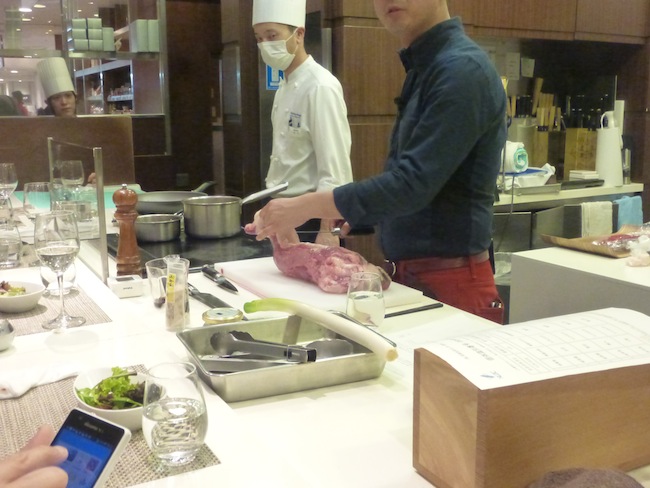 ▼ It can't be too easy to handle such large chunks of meat, although Hamada made it look easy.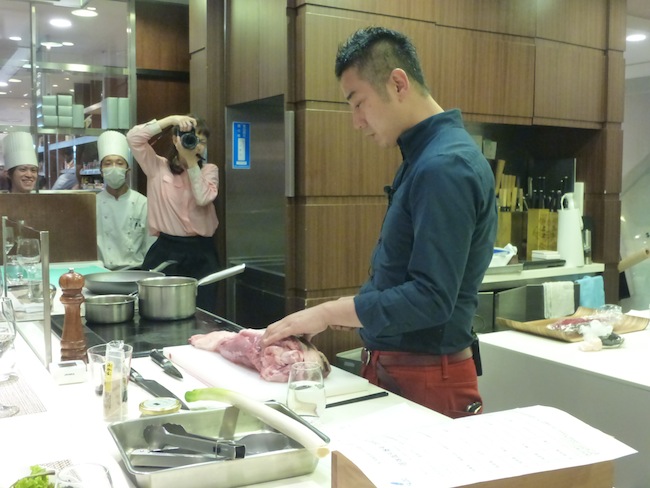 ▼ Large strips of fat were removed from the meat. Hamada mentioned that this process of taking away the fat is called "polishing," which suggests that something valuable is being handled and refined.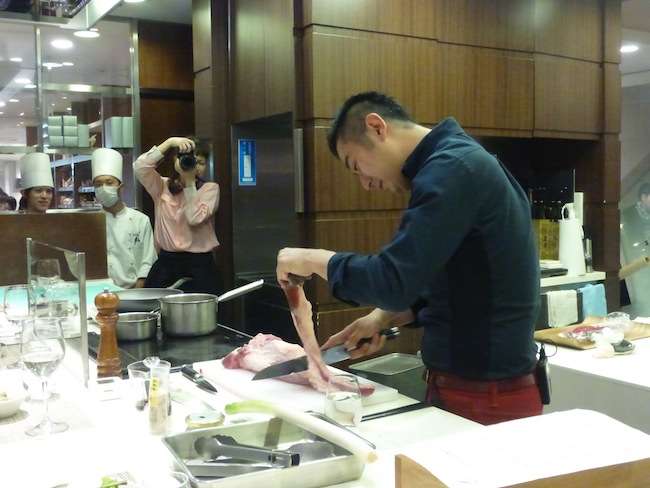 ▼ You can see that the outer layer of fat is practically gone.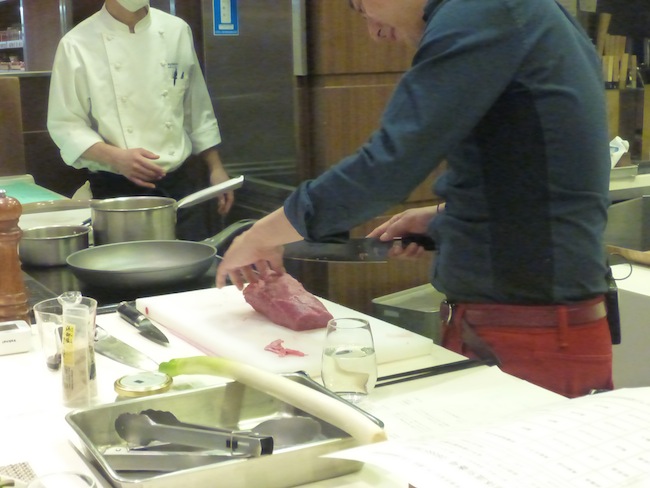 ▼ This is what the "polished" shoulder meat looked like. As you can see, it's not as marbled as the sirloin.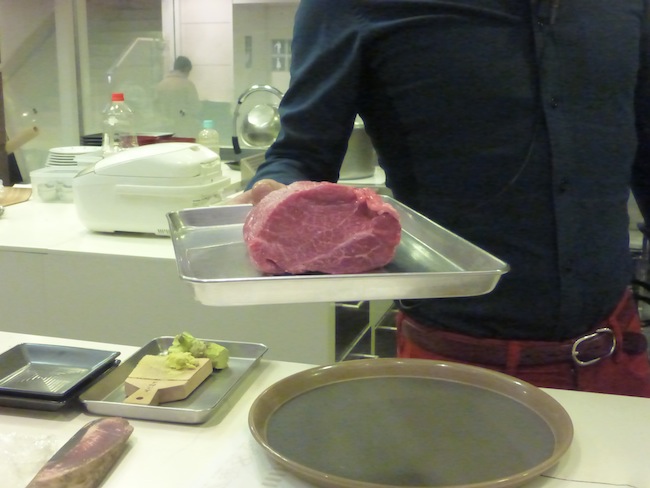 ▼ Next, Hamada cut the meat…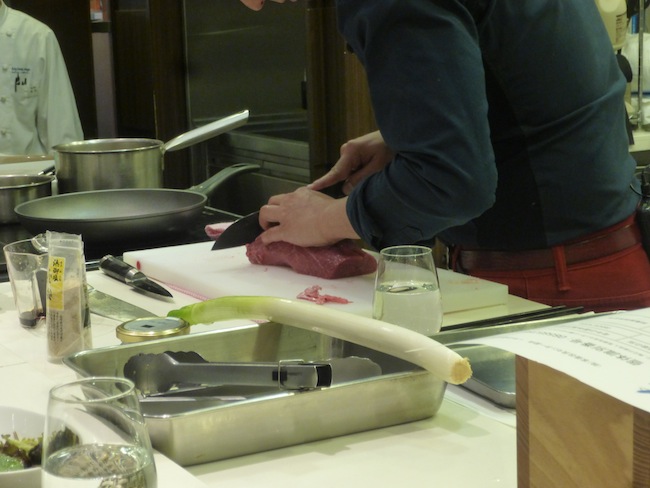 ▼ …into some thin slices.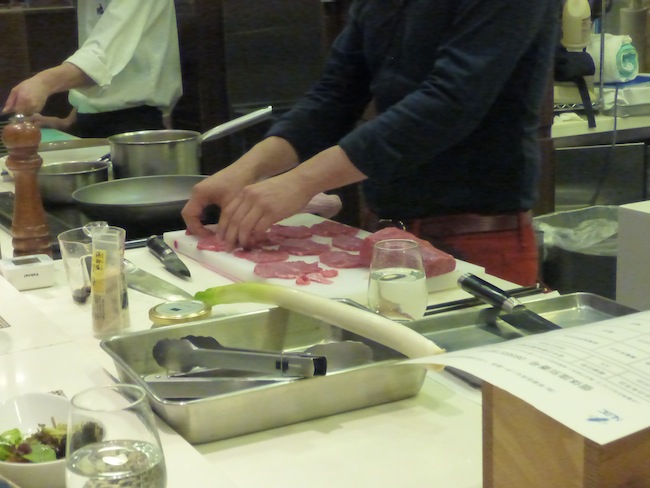 ▼ Then he added a little salt…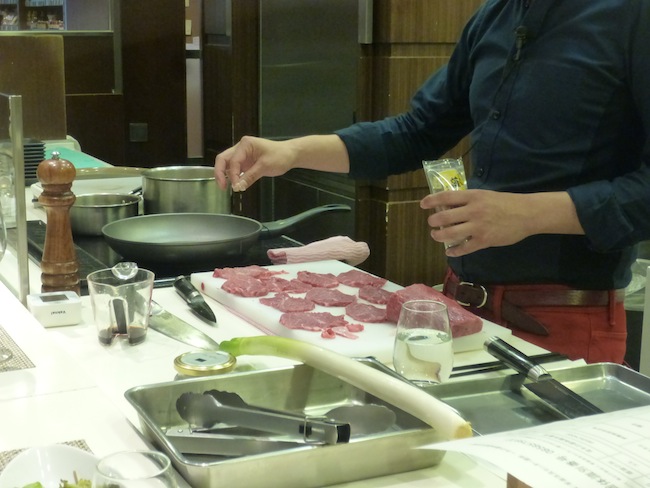 ▼ …and cooked the meat.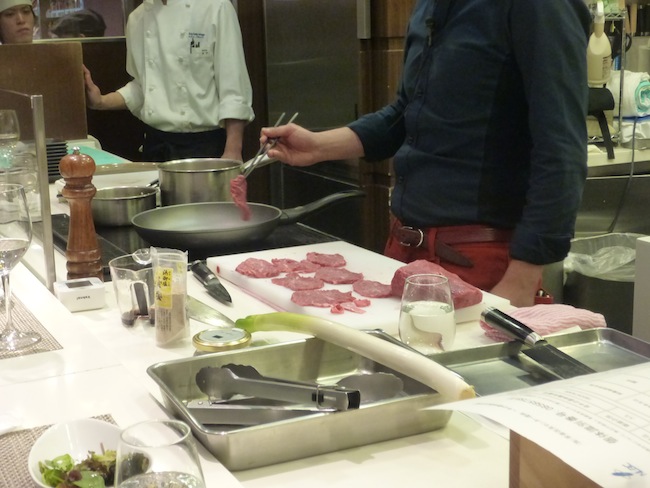 ▼ It didn't take too long, as the slices were quite thin.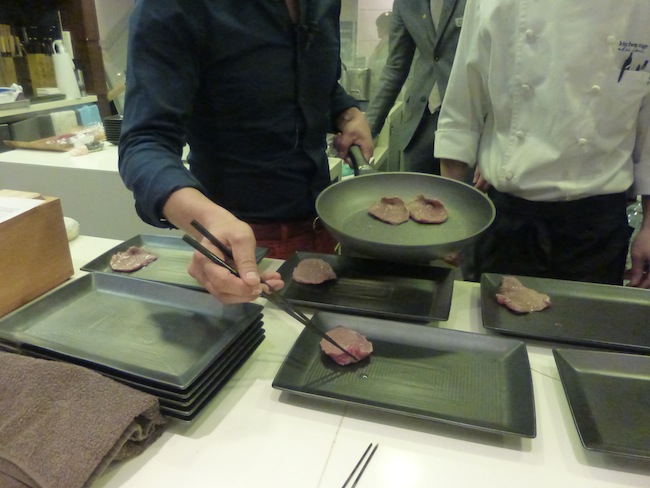 ▼ And here's the togarashi shoulder meat served with wasabi on the top left and truffle-flavored salt on the top right.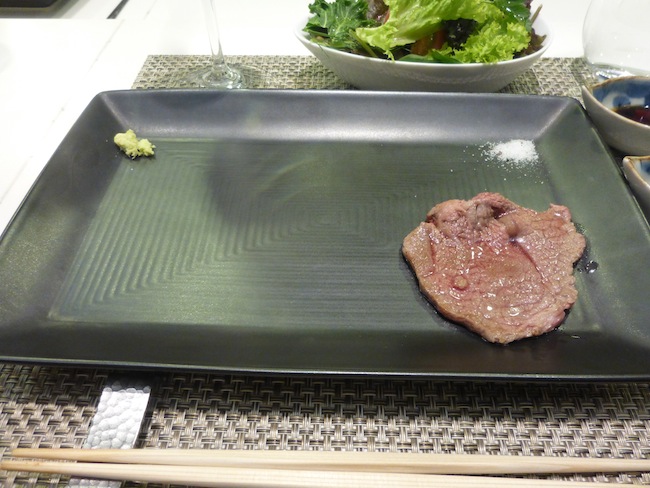 ▼ With less fat than the sirloin, the shoulder meat was perhaps not as soft, but there's nothing wrong with a little texture, and goodness, it tasted divine with the truffle salt — we nearly gasped when we placed it in our mouth.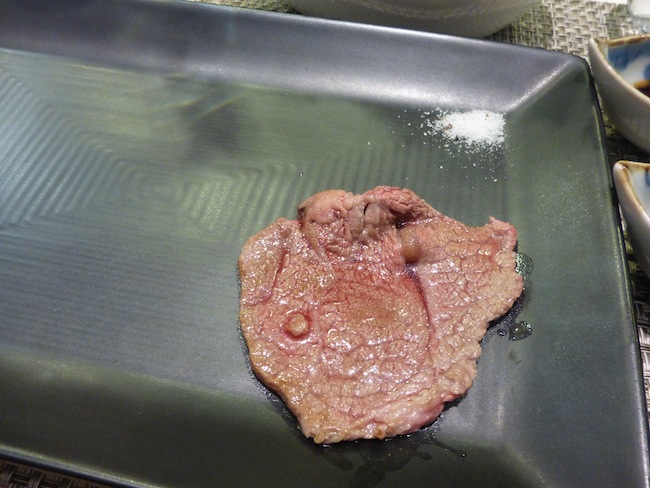 ▼ Hamada went on to cook some more of the shoulder meat.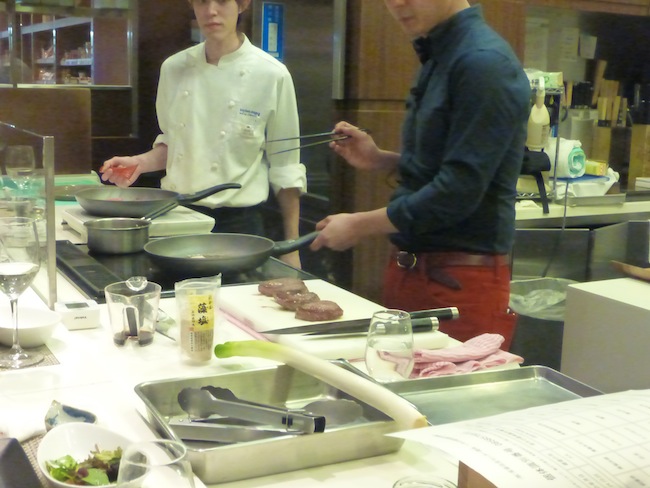 ▼ And this time, he cut it…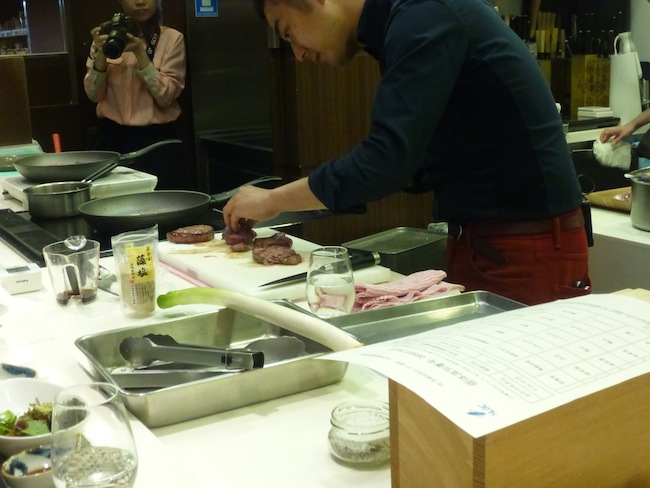 ▼ …into thicker slices.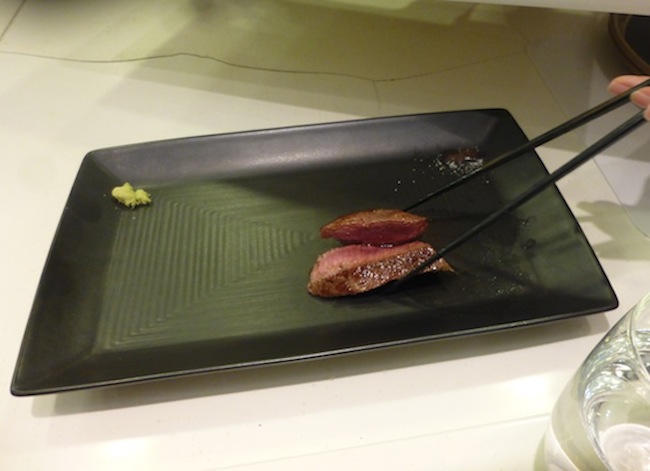 ▼ It was cooked beautifully, slightly rare, and you can see there isn't much white fat visible. As these slices were thicker, they were slightly chewy, but it did make you feel like you were really eating some meat.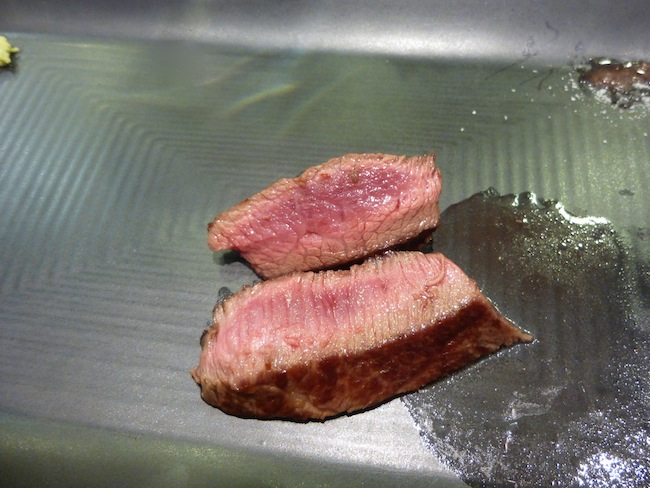 ▼ Oh, but we weren't finished yet. We had some meat left over from the sirloin, which had been minced so that we could have some ground beef steak on rice!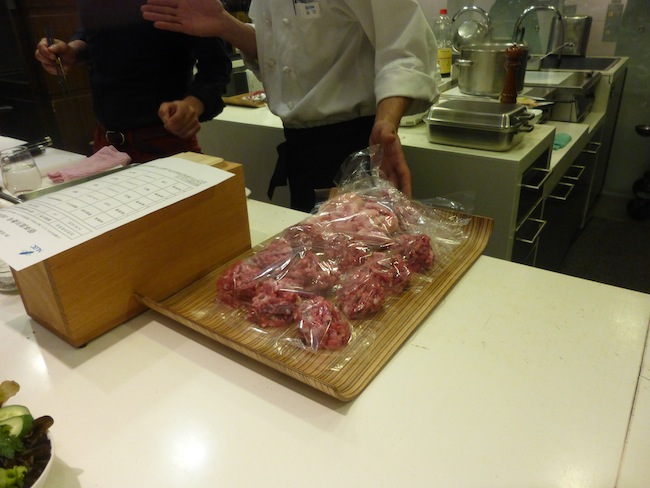 ▼ Hamada also chopped some Japanese green onions to use  as a garnish on top of the rice.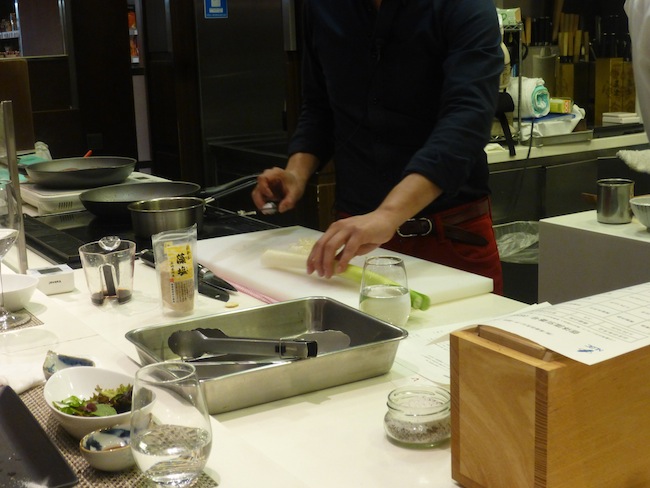 ▼ Once the ground beef steak was cooked, it was place on a bowl of rice along with the green onions.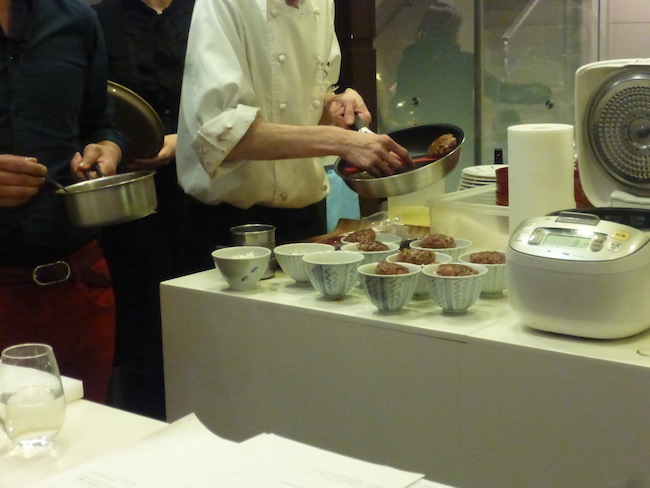 ▼ This was then topped with a sauce containing soy sauce, sake, mirin cooking sake and dried tomatoes.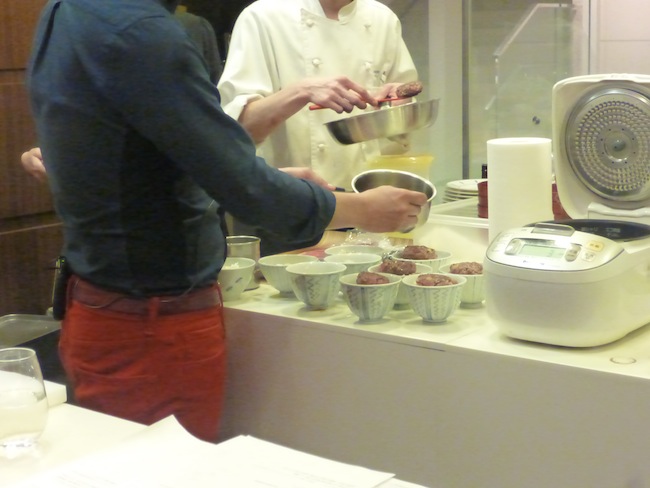 ▼ Here's the completed ground beef steak on rice. Now, if that doesn't look flavorful, we don't know what does.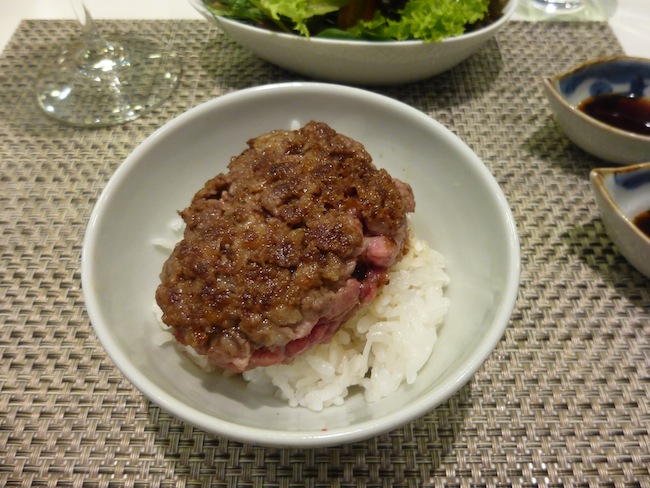 ▼ Sometimes, we find ourselves seriously wondering why white rice goes so incredibly well with juicy meat!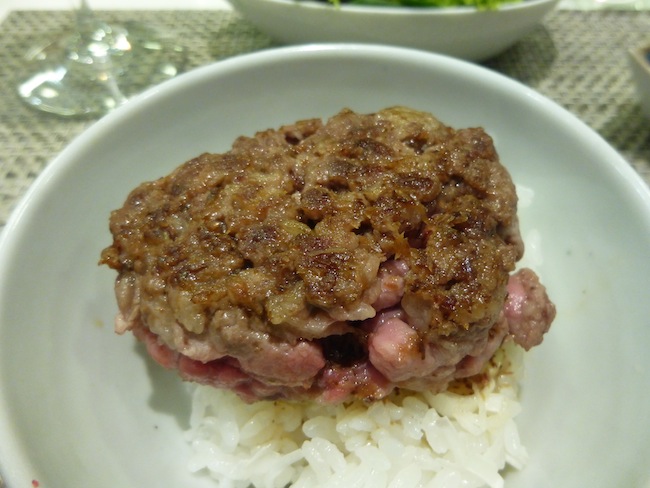 This ground beef steak too was cooked somewhat rare. The red color of the beef looked tantalizingly beautiful on top of the rice, and when we tasted the dish, it didn't disappoint! The sauce was not too heavy , and the roughly minced texture of the meat was a delight to savor.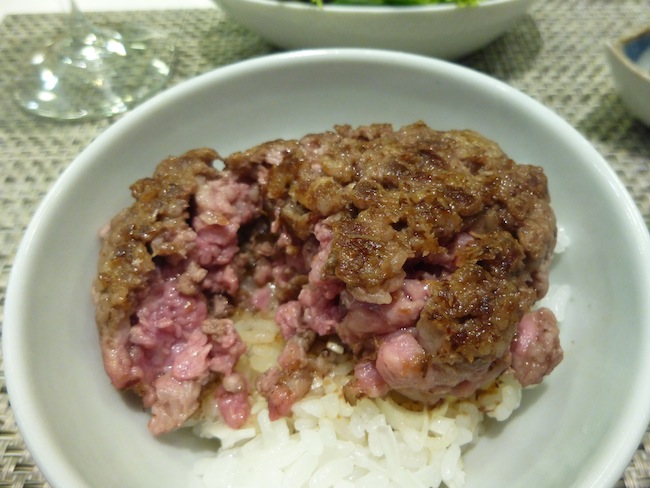 ▼ And since there was fresh wasabi available…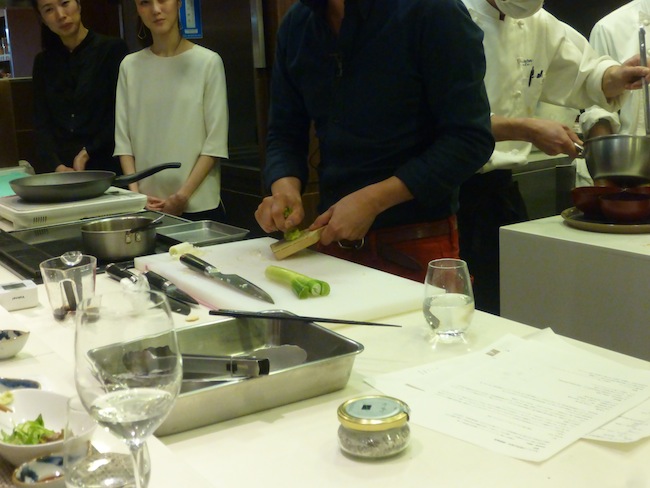 ▼ …anyone who wanted to spice up their beef and rice combo could ask for a little grated wasabi.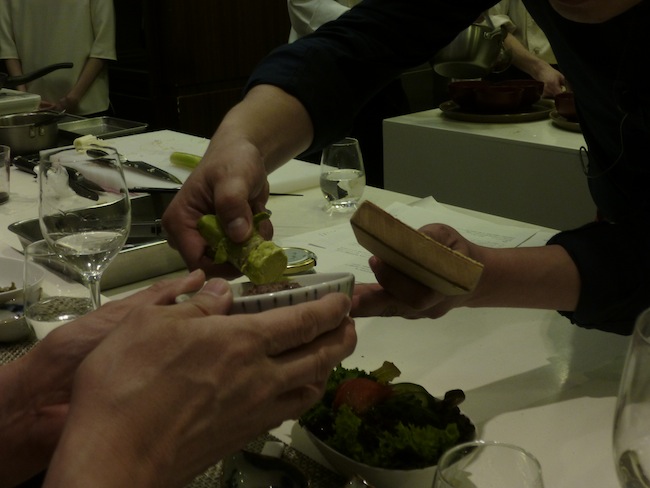 ▼ To finish off the meal, Hamada prepared a miso soup using the juice from the meat he had already cooked.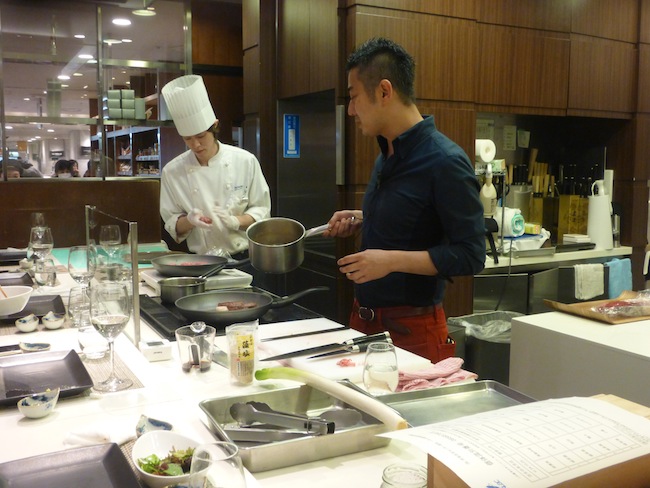 ▼ Hamada used a strong, red miso paste (aka-miso) to make the soup. We thought the juice from the beef added a delightful depth and just a tiny bit of untraditional flavor to the soup, making it a very satisfying way to end the meal. According to Hamada, wagyu goes exceedingly well with fermented products like miso.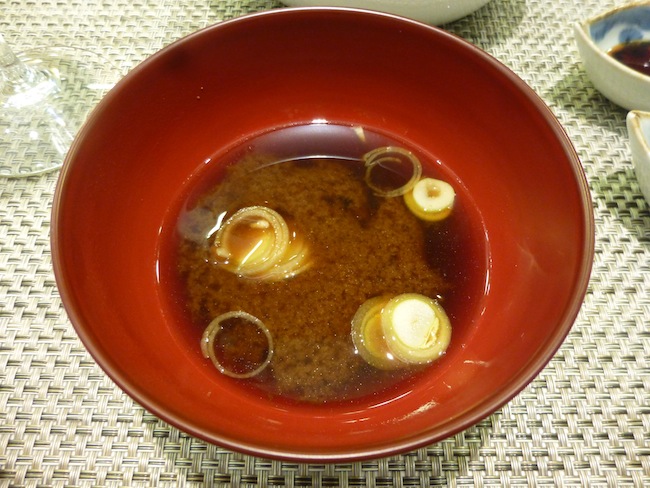 ▼ And this is salt that was used for this seminar, the "Hamamishio Moshio" from Tsushima in Nagasaki Prefecture in Southern Japan.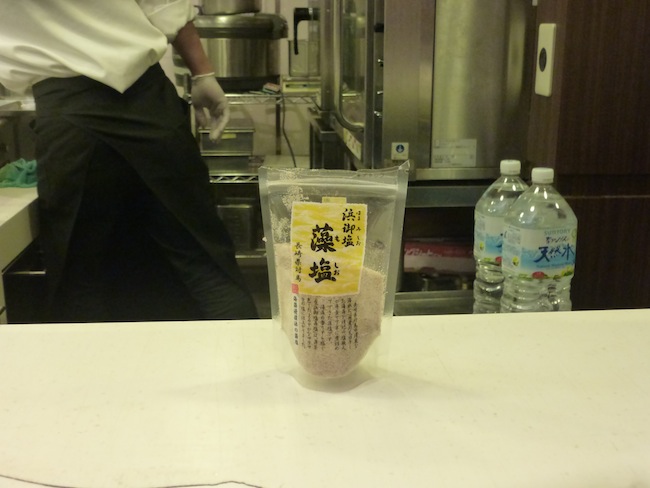 There were two other types of sake served during the meal, Banjou Jozo brewery's "Kamoshibito Kuheiji  Junmaidaiginjo" and Nakashima Jozo brewery's "Kozaemon Tokubetsu Junmai", which unfortunately we weren't able to try, as we were quite full from all the meat and our first glass of sake.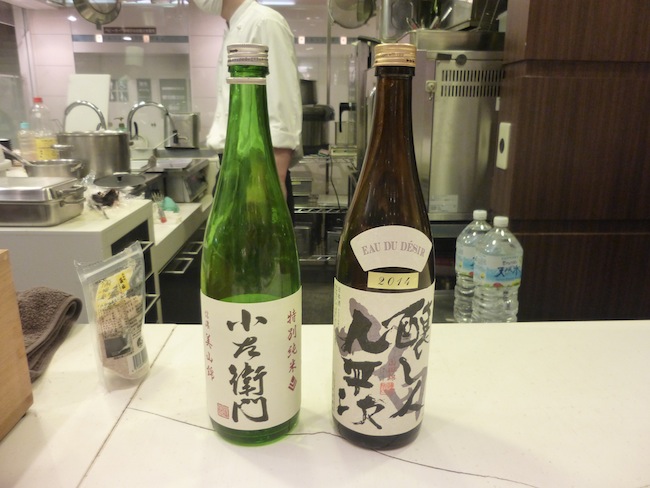 ▼ Of course, cutting the meat is also an important part of handling wagyu, and for this seminar, Hamada used quality knives produced by three-star Michelin chef Michel Bras in collaboration with Japanese knife maker Kai Corporation.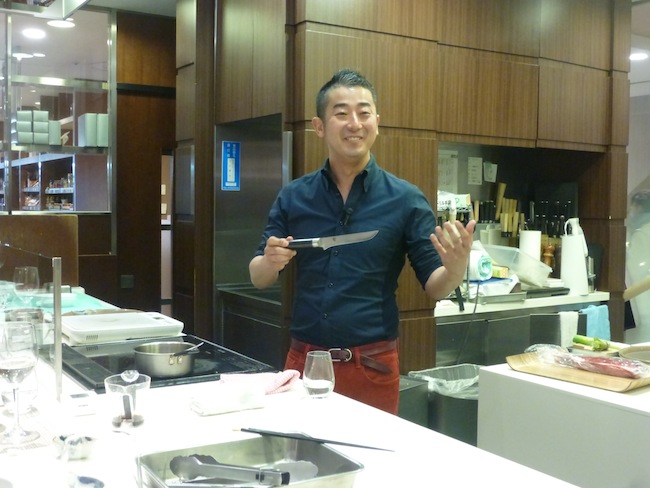 So, that finishes our report on our educational and enjoyable wagyu-themed evening. It was particularly interesting to hear Hamada say that there are about 250 brands of wagyu in Japan, so wherever you travel in Japan, you're likely to find a local wagyu brand, which can certainly be something to lookout for when you're traveling. He also mentioned that wagyu is usually best prepared in the cooking style popular in the region where the cattle is grown, such as sukiyaki for Matsuzaka beef and steak for Kobe beef. Not unlike sake, the quality and characteristics of wagyu are influenced by elements of the local environment including the grass and water, so it stands to reason that wagyu from a specific region would suit the cooking style and ingredients that have been well-received locally.
WAGYU DIRECT currently supplies wagyu to areas such as Singapore and most EU countries, and we hope they're able to expand their efforts to connect wagyu farms in Japan to restaurants and consumers around the world. After all, we would be very happy for more people to become familiar with the joy of wagyu. Thank you, Mr. Hamada, for a delightful evening!
Photos © RocketNews24