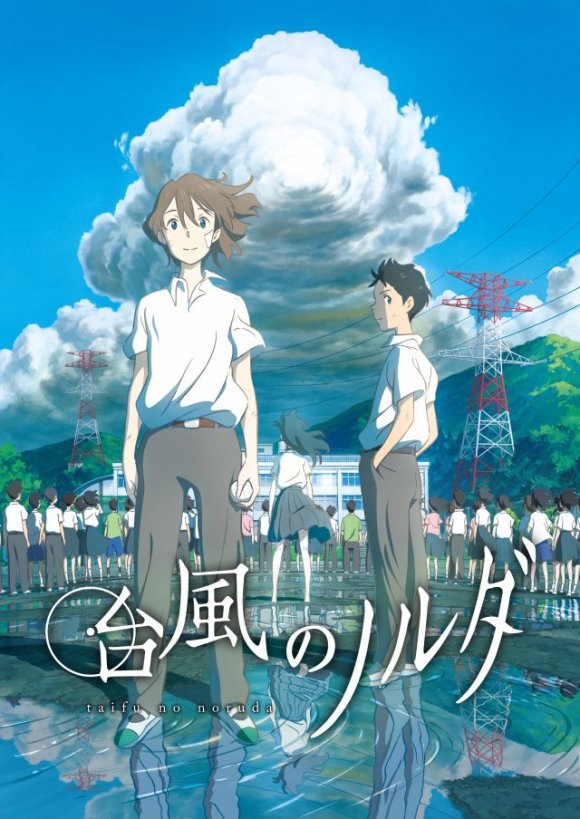 While we are always ready to get excited about a new Miyazaki project, we have to admit that we'll get equally excited about pretty much any announcement connected to Studio Ghibli. So, you'd better believe we'll be lining up on June 5 to see a new film from Studio Colorido called Taifu no Noruda—the directorial debut of Yōjirō Arai, an ex-Studio Ghibli animator.
Yōjirō Arai, who had a hand in animating such Ghibli films as Arrietty, From up on Poppy Hill, and The Wind Rises, is directing Taifu no Noruda for Studio Colorido, which also released his animated short "Control Bear." As Arai's first full-length film, we can imagine there's a lot riding on Taifu no Noruda, and we have to say, the plot looks as if it will be pretty interesting.
You can check out a 15-second trailer below.
The artwork is, unsurprisingly, gorgeous. Even if you're not a particularly big fan of the story, you have to admit it's amazing to look at.
But what is its story? It appears to be about the middle school boys on the poster, who are supposed to be close friends. Apparently the story begins with them fighting after one quits baseball–which wouldn't be that interesting on its own, but it seems that their island is facing the largest typhoon in recorded history. And a girl with red eyes has just come into their lives, which seems slightly ominous…
If you're wondering if Arai can actually direct, you should know he previously directed the animated commercial below for Marukome. It depicts a young man who's just started his first full-time job, living alone for the first time. It's oddly moving, but don't tell anyone we said that!
▼Hologram soup? The future is here!
Taifu no Noruda will get a three-week "roadshow" release (basically a limited release) on June 6. In addition to Arai, the film will feature character design and animation direction by Hiroyasu Ishida and music by Masashi Hamauzu.
If a beautiful film about childhood friendship, massive storms, and mysterious red-eyed girls sounds interesting to you, you better get your tickets as soon as possible. With the team working on this film, it's sure to sell out fast!
Sources: Natalie, Studio Colorido, Anime! Anime!, Jin115
Images: Studio Colorido