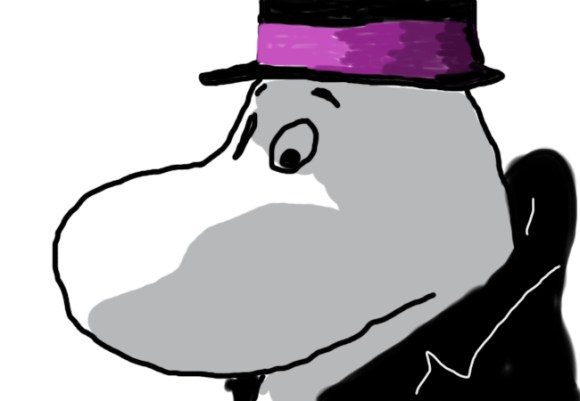 Thanks to years of espionage and international intrigue, Hattifatteners and Snufkin were first brought to Japan.
Created by Finland's Tove Jansson, the series The Moomins is an icon in its native land and has a considerable following in other European countries. However, Japan is a strange pocket of Asia where those plump hippo-like characters and their friends have acquired a status that rivals the notoriety of Hello Kitty or Mickey Mouse.
So, how did this cross-cultural gem first get planted in the Japanese consciousness from halfway across the world?
■ Moominmama & Moominpapa
The original Japanese translation of the Moomin books was done by the late Yuriko Onodera. She was the wife of Makoto Odonera, a Military attaché stationed in Stockholm, Sweden in the years leading up to and during World War II. Although assigned as a diplomat, Makoto's true mission was to gather and report information back to his HQ in Tokyo.
Makoto was a complex fellow. On one hand, he was an ambitious and effective intelligence operative referred to as the "King of European Spies" by colleagues.  However, at the same time he was a staunch anti-war advocate. It was perhaps this duality that landed him a position in Scandinavia at that time as opposed to other hotbeds of information such as the USA and Britain.
■ Behind every great man…
Yuriko played a key role in Makoto's work. Her job was to translate and encrypt all telegrams which she herself sent back to Japan. Doing all this while posing as a socialite to overhear information was no easy task and time was always of the essence. She had crafted a special waistband for her kimono which could hold priority documents and the encryption key for quick access.
One particularly busy period were the days leading up to December 7, 1941 in which Makoto sent telegram after telegram to Tokyo all with the exact same chillingly prescient message: "Under any circumstances, do not start a U.S.-Japan war. A war between the U.S. and Japan will be taken to the extreme."
Obviously his words were not heeded and his prediction was all too accurate as four years later reports of atomic bombs would come into the Japanese consulate in Stockholm. Not long after that, the Onoderas were summoned back to Japan.
■ Do not pass Go
As their ship arrived at their homeland Makoto was immediately arrested and investigated for war crimes. Yuriko was put in a government-run facility in which she had to be strip searched and all of her possessions were removed.
No charges were laid against Makoto and he was able to be reunited with Yuriko after a few months. From there the couple got ready to transition from a life of espionage to civilian labor. Makoto got a job with a lumber company while Yuriko was able to put her sewing skills to work making alterations on women's clothing.
After a while, Makoto was able to start up a Japan-Sweden trading company with an old contact he had in the Northern European country. With Yuriko as translator, they brought over works by esteemed Swedish writers such as Ellen Key and Barbo Lindgren. Also, among these works was the companies' crowning import, the Moomin series, setting the roots for a brand that would later explode in popularity when an anime adaptation hit in the '90s.
And that, boys and girls, is how Moomin came to Japan in a nutshell. If you'd like to learn more about the Onodera couple's trials and tribulations as spies in Sweden, NHK has announced that they will produce a docudrama about it titled Yuriko-san no Ehon (Yuriko's Picture Book).
Source: dot via Yahoo! News Japan
Top Image: RocketNews24