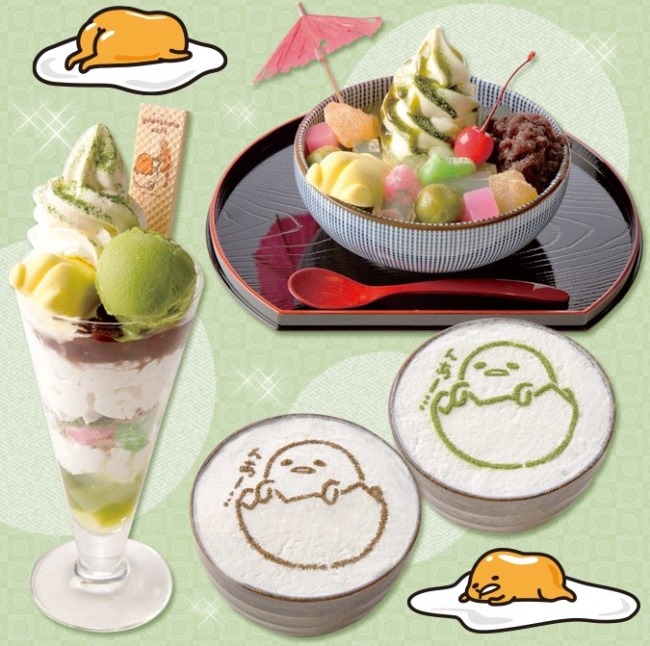 For a limited time, the MACCHA HOUSE cafe in Kyoto will be collaborating with Sanrio's well-loved apathetic egg, Gudetama!
If you liked the idea of Gudetama having his very own cafe in Osaka, we're pretty sure you'll also be delighted with the lazy Gudetama featuring in the menu at a Japanese-style cafe in Kyoto.
That's right: from March 18 to May 8, the MACCHA HOUSE Matcha-kan located near the Shijokawaramachi station in Kyoto will be offering darling Gudetama-themed foods and drinks, from relaxing lattes and sweets to even rice bowls! Here's a look at some of the items they've come up with.
●The "Gude Latte Art" Matcha Latte (600 yen [US$5.28])
This hot green tea latte drink is decorated with adorable Gudetama latte art in bright matcha green.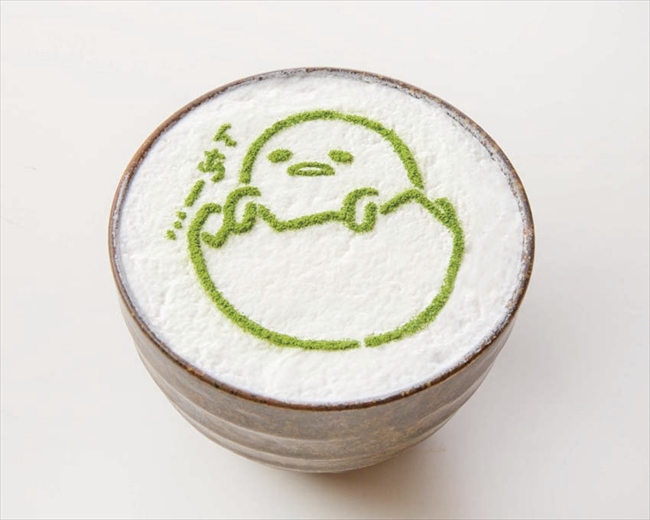 ●The "Gude Latte Art" Hojicha Latte (550 yen [US$4.84])
This is the hojicha (roasted green tea) version of the  Gudetama decorated latte.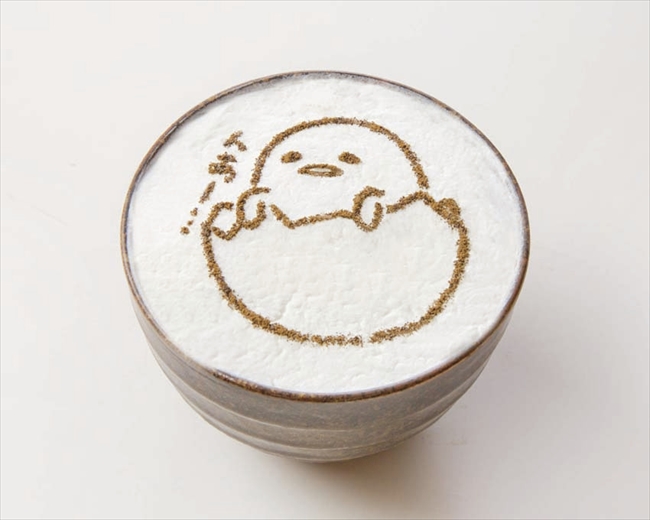 ●The "Might Be Parent-and-child" Rice Bowl (Oyako kamo Don: 1,100 yen [$9.68])
This rice bowl contains the ingredients of a traditional oyako-don (parent-and-child rice bowl), in this case chicken and egg. And just for fun, they've apparently played with name of the dish here by adding the phrase "might be" (kamo).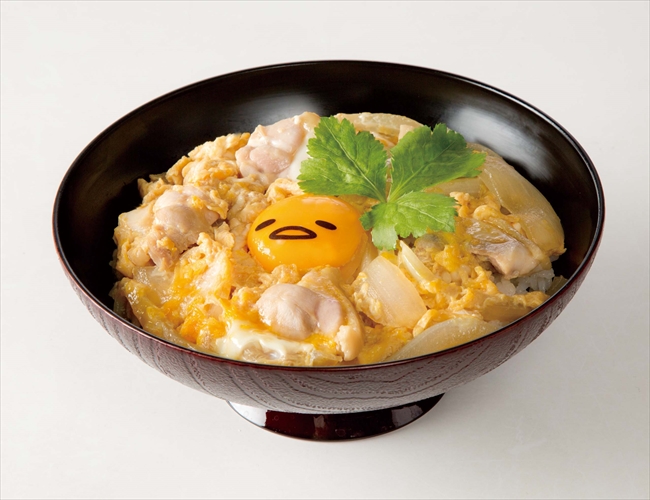 ●The "Societal Constraints" Udon Noodles (Shigarami Udon: 900 yen [$7.92])
This bowl of udon noodles (thick wheat flour noodles) is topped with shaved dried bonito flakes, chopped leeks, a piece of abura-age (fried tofu), bits of fried tempura batter and of course, a soft-boiled egg with Gudetama's face.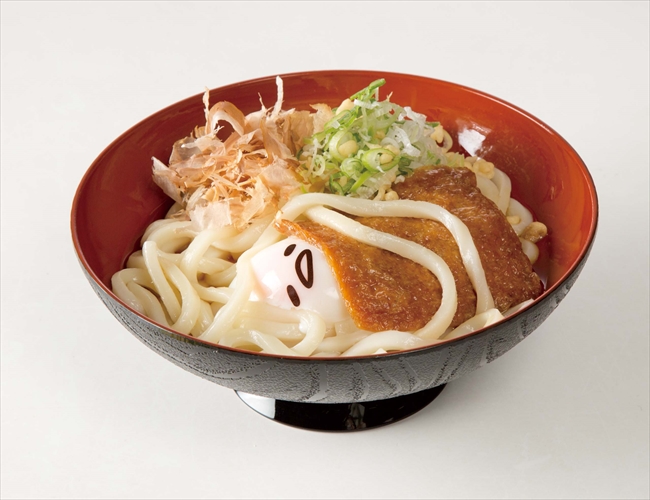 ●The Gude Matcha Parfait (1,250 yen [$11.00])
Well, what can we say? It's a yummy-licious sundae type of dessert filled with different kinds of cream and sweet red bean paste, topped with both matcha and soft serve ice cream, along with a Gudetama illustrated vanilla wafer and  what looks like a piece of yellow chocolate in the shape of Gudetama's pert bum.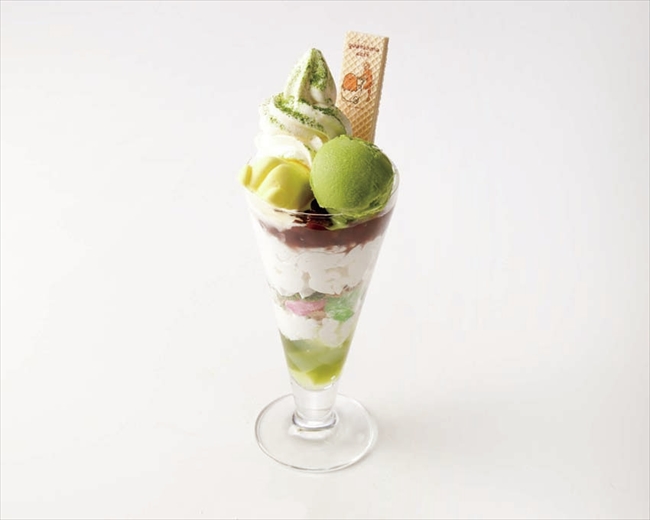 ●The Gu-deluxe Soft Serve Ice Cream Anmitsu (1,250 yen [$11.00])
This is the cafe's take on anmitsu, a traditional Japanese dessert that typically consists of agar jelly cubes, sweet red bean paste and fruits served in a sweet syrup. This "Gu-deluxe" version apparently comes with a helping of  soft-serve ice cream and again, the piece of chocolate Gudetama bum.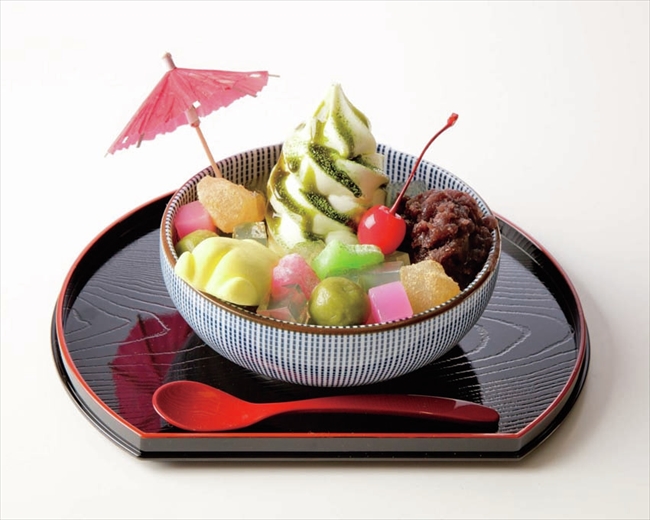 ▼ Oh, and they'll also be giving out gift "Gudetama the Tea Master" coasters while supplies last: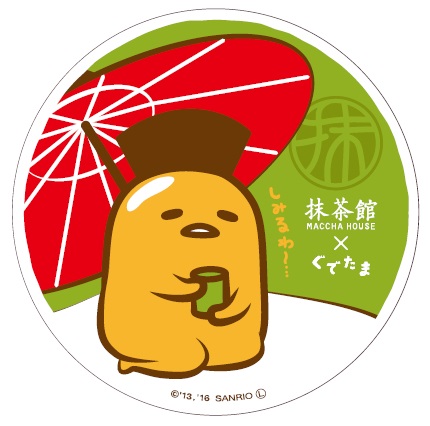 Some of the items, like the chicken-and-egg rice bowl and the udon noodles, were previously offered in Osaka while the cafe there was a temporary shop, and which, to the delight of fans, are now making a comeback in Kyoto.
What makes this collaboration particularly interesting is that the MACCHA HOUSE Matcha-kan cafe itself is a chain that originated outside of Japan, with stores in areas such as Singapore and Hong Kong, so their shop in Kyoto is actually a case of Japanese matcha and cafe culture being reverse-imported into Japan.
If you're going to be in Kyoto in the coming weeks, the Gudetama and MACCHA HOUSE collaborative cafe may be a great place to take a break from sightseeing and recharge your energy. They'll also be selling Gudetama merchandise there too, so fans of the lazy egg will be certain to enjoy the visit!
Restaurant Information
Gudetama x MACCHA HOUSE Matcha-kan
Address: 382-2 Komeyacho, Kawaramachidori Shijou Agaru, Nakagyouku, Kyotoshi
京都市中京区河原町通四条上ル米屋町382-2
From March 18 – May 8
Open: 10:00 a.m.-10:00 p.m. (last order 9:00 p.m.)
Source: @Press press release,  Sanrio website news release, Gudetama Cafe website via Entabe 
Top image: Sanrio website news release
Insert images: @Press press release, Gudetama Cafe website