This dance and and its accompanying catchy little jingle, nicknamed the "brainwashing song," are currently stuck in people's heads around Japan.
Nagano Prefecture's JA Bank has teamed up with an unlikely ally to promote their pension plans: a peppy dancing schoolgirl, who stars in a highly addictive new TV commercial that's bound to get stuck in your head for hours.
Give the commercial a watch below, but don't say we didn't warn you!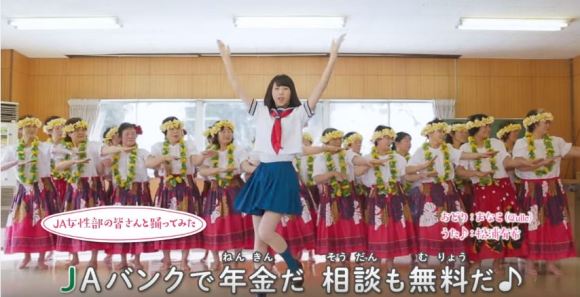 Dubbed the "nenkin dance" (nenkin being the Japanese word for "pension") the short clip's lyrics are incredibly simple but catchy:
Pension ♪ pension ♪
Enroll in a pension plan at JA Bank
Consultations are free ♪
Pension ♪ pension ♪
We also have plenty of ATMs you can use♪"
The accompanying dance is performed by the sailor uniform-clad Manako, formerly part of the Danceroid dancing team and a member of the Q'ulle idol group since late 2015. Manako just celebrated her 20th birthday earlier this month, but she still looks pretty darn cute in a schoolgirl outfit, wouldn't you say?
▼ Surprisingly, not everyone seems to be impressed by Manako's dancing, as the faces of these two JA Bank employees suggest they're thinking, "Just let me go back to work already!"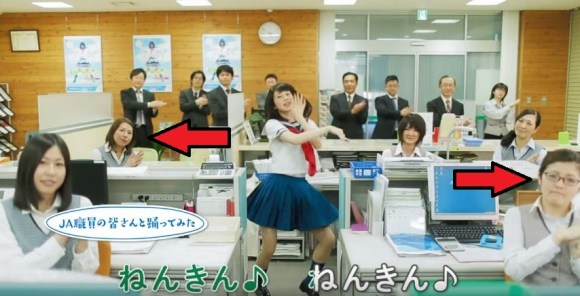 If that dance sequence looked a bit familiar to you, it's probably because Manako drew inspiration from some of her other favorite dance routines, such as when she danced to Yo-kai Watch's first ending theme "Yo-kai Taiso Dai-Ichi":
Catch more of Manako's dances in her trademark sailor uniform on her official YouTube channel.
Source: Byokan Sunday
Images: YouTube/namcozou011