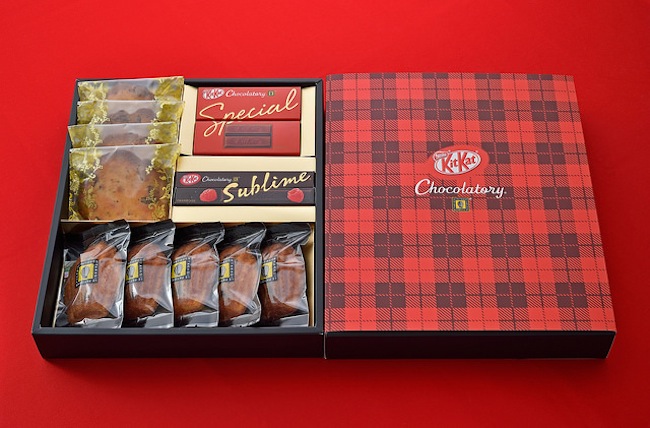 Remember the Kit Kat Chocolaterie, the world's first Kit Kat specialty store that opened in the Ikebukuro Seibu Department Store back in January this year? The shop sells limited edition Kit Kats produced by celebrity patissier Yasumasa Takagi, so it's not surprising that huge crowds of Kit Kat fans have been making their pilgrimage to the store in search of unique Kit Kat products.
Since then, the Kit Kat bandwagon has apparently been going strong, as two more Chocolaterie shops have opened in Japan, one in the Daimaru Department Store at Tokyo Station and another at the Matsuzakaya Department Store in Nagoya. And now, they've announced that they'll be coming out with a special "Kit Kat Chocolaterie Patissier Gift" set for Christmas, and we can't wait to see what goodies it contains. Plus, there's even a Kit Kat inspired Christmas cake created by chef Takagi that they're now taking orders for — who knew that Christmas could be so much fun for Kit Kat lovers?
The gift set, which contains special Kit Kat Chocolaterie products and chef Takagi's original baked confections, is a dream collaboration for any sweets fan.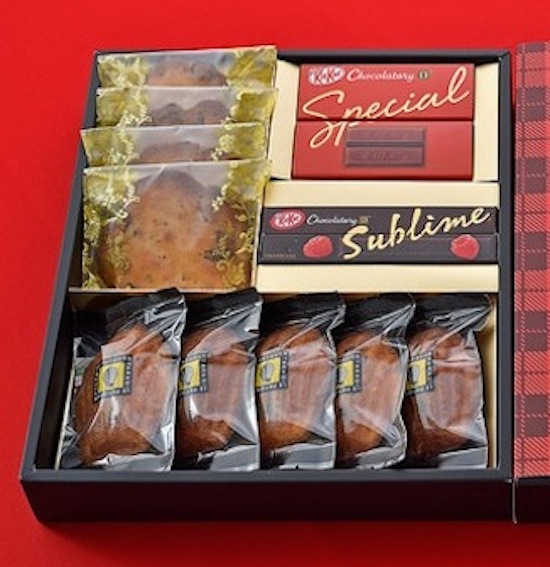 For 4,500 yen (US$37.92), the set contains one piece each of the "Kit Kat Sublime Bitter" and "Kit Kat Sublime Raspberry", a box of the "Kit Kat Chocolaterie Special Strawberry Maple" and also the "Kit Kat Chocolaterie Special Ginger", plus five madeleines and four cookies from chef Takagi. A delightful added touch is that the madeleines have a whole Kit Kat baked into them, giving them a crunchy texture, and the cookies also contain crunched Kit Kat bits — they definitely aren't your ordinary baked treats!
You can now also pre-order this delectable looking "Kit Kat Chocolaterie Noel" cake covered in shiny chocolate, available for 5,000 yen ($42.13).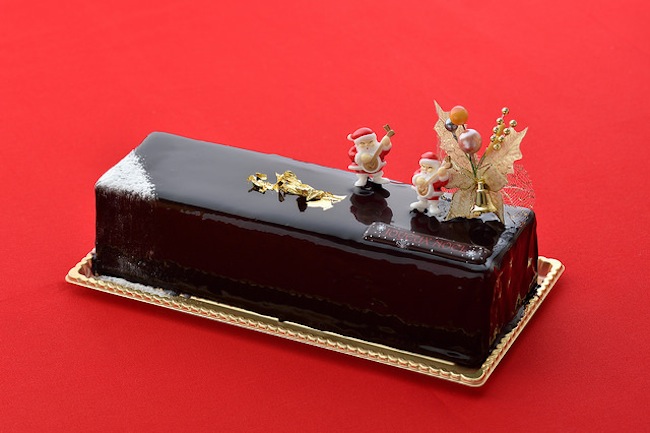 The cake too is the work of chef Takagi and was created as an homage to the well-loved Kit Kat snack. The cake, made from layers of caramel butter cream, crispy fiantine cookie and biscuit, is designed to recreate the look and texture of Kit Kats without actually using the snack as an ingredient. Now, that certainly makes for a unique Christmas cake!
Chef Takagi commented that he wanted to include items in the gift package that would offer a sense of genuine surprise, which is why he came up with the idea of baking an entire Kit Kat into the madeleines, and as for the cake, he made an effort to create his own rendition of a Kit Kat using original ingredients, resulting in what he hopes is a delightfully surprising and fulling cake.
The "Kit Kat Chocolaterie Patissier Gift" will be available at all three Kit Kat Chocolaterie stores for just one week from December 19 to 25, but they'll be selling only 20 sets each day, so they may very well sell out. You can also place orders now for the "Kit Kat Chocolaterie Noel" cake at the Ikebukuro Seibu store and the Tokyo Daimaru Store until December 20 for pick-up on December 24, but these are also limited to a total of 75 cakes, so anyone intending to order one may want to hurry.
So, if you're celebrating the Holiday Season this year in Japan with someone with a fondness for Kit Kats, these could be the perfect treat. Here's to a chocolatey, crunchy Christmas!
Source: Nestle Japan press release (Japanese) via Entabe (Japanese)
Photos: Nestle Japan flickr account via Nestle Japan press release