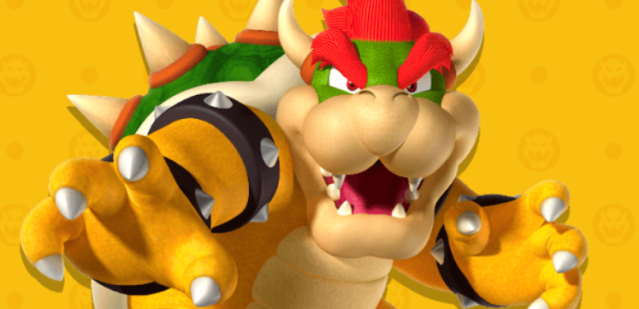 Forget King Koopa, and say hello to President Bowser.
When you stop and think about it, how successful is Nintendo's Super Mario as a hero? Sure, he's saved the day countless times, but those victories have always been temporary ones. Somehow, arch-nemesis Bowser always manages to come back and conquer the Mushroom Kingdom again in a year or two.
And now an even more diabolical ambition has been realized, as Bowser has gained control of Nintendo itself!
Hold on…we're being informed that fictional turtle/dragon/dinosaur hybrids, in fact, cannot legally serve as executives of real-world companies. But there's no mistaking the announcement made by Nintendo of America, which says that effective this April, the company's president will be Bowser, as Reginald "Reggie" Fils-Aime, Nintendo of America president since 2006, is stepping down.
Nintendo fans, Reggie has a message for all of you. Please take a look. pic.twitter.com/EAhaEl5oEJ

— Nintendo of America (@NintendoAmerica) February 21, 2019
Succeeding Fils-Aime will be Doug Bowser, a human being who's currently Nintendo of America's head of sales.
▼ Bowser with video game director Masahiro Sakurai at a launch event for Super Smash Bros. Ultimate
Well done Mr. Sakurai! Hope everyone has a Smashing night. #SuperSmashBrosUltimate pic.twitter.com/bpEFkCGB5t

— Doug Bowser (@thetruebowser) December 7, 2018
Given Bowser's lack of scales, shell, or horns, it seems that he's neither the identically named video game villain himself nor one of his numerous offspring. However, we can't entirely rule out the possibility that he's a reptilian monster with advanced shapeshifting and/or illusion-conjuring skills, what with his open animosity towards Mario and brother Luigi, as evidenced by this photo of Doug in which the plumbers are tied up behind him while the franchise's enemy characters enjoy considerably greater freedom.
This is the first photo of Doug Bowser when he joined Nintendo

We never getting a new Mario game ever again pic.twitter.com/thv6o9opvf

— Nibel (@Nibellion) February 21, 2019
Still, in Fils-Aime's video good-bye (in which he says he's vacating the presidency in order to spend more time with family and friends), he says that the company is in good hands with Bowser, who joined Nintendo in 2015 and whose resume includes time at video game publisher Electronic Arts as well as Procter & Gamble, where Fils-Aime also previously worked.
▼ Bowser's photos from a trip to Kyoto (where Nintendo is headquartered) last month show a keen artistic eye.
Finally got to spend the day being a tourist in Kyoto #beautifulkyoto pic.twitter.com/8v7vBJtYd7

— Doug Bowser (@thetruebowser) January 25, 2019
Perhaps with Bowser now holding such a powerful position, fans can once again start hoping for Nintendo to legitimize the Bowsette fan-created character by giving her an official in-game appearance. However, Bowser's sway may be limited by the fact that while he'll soon be president of Nintendo of America, he still has to answer to Nintendo of Japan president Shuntaro Furukawa, perhaps because the character called Bowser has a different name, simply "Koopa," in the Japanese editions of the Mario games.
Sources: Automaton via Jin, Bloomberg
Top image: Nintendo