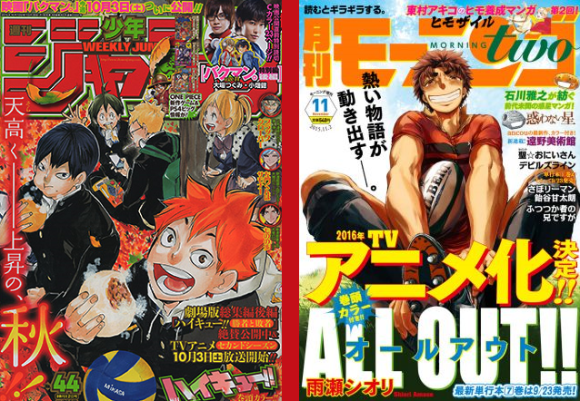 Everyone could use a little extra money in their pocket as we head towards the end of the year. Maybe you've got a long Christmas shopping list, made fancy New Year's Eve plans, or just want to take a trip back home to visit family and friends during winter vacation.
As such, you might find yourself looking for a part-time job to help fill your coffers, and while you could go with such traditional choices as picking up a shift working in a restaurant or a shop at the mall, your options now also include a micro-stint as an editor for two of Japan's most popular manga anthologies.
While many full-time employees in Japan stick with the same company for their entire career, part-timers' situation is much more fluid, with many jumping from one temporary post to the next. Helping them in their job hunts is website Town Work, which this month added two very unique entries to its employment listings.
First up is a one-day position as an editor for publisher Shueisha's Weekly Shonen Jump, the largest of Japan's many manga anthologies and home of such hits as One Piece, Hunter X Hunter, Bleach, and Gintama.

Shueisha is looking for someone to work in its editing department on a yet-to-be-determined date in mid-November. The successful applicant will spend the day evaluating submissions from aspiring manga artists and making font and type-setting decisions regarding titles currently being serialized in Weekly Shonen Jump.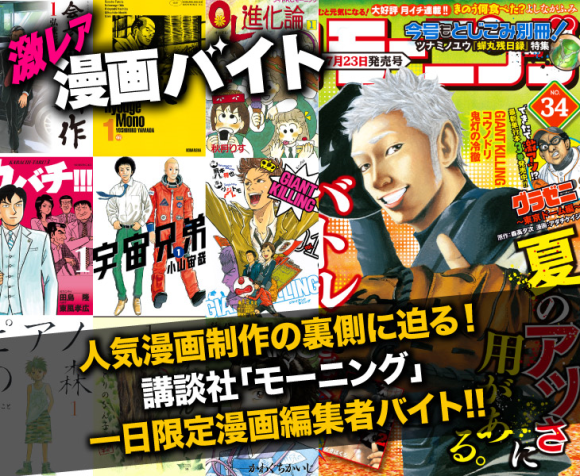 On the other hand, if your manga preferences lean more towards Space Brothers, Giant Killing, What Did You Eat Yesterday?, and the other titles carried by Morning, you'll be happy to know that weekly manga anthology's publisher, Kodansha, is also looking for a one-day editor to work on October 19. Tasks will include checking artwork drafts and a meeting with baseball manga Battle Studies author Kuro Nabika to discuss the temporary editor's impressions of the title.
No prior experience or specialized skills are required for either post, and their pay is identical at 30,000 yen (US$252) for the day. Kodansha is also sweetening the deal by throwing in the first collected volume of every manga that Morning is currently serializing.
Applications are being accepted from anywhere in Japan. Both companies will provide commuting expenses to their offices in Tokyo, and in the event that the distance from the successful applicant's home is too far to make the round-trip in a single day, lodging may be provided as well.
Applications are currently being accepted through the Town Work website (Weekly Shonen Jump here and Morning here), so if you've got ideas on how to help manga step up its game, throw your hat in the ring.
Sources: IT Media (1, 2), Town Work (1, 2)
Top image: Shonen Jump, Morning (edited by RocketNews24)
Insert images: Town Work (1, 2) (edited by RocketNews24)