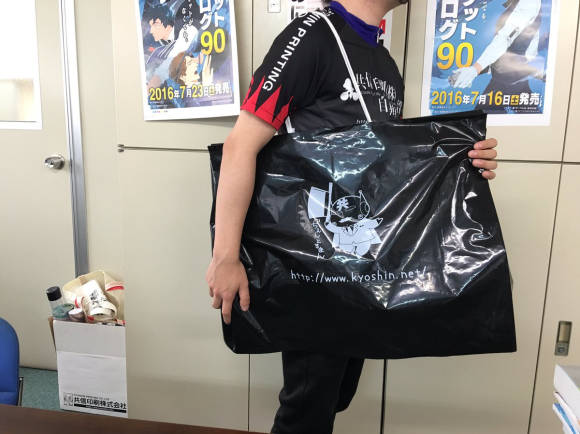 Completely opaque bags being offered to keep merchandise in mint condition and away from sensitive eyes.
Comiket, Japan's largest gathering of dojinshi, or self-published manga, opens its 2016 summer iteration on August 12. But while the event is the highlight of summer for hardcore otaku, it can present a bit of an uncomfortable situation for everyone else.
See, the big draw of Comiket is that a lot of the artwork and other products on sale there can't be purchased anywhere else. Nothing gets hardcore anime fans to open their wallets like a last chance to buy limited-edition items, and so attendees tend to buy a lot of stuff, so much so that they need large bags to carry it all in.
In recent years, innovative exhibitors have hit upon the clever idea of giving customers Comiket-exclusive bags festooned with the exhibitor's artwork. These have become highly sought-after, but the "unofficial" nature of Comiket means that some of the characters gracing the bags are doing so in rather salacious attire and poses. While that's a big plus in the eyes of many fans, Comiket is held at Tokyo Big Sight, a convention center on the manmade island of Odaiba. That means attendees have a long train ride back home after the show, during which they share the trains and subways with many other passengers who aren't so keen on seeing busty 2-D schoolgirls dripping vanilla ice cream cones all over their half-unbuttoned uniforms, or sweaty manga student athletes affectionately stroking each other's' vibrantly hued hair.
That's why Kyoshin Printing Co. will be at Comiket with a supply of what it calls Gentleman's Bags.
今年もコミケ90西1F企業ブース8/12.13日 国際交流コーナーにて、雨・埃・人の<視線>から紙袋を保護する「紳士袋」を開催期間中1日先着100名様に無料配布します!配布終了後は1枚200円で頒布します #C90 pic.twitter.com/YXzuoz2AvX

— 共信印刷(株) (@kyoshin_print) July 19, 2016
Made of opaque plastic, the oversized carriers are large enough to slip dojinshi-decorated bags inside of, keeping them clean, dry, and out of the gaze of sensitive onlookers outside the convention area.
Kyoshin Printing will be at the West Hall's first floor, in the industry booth area's international exchange corner, on August 12 and 13. Free gentlemen's bags will be handed out to the first 100 guests, after which they can be purchased for 200 yen (US$1.95) each.
Related: Kyoshin Printing
Source: IT Media
Top image: Twitter/@kyoshin_print
Another mark of a sophisticated gentleman? Following Casey on Twitter.