Festival-goers sustain injuries, suffer broken bones at one of the most dangerous festivals in Japan.
Japan is well-known for its traditional autumn harvest festivals, where portable shrines called mikoshi create huge lumps on the shoulders of those who carry them and floats are pulled around local streets to the sound of chants and whistles as a way to pray for bountiful crops.
Not all festivals are made the same, though, as traditions and customs vary from region to region, and in the Kansai area of western Japan, reverence is given to a particular style of float called a Danjiri.
Known for their elaborate carvings, which depict scenes from ancient battles and folklore, these Danjiri can weigh up to four tonnes and reach heights of 14 metres (46 feet).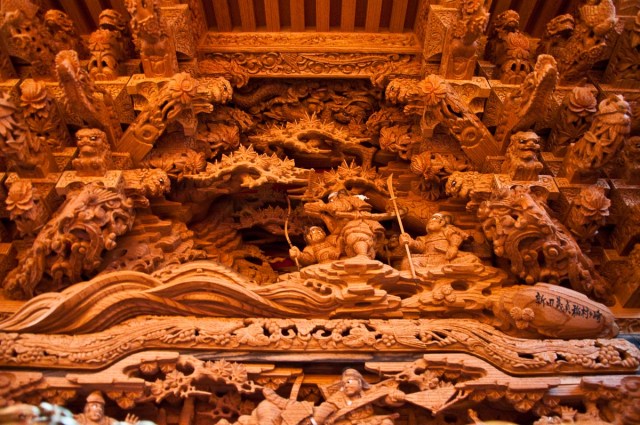 While the floats themselves are unique, with each one showcasing the work of the best craftsmen from their particular locale, they're also incredibly dangerous. Danjiri Festivals are known to cause injuries and fatalities due to the high speed at which the massive floats are pulled along roads, especially as participants jump back and forth on their roofs.
https://www.instagram.com/p/B3rejuDHx_5/
Now is the season for Danjiri Festivals, and on the weekend, the dangers of the festival were made apparent once again, as three people were injured following an incident at Sakai in Osaka.
Take a look at the accident here:
The video above shows the moment one of the festival floats comes careening around a corner, accelerating while attempting to stay on course. These corner turns, known as "yarimawashi", are considered by many to be the most thrilling parts of the festival route, and are often crowded with spectators.
The only problem is, these areas are the most dangerous, both for participants and spectators, and when the float crashed into the power pole at approximately 8:20 a.m. on Saturday, five people were injured and taken to hospital.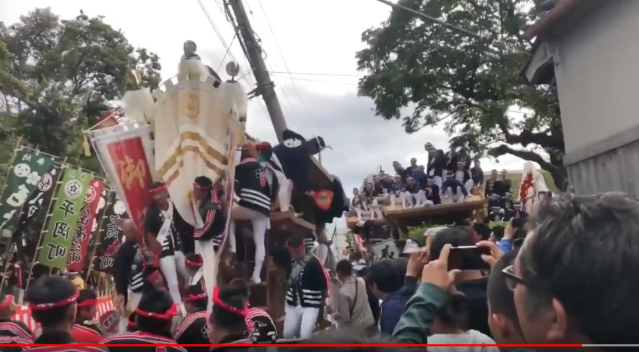 According to police, at least three male festival participants sustained minior injuries, while a female spectator in her teens suffered a broken leg.
Another angle of the incident shows the moment of impact from right next to the pole, with a woman screaming on the ground after the collision.
堺のだんじり事故動画です。 pic.twitter.com/kBZuwIMq6F

— 浪速野郎 (@naniwayarou5) October 19, 2019
Videos of accidents in other areas around Osaka soon surfaced online, showing another out-of-control float crash into the side of a building at Kaizuka…
🏮昨日貝塚だんじり見に行って来た🏮
五叉路のとこあっちこっちからだんじりが来てだんじり渋滞でカメラ撮るの忙しい忙しい💦
やけどめっちゃオモロかった⤴︎ ⤴︎⤴︎#貝塚だんじり2019#だんじり事故 pic.twitter.com/GvhrKKwAF6

— カノン゚・*:.。❁お休み中。。。 (@yrnm_1106) October 14, 2019
▼ A brush with danger on the side of another utility pole in Sakai…
毛穴町山川会館右折事故 pic.twitter.com/8TiRVVoxwQ

— だんじりが大好きなんだよ (@danjirigadsk) October 18, 2019
▼ And a near-miss with a road sign and safety barrier in Kishiwada.
こりゃアカンやつやん😣#だんじり#地車#だんじり祭り#だんじり事故#大工方 pic.twitter.com/yUQzlr7mZk

— IKAMASA (@IKAMASA4) October 13, 2019
▼ Collisions at night, when the danjiri are lit up with lanterns, look even more dangerous for everyone involved.
#鳳#だんじり#事故#新在家

元ツイしてた方が消してしまわれたので代わりに上げときます。 pic.twitter.com/V9Q27LxHn9

— おふろ (@ohuro_gomi) October 14, 2019
Injuries like these occur at Danjiri festivals year after year, and people online were quick to discuss the issue, leaving comments like:
"If I was a local, I would refuse to participate in these festivals."
"Someone needs to take a stand and force them to stop for everyone's safety."
"It's not easy to just stop the festival as it has hundreds of years of history behind it."
"It seems that holding on to tradition is more important than protecting people and saving lives."
"The festival itself isn't a problem – they need to prohibit reckless speeds that damage buildings and public objects."
"Times have changed and these areas are far more built up than they used to be in the past, so the festival needs to change too."
With so many injuries occurring every year as a result of the festival, fears for public safety continue to grow. However, with a large number of local residents looking to preserve the traditions of the festival, which draws huge crowds of tourists from around the country, there appears to be no stopping the Danjiri, nor their reckless speeds, for now.
Source: NHK News Web
Featured image: YouTube/メガマフィン
Insert images: Wikipedia/stemu2000, YouTube/メガマフィン
● Want to hear about SoraNews24's latest articles as soon as they're published? Follow us on Facebook and Twitter!