Villa Escudero is a beautiful hacienda-style resort built inside a working coconut plantation located in the Quezon province of the Phillipines. The resort has become a prime tourist destination for both locals and overseas visitors, who are drawn by the cozy rooms, natural beauty, and unique cultural activities such as bamboo rafting and rural village tours.
Perhaps most unique of all is the Waterfalls Restaurant, where guests can enjoy a meal on bamboo dining tables set at the foot of a small waterfall.
While it's no lunch at Niagra, the experience of eating traditional Filipino dishes while fresh, crystalline spring water flows over your feet has got to be something special.
The waterfall, known as Labasin Falls, is more than just a beautiful backdrop: customers are free to take off their shirts and stand (or sit) under the rushing water.
We imagine this is nothing short of paradise, especially during the summer months. Anyone planning a trip to the Philippines should mark Villa Escudero on their maps.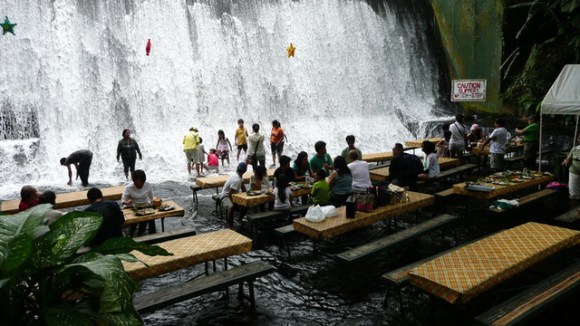 ▼ A closer look at the rest of the resort. Now how much does a plane ticket to Manila cost…
Source: Villa Escudeo, Kotaro