Slappy Cakes is a popular pancake restaurant in Portland Oregon that lets customers create their own custom pancakes at their tables. It's a fun time for those who want a completely new pancake experience. However, its popularity has resulted in some long wait times.
Luckily, Slappy Cakes' success has allowed it to expand, but rather than add another location in Portland they decided to set up shop in completely uncharted DIY pancake house territory: Shinjuku, Tokyo. We sent Mr. Sato to a pre-opening demonstration for a report.
The Tokyo Slappy Cakes is located on the 7th floor of the Lumine Est building right by the busiest train station in the world. Prior to its 31 January opening, only elite members of the press such as Mr. Sato were allowed entry to this preview demonstration.
Walking into the new restaurant, he felt like he was being transported to the woodlands of Oregon with its hardwood floors and walls. It was a comfy atmosphere overall.
In this relaxing scene, the Slappy Cakes staff gave a demonstration of how the pancakes are served and cooked. It all looked very easy. The batter (your choice of buttermilk, whole grain, or peanut butter) is served in a plastic squirt bottle, which you simply squirt onto the hotplate built into the table.
For residents of Japan the scene was pleasantly familiar to an okonomiyaki restaurant but with a sweet twist, with a wide array of toppings was laid out in little gravy boats for your adding pleasure. Of course, traditional pancake favorites like maple syrup and whipped cream were readily available.
It's worth noting, however, that although the shop seats 62, 36 of these seats (six booths) do not have hotplates of their own. So if you want the complete pancake creation experience make sure you ask for the right location. Or, if you're one of those radical types who goes to a restaurant with the intent to pay other people to cook your food, just get a normal table and order from the menu.
This demonstration was all taken care of by the staff so hungry Mr. Sato was unable to try for himself, but he could clearly get the sense that this was easy and anyone could get a kick out of doing it.
All signs point to the Shinjuku Slappy Cakes restaurant being hit that possibly even surpasses the original Portland shop. If so we can expect further expansion soon, and judging by their franchise strategy the people of Cape Town, South Africa will be enjoying some custom pancakes very soon!
*UPDATE*
Not wanting to let the staff have all the fun, our man Mr. Sato went grabbed a pal and tried out the new DIY pancake joint for himself. Check out his… interesting attempts in this original RocketNews24 video:
Original Article by Mr. Sato
Photos: RocketNews24
Slappy Cakes website: Tokyo (Japanese), Portland (Portlandian)
▼ The tables have hotplates built in.

▼ Make your own pancake creation with your choice of ingredients and toppings.

▼ The batter is easily dispensed from squeeze bottles.

▼ These pancakes are buttermilk, with blueberry and dried pineapple toppings.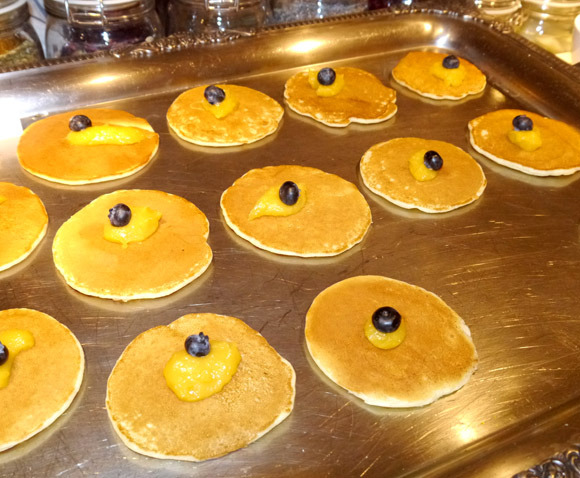 ▼ Added some maple syrup to these bacon pancakes.

▼ The ingredient menu.

▼ Other side dishes are also available.