2014 marks 25 years as a band for the pillows. They are celebrating with a song entitled "Happy Birthday," and also by announcing a cover and dance contest. For those with the misfortune of not knowing who the pillows are, they are a Japanese rock band whose style has changed over the last 25 years from pop to jazz experimentation to alternative rock.
Many of the band's fans outside of Japan became acquainted with them through the six-episode animated series, FLCL, for which the pillows provided the music. The caffeinated, crunchy soundtrack is the perfect complement to the nonsensical but purely fun plot that includes a robot that emerges from a boy's head wound, the spirit of a powerful pirate king and the sexy maniac who hunts him down riding a Vespa with an electric bass as a weapon.
▼ Promotional artwork from FLCL
Contest winners will each receive two tickets to the pillows' live show at Tokyo Dome on October 4, transportation included. They will be able to meet the band and will be awarded a Fender Squier "Sawao Cyclone." The contest is open to fans worldwide, making the prize especially generous.
Contestants can either cover the pillows song of their choice or create an original dance to "Funny Bunny"—or you can try for both, though only one submission per category will be accepted for each contestant. They are taking video submissions until July 7, but as the first round of elimination is partly based on the number of views each video gets, it's best to get submissions in early.
Fans are already submitting their covers, and they are all over the map, literally and figuratively. This cover by REMOTE GIRL☆ stays true to the style of the original "Ride on Shooting Star," while still making it their own. They pay homage to the original video by reproducing the clothes shown in the original video and using some of the dance moves, but have fun with stop-motion scenes that blend well with the song.
▼ They looked so young, even in grampa glasses!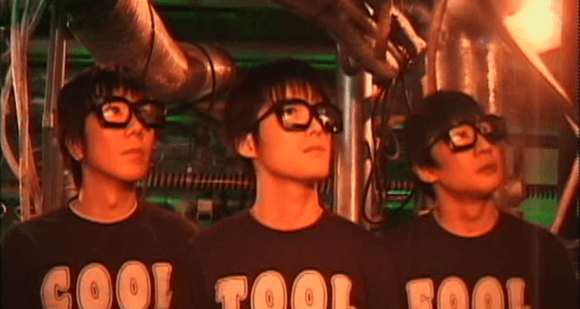 Chicago-based LUNO☾, on the other hand, departs from the pillows' pop style used in "She Is Perfect" by rendering the song in jazz. The one man band smooths out all the edges and creates a music video full of ambiance.
And then we have some submissions of people just plain having fun with it, like "Advice" by gameover. He seems to be singing in a karaoke room on his own in most scenes, but also cuts in scenes of himself transforming into the band's creepy mascot, Buster-kun.
Most of the artists submitting videos don't have a budget to speak of, but contestants like Four of Spades make good use of stationery, editing, and adorable pet dogs. In "Last Dinosaur," they create a cardboard cutout Tokyo, which is knocked to pieces by an unbearably fuzzy, curious "dinosaur."
There's also Tomohiro Iwai, whose unrestrained cover of "Like a Lovesong (Back-to-back)" veers towards punk, with faraway vocals and chaotic, ghostly shots of a road overlaying footage of Iwai in a music room.
If you are not a musician, you can still participate. Though no one has submitted a dance yet, they are inviting choreography for "Funny Bunny," like in this sample video.
You can check out the winning submission from the 20th anniversary contest here or find details about the current competition at their website.
Sources: the pillows,
Images: YouTube, Wikipedia, YouTube