The major train stations in urban Japan almost seem like small cities, packed with restaurants, hotels, and shopping space. Things are usually pretty different out in the countryside, though, where many rail stops are little more than an awning with a short bench to sit on while you wait for the trains to roll in.
We say rural stations are "usually" simple, though, because in one town up north in Aomori Prefecture, you'll find a station guarded by what looks like a massive alien.
Actually, the inspiration for Kizukuri Station's unique facade didn't come from outer space, but from below the earth. Archeological digs in Japan's northeastern Tohoku region sometimes turn up clay figures called dogu. While their is unknown, their cultural value is unmistakable, as most were crafted some 2,500 years ago. The town of Tsugaru, where Kizukuri Station is located, was the site where one particularly pristine example, the Shakoji Dogu, was found in 1887.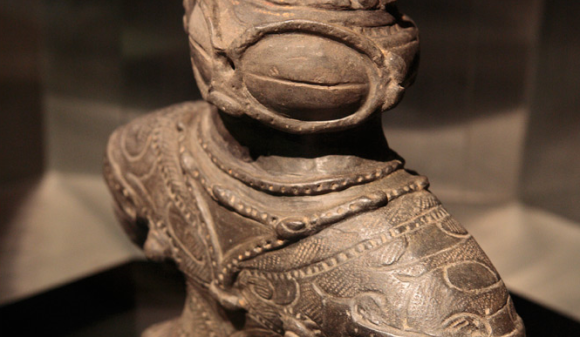 Like so many other figures that achieve fame, though, the Shakoji Dogu made its way to the capital, and is now housed in the Tokyo National Museum. Tsugaru does still have a replica in its Karuko Archeological Hall, but given that it's a modern recreation, the most famous dogu in town is now the gigantic 17-meter (56-foot) example built into the wall of Kizukuri Station.
【青森・木造駅】JR東日本、五能線の駅。列車発着に合わせてコンクリート製の巨大マスコット土偶シャコちゃんの目から赤い「いらっしゃいビーム」を点滅発射していたが、子供のトラウマになると不評だったため、現在はビーム自粛中。 pic.twitter.com/psp12rTPKz

— B面 (B級スポット・珍スポットガイド) (@bii_men) November 9, 2014
Built at a rumored cost of some 100 million yen (US$870,000), the concrete figure has been nicknamed Shako-chan. The designers did a through job adding the intricate and authentic textured patterns to Shako-chan's arms and body, and the giant's lack of a left leg matches the condition in which the Shakoji Dogu was unearthed.
木造駅の写真ならLuaちゃんも持ってるよ pic.twitter.com/HhFlAPodlb

— LuaLuaLua ルアルアルア (@Lua3_Samba) November 10, 2014
Historically accurate and relevant as he may be, though, Shako-chan wasn't exactly a hit when he was first completed. Particularly after the sun goes down, the statue takes on a certain ominous aura, as evidenced by comments online about passersby's nocturnal encounter with the town mascot.
"When you see it at night, it's pretty eerie."
"Totally like something out of a horror movie."
"It was just too scary for my kids when we drove past the station."
https://twitter.com/harumikanade/status/532009067556790273
Believe it or not, Shako-chan used to have an even more dramatic appearance. Initially, when trains would arrive at or depart from Kizukuri Station, its eyes would flash and glow red as part of something dubbed the "Welcome Beam." This proved to be more effective at driving people away than beckoning them into town, though, and after complaints that the Welcome Beam was frightening small children, the performances were stopped.
https://twitter.com/K_K008888/status/521590345457348611
But as we've seen before, sometimes the line between creepy and cute is a fine one in Japan. Since his less than illustrious debut, Shako-chan has been featured by various media outlets, and is actually seeing his popularity gradually build up towards planners' original hopes and expectations. Local sentiment is starting to swing away from embarrassed terror towards acceptance and even pride, with one Twitter saying he feels more secure with Shako-chan "watching over the street in front of the station."
木造駅
シャコちゃん、、、駅前の通りを見守ってる。
目が光るところ見てみたい。 pic.twitter.com/hCiDFQYyeV

— NSTABI @漁労長 (@nerireshooting) November 10, 2014
As a matter of fact, if you ask the station workers politely, they'll even fire up the Welcome Beam for you.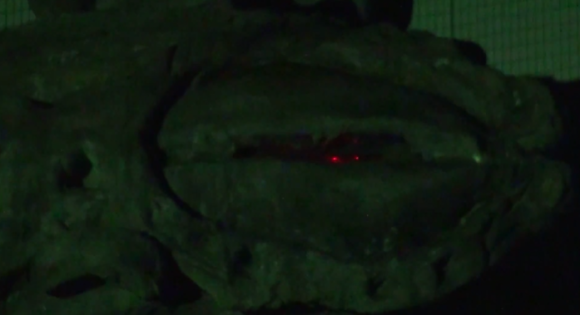 Although, technically, we guess that now we should be calling it the Welcome Back Beam.
Source: Naver Matome
Insert images: Tsugaru City, Wikipedia/sailko, YouTube