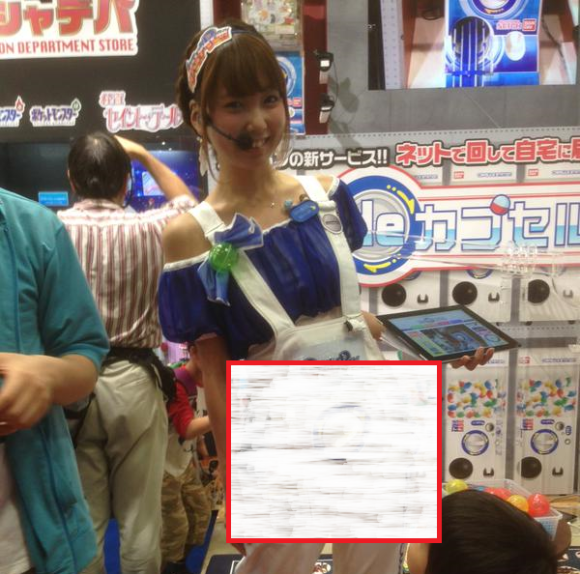 The generally accepted way to market a product at a trade show in Japan is pretty simple. First, hire an attractive model. Second, dress her in a sexy outfit that has some connection, however spurious, to whatever you're promoting.
But after decades of adhering to this strategy, it can be hard to make your model stand out in a sea of skimpy bikini tops and miniskirts. That's why Bandai decided to try something different, and put their Tokyo Toy Show model in a pair of overalls that actually seems pretty modest…at least until you look at where they attached the prize-dispensing dial from their toy vending machines.
As Japan's largest toymaker, Bandai always shows up to the Tokyo Toy Show with something to show off. Last week, the company was spreading the word about Net de Capsule, its new line of gachapon capsule toy vending machines that let you purchase their trinkets remotely over the Internet.
It's a pretty innovative idea, and a great way to drum up sales from shoppers who don't have the time to go scurrying all over town checking banks of gachapon machines for the one stocked with the series of toys they're interested in. Still, Net de Capsule was competing for attention with more dynamic products being displayed at the show, like the giant Kuratas robot.
Bandai was ready to counter the appeal of all that cold metal, though, with the warm smile of its booth girl. She even had an outfit that incorporated visual cues from the company's gachapon machines.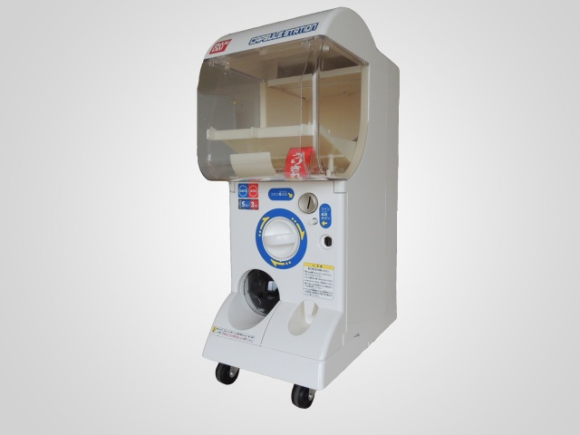 The designer decided to keep the white and blue color scheme, pairing a shoulderless blue top with a set of white overalls. A blue ribbon was attached to one of the overall straps to provide an asymmetric accent, as was an empty gachapon capsule, to make it even clearer what the model was promoting.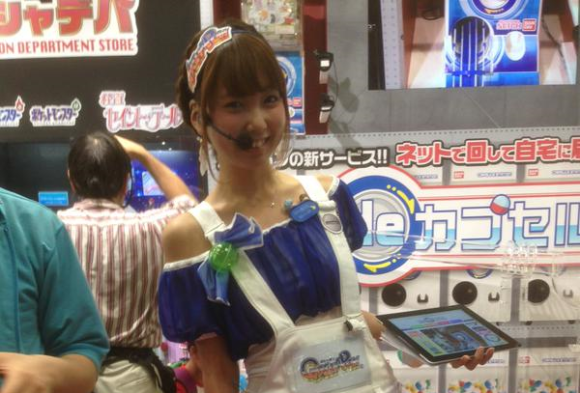 So far so good, but those gachapon connections might still have been just a little too subtle. Things got a bit more explicit, though, further down.
東京おもちゃショーのバンダイブースにいたネットdeカプセルを紹介するお姉さんのカプセルステーション風衣装かわいい! pic.twitter.com/tfsXs46Hu5

— マルアン商会 (@maruanshoukai) June 20, 2015
Sitting near the woman's navel is a gachapon machine dial. That's already a pretty bold area to be drawing people's eyes to, but it takes on an even more provocative connotation when you remember that after turning the dial on a gachapon machine, the capsule-encased toy drops out of a hole at the bottom of the unit.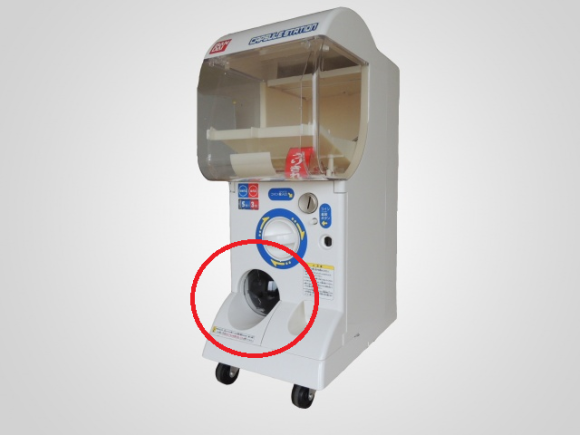 While the outfit certainly did its job of bringing attention to the model (and maybe the product), we have to admit that dial isn't really appropriate, and not necessarily because of how suggestive or disturbing it may be.
Like we said, what makes the Net de Capsule line special is that customers can buy its toys over the Internet, and thus they don't actually have to be in the same location as the machine they're making their purchase from. If they're taking advantage of that capability, they're not going to be touching the dial in the first place, and that makes the costume as much of a tease as the rare gachapon toy you're after that won't drop out of the machine no matter how many coins you pump into it.
Source: Togech
Top images: Twitter/@maruanshoukai (edited by RocketNews24)
Insert images: A-Muzu, Twitter/@maruanshoukai (edited by RocketNews24)