Because things can get pretty chilly between blasts of dragon fire.
Last fall, we took a look at the Wizard Parka, which was set to turn fantasy-loving fashion fans in Japan into stealthy mages. But every magic user knows it's a good idea to have some muscle around to soak up the damage from random monsters that appear during your quest, which is why online retailer Sakura is now selling this knit cap that looks like a gallant knight's helmet.

Available in gray or beige, the Knight Cap won't get you buzzed before bedtime, but it will keep your head warm. Sakura bills it as looking like "The sort of headgear you'd find for sale at a town half-way through a video game RPG, but you don't buy because you figure you can find it in a treasure chest in the next dungeon." The company also boasts that the Knight Cap will make you look like you've boosted your defense statistic by 15 points.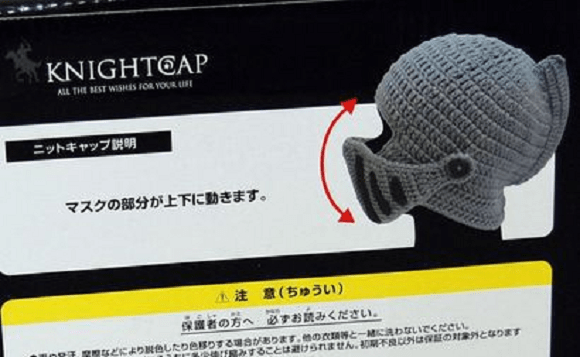 The cap does offer a unique bit of extra real-world protection, though. the facemask can be swung down to keep cold air from battering your cheeks and the tip of your nose.

▼ The beige version
The Knight Cap can be ordered here from Sakura for 2,138 yen (US$18). Pick one up and you and your Wizard and Ninja Parka-wearing friends will just be one cleric away from assembling a complete party of adventurers.
Source: Sakura via Hamster Sokuho
Images: Sakura (edited by RocketNews24