That includes nearly 30 different matcha sweets and 50 kinds of ice cream!
Kyoto is famous for its matcha – or powdered green tea, for those of you not in the know – as Uji City, located in southern Kyoto Prefecture, was one of the first places in Japan to cultivate the green tea leaves centuries ago when it was imported from China. Matcha is a very versatile ingredient and has been worked into just about every food and beverage you can think of. No trip to Kyoto would be complete without sampling some of the delicious green tea treats that can be found, but it's hard to know where to start.
Well, you could start at the MATCHA Sweets Garden buffet, at Kyoto Century Hotel in central Kyoto City. The buffet has been open only on Fridays, Saturdays, and Sundays in the month of June, but from Saturday July 1 until Monday July 30 the buffet will be open daily, featuring more matcha-infused food, sweets, ice cream (50 kinds!) and drinks than anyone could possibly eat! The sweets will be patisserie-made, and will use matcha powder from long-standing Uji tea specialty shop Gion Tsujiri. There will be almost 30 different kinds of pastries and treats to choose from, and the line-up looks divine.
▼ Chestnut and matcha shortcake
▼ Matcha Mont Blanc (chestnut and cream dessert)
▼ Layered matcha opera cake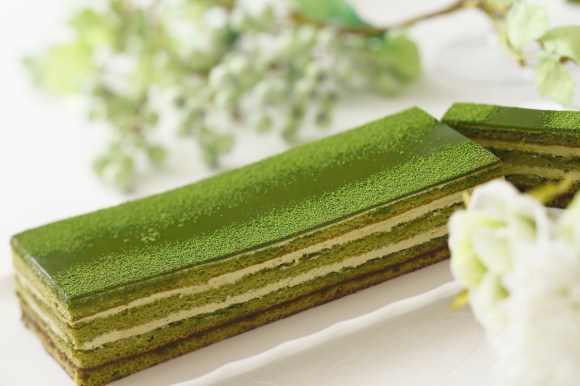 ▼ Petit matcha fondue
▼ Matcha ganache and matcha macaron bars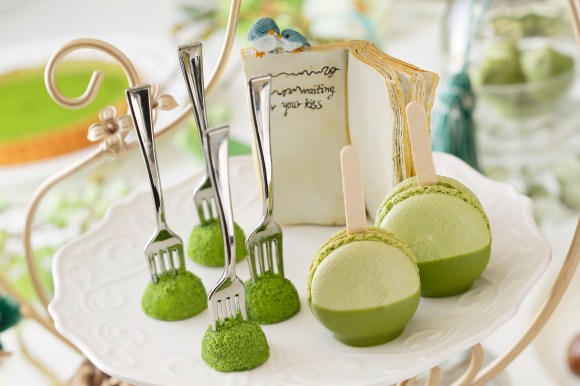 One guest per day will receive a surprise fruit compote brought to their table, with fresh and cool muscat grapes, kiwi, papaya, and more.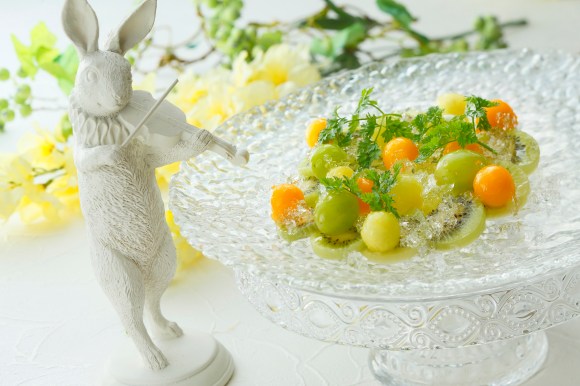 There are also 15 different drinks to choose from, like this fun, non-alcoholic cocktail with a base of tigernut milk (tigernuts being small root vegetables originating from Africa, just in case you thought they were something else!), and small test tubes with matcha powder and powdered red or white koshian bean paste which you can mix into your drink yourself.
To balance out all of that sweetness, the buffet will have hors d'oeuvres like the "Spanish omelette with matcha potato salad" and "duck breast and mini tomato brochette with matcha cream garnish". The buffet will also feature dishes from the restaurant Rantei, which specializes in refined Kyoto cuisine, serving things like "matcha dashi-maki egg sandwiches".
▼ A sampling of the hors d'oeuvres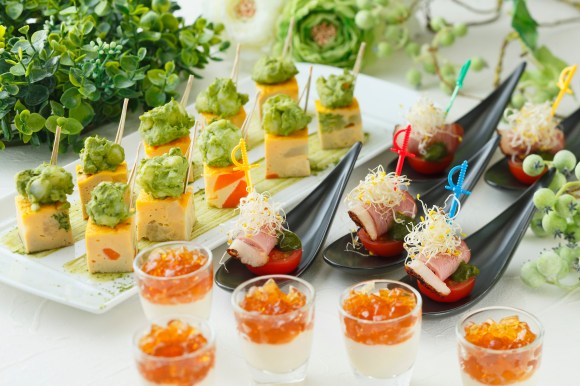 If you have an insatiable craving for everything matcha, this may just be your place. Adult price for the 90-minute buffet is 3,900 yen (US$34.80), 2,000 yen for kids seven to 12, and 1,000 yen for kids four to six. Like many things in Japan, this buffet will only be around for a limited time, so get in and get your fill while you can!
Restaurant information 
All Day Dining Jyho (Kyoto Century Hotel) / オールデイダイニング ラジョウ(京都センチュリーホテル)
Address: Kyoto-fu Kyoto-shi Shimogyo-ku Higashi Shiokoji-cho 680
京都府京都市下京区東塩小路町680
Open: 3:30 p.m. – 5 p.m.
Website