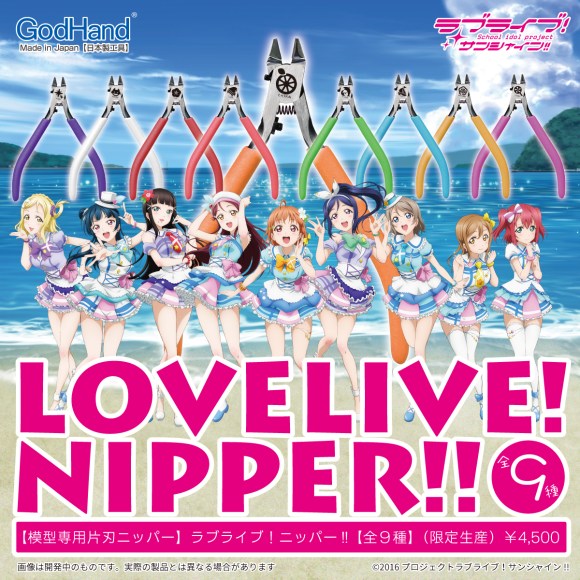 Fans of Love Live! Sunshine!! will no doubt want to get their hands on a pair of Love Live! nippers.
Love Live! has built up a large legion of fans who love the series and all the exclamation points that come with it. And die-hard fans have no doubt already gotten their Love Live! pizza boxes, instant noodle packs, and gravestones, leaving one to wonder: What's left to buy?
Here to answer that question is toolmaker GodHand with their upcoming line of Love Live! Nipper!! This collection of nine nippers each represent a member of the Aquors band from the Love Live! Sunshine!! series.
Their impending sale was tweeted by Nipako, the moe mascot for GodHand who has a ribbon in the shape of nipper blades on top of her head.
【限定商品】「ラブライブ!ニッパー!!」限定販売決定!https://t.co/FUXCohbN0J
『Aqours』メンバーをイメージした模型専用片刃ニッパー!
7/30開催のワンダーフェスティバル・ゴッドハンドブースを皮切りに限定販売!#wf2017s #lovelive pic.twitter.com/H3iyo1cdEW

— ニパ子 (@godhandtool) July 10, 2017
Each nipper has grips in a representative color of their Aquors member and the group's logo carved on one side of the head. On the other side is the character's name, along with a logo engraved by laser.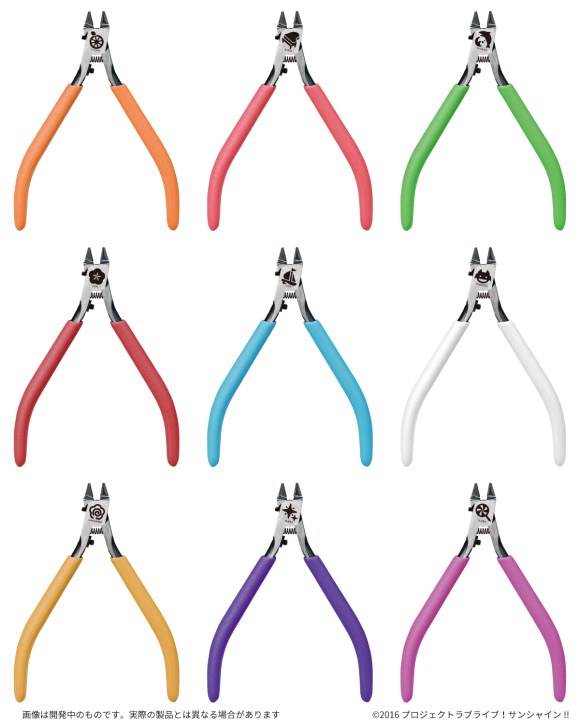 Also, each character is drawn on their respective package, meaning true collectors will have to buy two in order to keep one in its original packaging. However, at 4,500 yen (US$40) each, that would require a certain level of commitment to the franchise.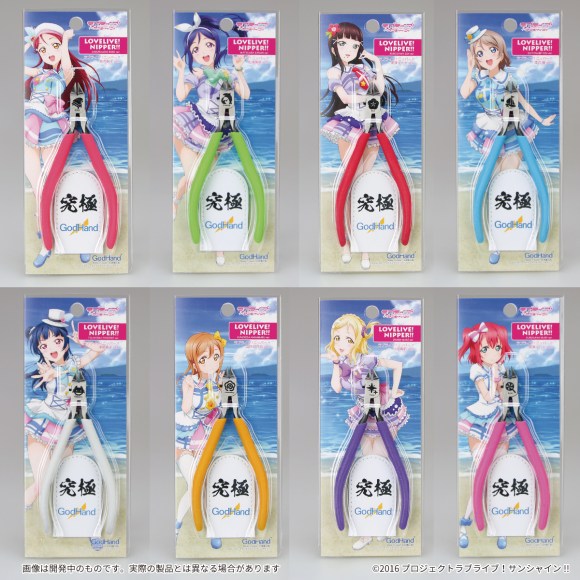 That's probably why GodHand is choosing to sell Love Live! Nipper!! at Wonder Festival, the nation's premier figure and collectible convention at Chiba's Makuhari Messe 0n 30 July.
A nipper is a tool used to clip off small pieces of material such as plastic, and is often employed by otaku of the plastic model variety rather than anime idol otaku. But this time they're here to help Love Live! fans get into the world of model building after Bandai released a series of Love Live! Sunshine! Figure Rise Bust models back in February.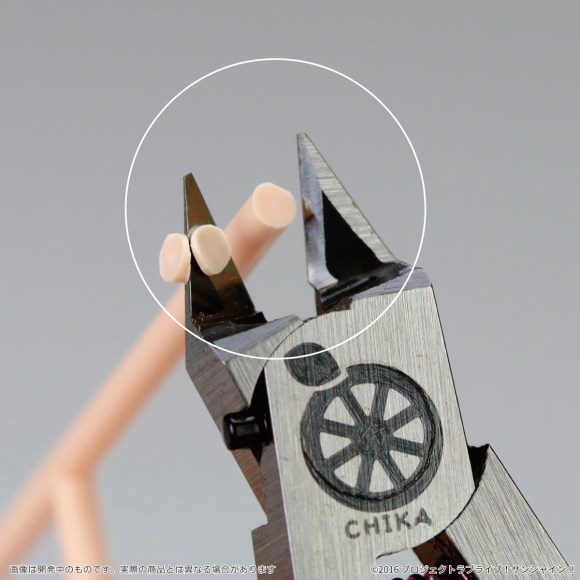 Personally, I think its great to see merchandise with a more utilitarian purpose rather than posters and figures which just clutter up the place. Perhaps next they could get to work on a Love Live! Shoehorn!! for those pesky hard-to-fit loafers.