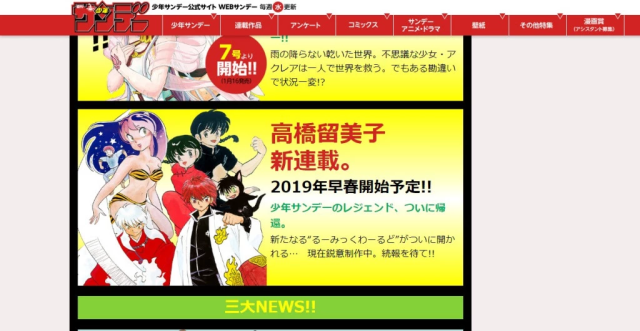 Our reporter finds a freaky coincidence or a hidden message in the titles of the Inuyasha and Ranma 1/2 creator's series to date.
Just last week, we found out that Rumiko Takahashi, the creator of smash-hit manga/anime franchises including Urusei Yatsura, Ranma 1/2, and Inuyasha, will be starting a new manga serial in the spring. Since it's now been almost exactly one year since Takahashi's last major series wrapped up, her fanbase is already excited about her upcoming work, and one person who can't wait to read it is our Japanese-language reporter and manga fan Seiji.
As a matter of fact, Seiji isn't just planning to read the new Takahashi series, but to relish it. Why? Because he thinks there might be a hidden sign that her next serial will be her last.
Right off the bat, we should say that neither Takahashi nor her publisher have made any comments alluding to her new manga being the swan song of her four-decades-and-counting career. However, Seiji's beautiful mind has identified what he thinks might be a meaningful pattern concealed in the titles she's given her previous manga.
While she's also written a number of manga with single or irregular chapters, since her debut in 1978, Takahashi has published five major series. "And what were the name of those series?" Seiji asks us, the answer to which is, Urusei Yatsura, Maison Ikkoku, Ranma 1/2, Inuyasha, and Rin-ne.
However, Seiji reminded us that in its home market of Japan, Rin-ne is actually titled Kyokai no Rin-ne, (meaning Rin-ne of the Boundary),so really the list of major Takahashi works should be:
● Urusei Yatsura
● Maison Ikkoku
● Ranma 1/2
● Inuyasha
● Kyokai no Rin-ne
"Now watch what happens when I rearrange the order we list them in," said Seiji, who took our list and made it:
● Ranma 1/2
● Urusei Yatsura
● Maison Ikkoku
● Inuyasha
● Kyokai no Rin-ne
See it? The initials of Takahashi's major series now spell out R-U-M-I-K, meaning all that's missing to complete "Rumiko" is an O.
We have to admit, it's a startling revelation, and it could just be a coincidence. However, when publisher Shogakukan eventually reveals the title of Takahashi's new manga, if it starts with an O, it's going to give it a bit of an aura of finality.
Of course, Seiji's conspiracy theory aside, there's also the fact that Takahashi is currently 61 years old. Out of her five major series, none wrapped up in fewer than seven years, and Inuyasha lasted for a dozen. Assuming her newest series enjoys similar longevity, that would make Takahashi close to, or even into, her 70s by the time it's done, at which point she may very well feel like she'd like to relax and enjoy retirement.
Or maybe she'll continue to be the tireless storyteller she's always been, and announce a new manga with a title that starts with a T, and keep going through the letters of her family name too.
Top image: Shonen Sunday
[ Read in Japanese ]
Follow Casey on Twitter, where he responds to complaints that Maison Ikkoku moves too slowly by saying that it's a story that takes exactly that long for it to be properly told.
[ Read in Japanese ]