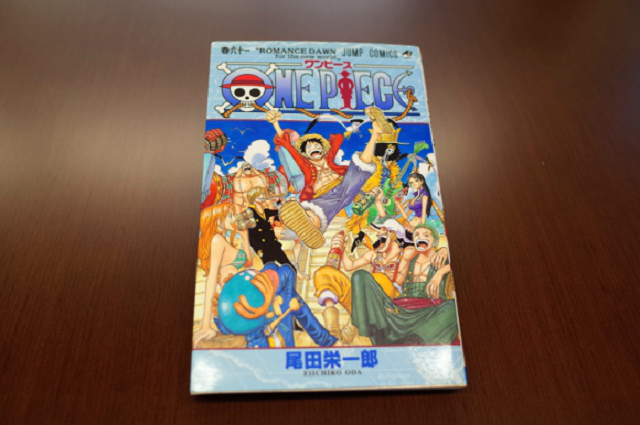 Anime/manga legend Eiichiro Oda gives a sneak peak at his amazing home and when he intends to drop the curtain on his masterpiece.
The end of manga/anime franchise One Piece feels sort of like the sun burning out. Yes, scientists assure us that it will eventually happen, but it's not something any of us really expect to occur in our lifetimes. After all, creator Eiichiro Oda has kept One Piece running strong since its manga debut in 1997, and more than two decades later the seafaring tale of Luffy and the Straw Hat Pirates is more popular than ever.
But in an interview with YouTuber group Fischer's, who also voice characters in the recently released One Piece: Stampede theatrical anime, Oda reveals that he has a personal target of when he'd like to wrap the series up, and it's closer than some fans might have expected.
The interview takes place at Oda's opulent, super fanboy-furnished home and office, and though the manga superstar appears in pixel-disguised form, he fields a number of questions from Fischer's, declaring that he loves sushi, primarily sticks to walking for exercise after injuring himself while trying to take up futsal again after a 20-year break from the sport, and dispelling the rumor that he's so wealthy that he has an ATM installed in his house. One Fischer's member is overjoyed to learn that he and Oda share the same shoe size, 26.5 centimeters (equivalent to a U.S. 8.5).
The Fischer's crew also ask several questions about the One Piece story and fan theories, with several of Oda's answers bleeped out to prevent future spoilers. However, one bombshell response is shared with the viewing audience, at the video's 7:03-mark, where Fischer's member Ndaho asks "How many more years is One Piece going to continue?"
Oda's answer?
"I want to finish the series in five years."
One Piece recently published its 93rd collected manga volume, which was its second of 2019. If the series keeps to its regularly pace of releasing four volumes a year, running until the end of 2024 would make for a complete set of 115 volumes, which would make it the ninth-longest manga series of all time, but still shorter than the estimate given by One Piece's editor a few years back.
Of course, with Oda's insane work ethic, it's possible that sometime over the next five years, inspiration will strike and he'll decide to extend the manga's run, but hard-core fans might want to brace themselves for the possibility that they'll be saying goodbye to Luffy and his pals sometime in the next half-decade or so.
Source: YouTube/Fischer's-フィッシャーズ- via Otakomu
Top image ©SoraNews24
● Want to hear about SoraNews24's latest articles as soon as they're published? Follow us on Facebook and Twitter!