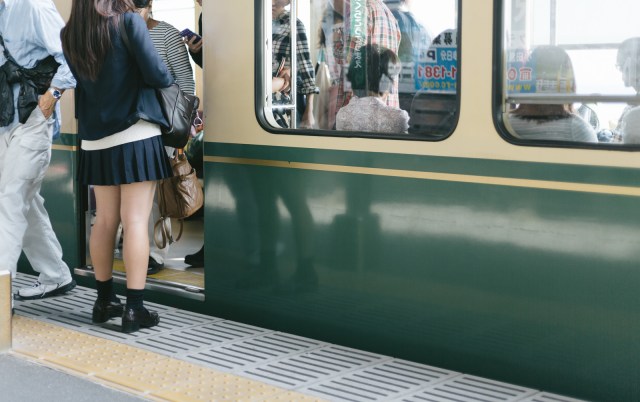 Japanese commuter shares a simple solution that works. 
Groping is a big problem on Japanese trains, and in the vast majority of cases it's women — and often schoolgirls — who are at the receiving end of unwanted advances from men.
In order to tackle the problem, specially designed pins, stamps, and women-only carriages have appeared in recent years, but there's still another problem that remains, as it can be difficult to know what to do when you suspect someone else is being targeted by a "chikan", the Japanese word for a man who gropes women on trains.
Of course, it's not so much the case that people don't want to help protect women against perverts in Japan, it's more that they don't know how to. Signs on board trains seem to address chikan themselves, telling them that groping is a crime, and tactics to ward off perverts are aimed at women, pressuring them to burden the sole responsibility of thwarting off attackers. This winds up leaving female victims with even more of a sense of shame and guilt when they're unable to summon up the confidence to stand up against an intimidating man.
Countries like Australia are now proactively targeting male commuters with campaigns and television commercials offering clear examples of how to help protect women on public transport. However, Japan lags far behind when it comes to educating their millions of commuters in the same way.
▼ State government ad in Australia encourages men to be active bystanders. If you feel it's not right, then do something.
As we wait to see whether an ad like this will ever make its way to Japanese TV screens, men in Japan are left to come up with their own ideas about what to do in these types of situations. And while one man chose to trip a suspected chikan who was being chased by Japanese schoolgirls in a video that went viral earlier this year, another has been finding success with a less physical tactic, which he chose to share online.
電車で痴漢を見かけたとき、注意したいけど何と声かければいいか迷っている皆さん。

経験上一番トラブルが少ないのは、

「あなたの前のお姉さん、迷惑そうだから少し離れてあげたら?」です。
今一件止めました。

女性に「大丈夫?」と聞いても「大丈夫です」と返されます。

大拡散お願いします。

— ヘルおじさん (@uncle_from_hell) September 9, 2019
The above tweet reads:
"To everyone who's ever been stuck for what to say when they see a chikan on the train and want to caution them.
The best way to cause the least trouble is to say, "The woman in front of you looks bothered so why don't you step back a little?"
I stopped one now with this approach.
Even if you ask a woman "Are you okay?" she'll reply, "I'm okay".
Please share this widely."
It's a simple tactic, but it's an effective one that @uncle_from_hell has used successfully on more than one occasion. As the wording of the exchange isn't accusatory, the person in question doesn't feel like they have to fight back or defend themselves, and any man who doesn't step back after a man suggests they do so will end up looking like a guilty chikan, regardless of whether they really are or not.
So if you want to be an active bystander on a Japanese train, all you have to do is remember the sentence:
"Anata no mae no oneesan, meiwaku sou dakara sukoshi hanarete agetara?" ("The woman in front of you looks bothered so why don't you step back a little?")
The Twitter user who came up with this clever suggestion does want to remind everyone that this tactic works best when you're not 100-percent sure whether or not the man is a chikan or not. Perverts are often so subtle with their groping techniques that it can be difficult for people around them to catch them in the act, and it's not uncommon for perpetrators to deny any wrongdoing when confronted.
Needless to say, this anti-chikan tactic from @uncle_from_hell received a lot of attention online, with over 100,000 likes and 65,000 retweets, and comments such as:
"This is really helpful. Thanks for sharing!"
"I will definitely remember this."
"I hope more people use this tactic."
"This is handy information for both men and women to know."
"It's so heartening to know there are people who will do this to help a woman out. As a woman, thank you."
It is heartening to know that there are men who are willing to step in and help stop cases of sexual harassment on public transport in Japan. As more men speak up and act against crimes like this, the more intimidated chikan will become, and the less likely it will be that women will have to write books about their traumatic experiences and post stickers on the backs of perpetrators.
Source: Togetter
Featured image: Pakutaso
● Want to hear about SoraNews24's latest articles as soon as they're published? Follow us on Facebook and Twitter!