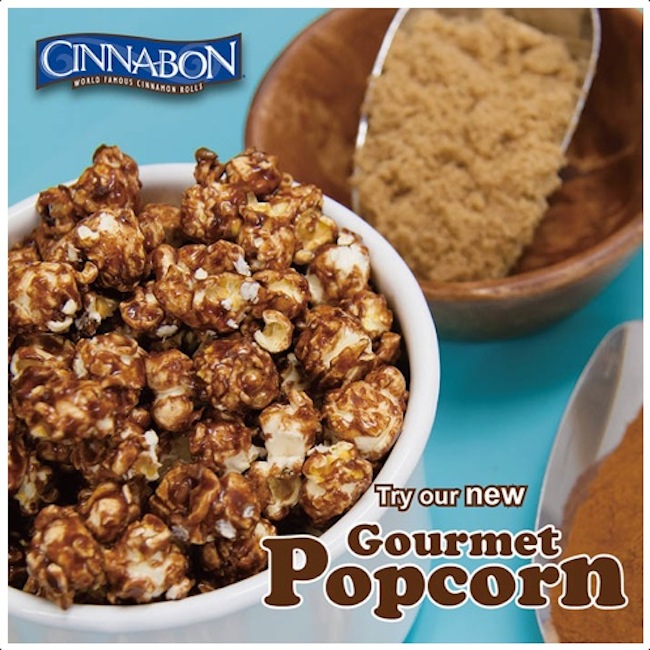 Many of our readers have probably figured out by now that we're quite fond of tasty sweets here at RocketNews24. Now, that means we (well, this writer at least) are big fans of the international cinnamon roll bakery Cinnabon. I mean, the rich smell of their rolls alone is enough to drive me mad with craving! So when we heard that Cinnabon came out with a completely new product last month, you can bet our interest was definitely piqued. And to our delight, we recently had the chance to try the new item. Ladies and gentlemen, we present to you the Cinnabon Gourmet Popcorn, a treat that is so far only available in Japan!
Popcorn seems to have become an increasingly popular snack in Japan in recent years, with long lines forming in front of specialty popcorn shops, so we guess it's not altogether surprising, while not entirely expected, that Cinnabon decided to come out with a popcorn of their own. According to reports in the media, the popcorn is something the company spent over a year developing, and is now being sold first in Japan on a trial basis.
The popcorn is made without using oil, by "air popping" the corn with hot air, after which it is mixed with their original sauce containing brown sugar, unsalted butter and of course, their legendary Makara cinnamon grown in Indonesia exclusively for Cinnabon. Sound good? Well, we're about to find out if the actual product lives up to our expectations.
▼The Cinnabon Gourmet Popcorn is sold at just two shops in Japan, the Roppongi shop and the one in Haneda Airport Terminal 2. We had a chance to visit the Roppongi shop and were excited to see the popcorn on sale.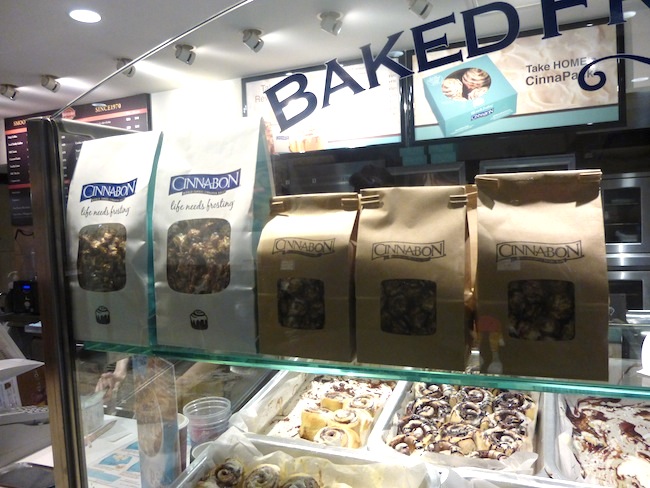 ▼The sign was urging us to try the new Gourmet Popcorn, and we were more than willing to oblige! The small size was priced at 380 yen (US$3.31) and the medium size sold for 750 yen ($6.53).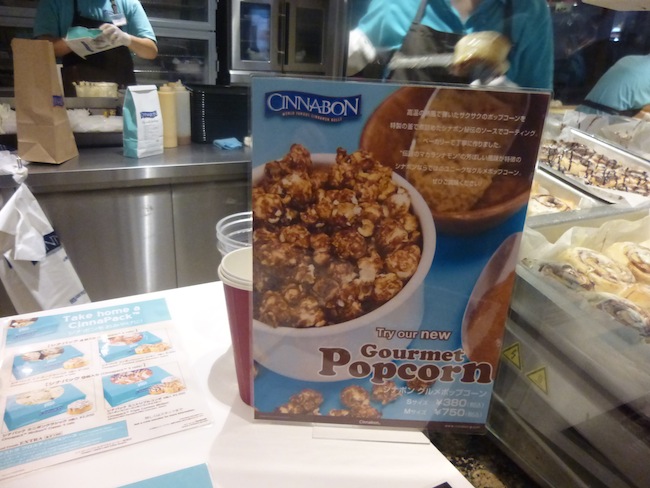 ▼All right, it's time for the moment of truth! Let's open the package and taste the goods.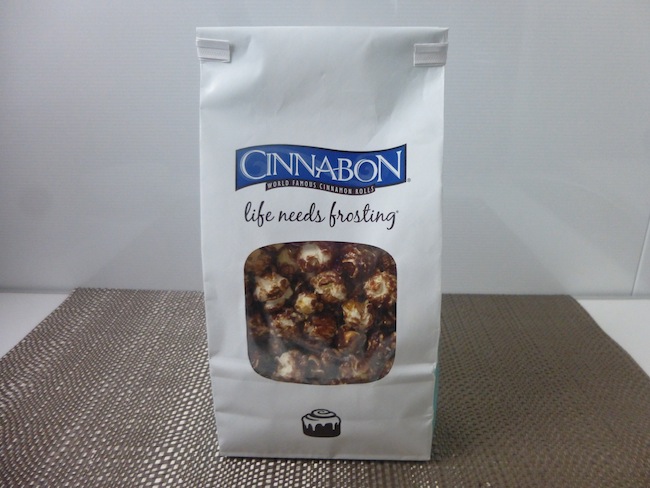 ▼"Life needs frosting" — we couldn't agree more!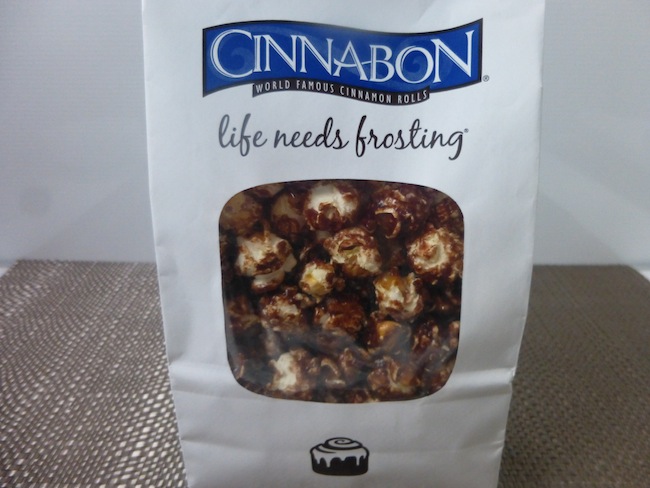 ▼The rich brown color of the popcorn certainly looked appetizing. Both the smell and color of the popcorn practically screamed "cinnamon"!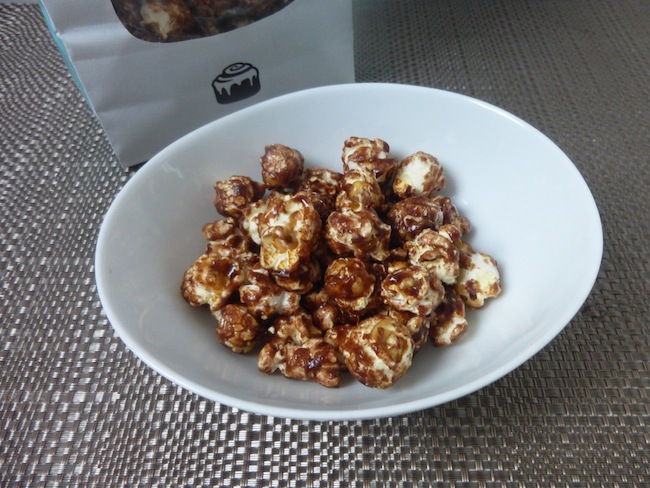 ▼A close-up look at the popcorn. See how shiny all the pieces are!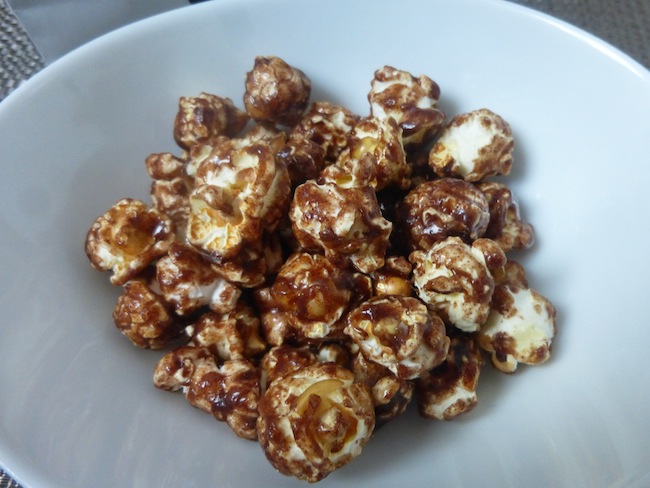 As we inhaled the strong sweet scent of cinnamon, we could hardly wait to actually taste some of the lovely-looking popcorn. And when we popped some into our mouth? Ahhhhh … cinnamon heaven!  Yes, each piece of popcorn was beautifully coated with the special Cinnabon sauce, and it really did taste amazingly like one of their rolls. The flavor was so rich and mouth-watering, once we started eating, we almost couldn't stop. And it wasn't simple sweetness that was making us swoon; all we can say is that their Makara cinnamon was certainly working its magic.
So, we definitely weren't disappointed with Cinnabon's newest offering. The popcorn gave us the satisfaction of the cinnamon fix we've come to expect from their rolls without being as filling, and if you don't want to overindulge yourself, you can always get the small package. Yup, we have a feeling we'll be returning to Cinnabon Roppongi quite frequently in the future, and we hope we'll be seeing the popcorn in more locations around the world, because we think all cinnamon lovers should be able to try this unique treat!.
Reference: Cinnabon Japan press release (Japanese),  PR Times (Japanese), Ryutsu News (Japanese)
Top Image: Cinnabon Japan press release
All other photos: RocketNews24