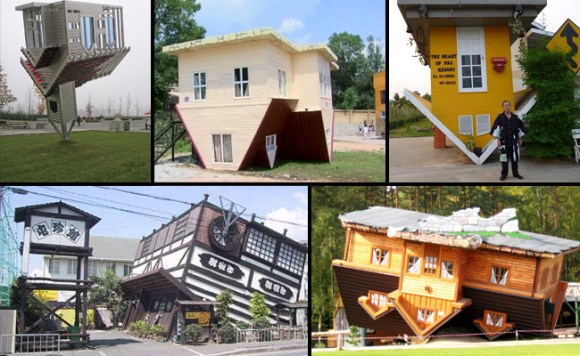 Especially during this hectic holiday season it sure would be nice to get away from it all. Everyone needs a chance to refresh and get a new perspective on things. And what better way to get a new perspective than to visit an upside down house?
You might be thinking "What, are you high? There are no upside down houses where I live." Well, you might be right about the high part, but couldn't be further from the truth when it comes to upside down houses because they can be found all over the world it seems. Here is just a small sampling of these dizzying monuments, perhaps one of them is in your very own backyard – or over it.

Let's start our tour in Russia, a country which seems to have especially taken to the art of making entire homes upside down recently. One such house at the All-Russian Exhibition Center made headlines earlier this year for it's meticulous attention to detail including curtains which hang upwards and fully stocked fridge of upside-down condiments.
https://twitter.com/onzeconfiance/status/441042428309409792
Take a stroll through an upside down house in #Russia: http://t.co/4FZUq9YKBl #travel #photos pic.twitter.com/YQEvz5Skvu

— Canoe Travel (@canoetravel) December 16, 2014
House built upside-down in Russia's Siberian city of Krasnoyarsk... Picture: REUTERS/Ilya Naymushin pic.twitter.com/VzxjGMh0ZZ

— Christine Spadafora (@christinespad) December 16, 2014
Дом вверх дном. An upside down house #Krasnoyarsk #Sibiria #Russia #красноярск pic.twitter.com/p5OxwgjXqG

— Красноярск. Стрелка (@KrskStrelka) December 10, 2014
Stare sotto sopra?!
E' possibile all interno della #Upside-Down #House in #Russia! http://t.co/wSqK1lJtFn

— FourShopping (@FourShopping) April 5, 2014
Your eyes aren't deceiving you, this house was actually built upside down. http://t.co/InLUPciD5L pic.twitter.com/qPa683wbqz

— designgarage (@designgarageco) March 2, 2014
Photoset: f-l-e-u-r-d-e-l-y-s: Gravity-Defying Upside Down House in Russia Russian Exhibition Centre.... http://t.co/9MpwHTAoqg

— #DefendDaca (@angel_table) February 6, 2014
This is just a one of many topsy-turvy homes that have been springing down around mother Russia. Some are private residences while others are festival sideshows, but all are eye-catching.
People walk past an upside down house tourist attraction in Volgograd, Russia.

©TASS/Barcroft Media pic.twitter.com/T7KAbMvnsv

— Barcroft Studios (@BarcroftStudios) October 6, 2014
"@NigerianLegend: Amazing upside down house is getting a lot of attention in Russia pic.twitter.com/bWSJ1kwMgc" wonderful

— OT™️ (@toby_ot) October 10, 2014
https://twitter.com/HDM11375/status/512880680569565184
Upside-down house in Russia pic.twitter.com/tDQF29nXaP

— Anthony Robbins (@EnthonyRobbins) April 21, 2014
https://twitter.com/Zazie_87/status/454370849814900736

Moving into the rest of Europe, Ukraine has a rather modest offering with Igor Konchik's "upside down" house in Yalta. It's a quaint minus-two-storey 43-square-meter residence fully furnished with everything you need well bolted to the floor so it doesn't kill anyone.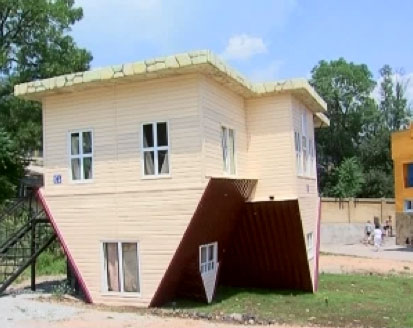 Image: ICTV

Konchik's house was said to have been inspired by an upside down house in Poland which were going to assume was this doozy in an open-air museum in Szybmark. In addition to being flipped over this one's on a precarious slant and bears the appropriate address of "13."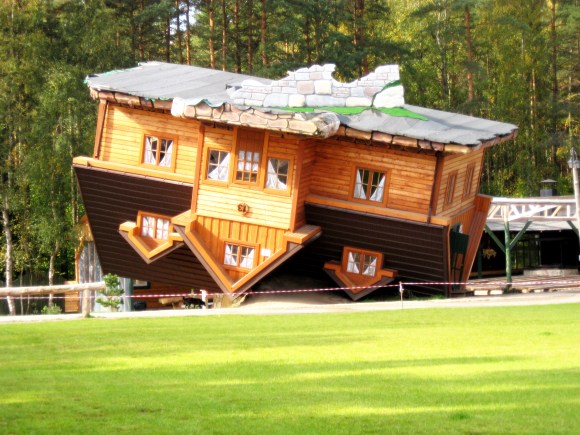 Image: Wikipedia – Tomasz Sieni

Sliding over into Germany we have this cosy model said to have been constructed a couple years ago as an attraction for a zoo.
Übergeek: flipped-over house...
Now, who's afraid of the Big Bad Wolf?http://t.co/Bu7hHY8m65 pic.twitter.com/UxjGzUk5xp

— R. Ramirez Morales (@RRamirezMorales) December 26, 2013
The German houses certainly are charming like this one with an upside down birdhouse included.
A birdhouse outside the 'Crazy House', which is completely built upside-down, in the village of Affoldern,#Germany pic.twitter.com/PX3wC7Z9Zm

— Hans Solo (@thandojo) May 12, 2014

In Austria we find the Haus Steht Kopt which brings a little more to the table with some added landscaping touches such as a set of stairs and other foundation work jutting out the top. They also seem to have the best website of any upside-down house.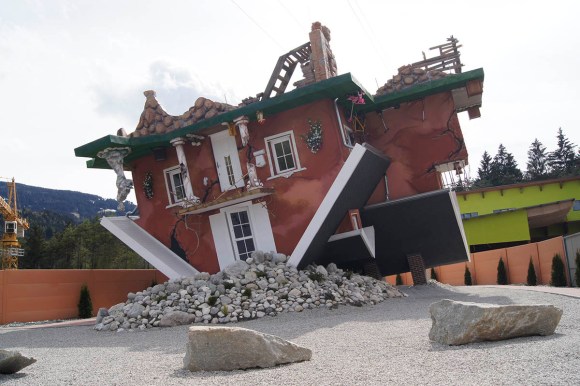 Image: Haus Steht Kopt
Yes these homes are truly works of art, which is perhaps why the Museum Moderner Kunst in Vienna put one on top of their building.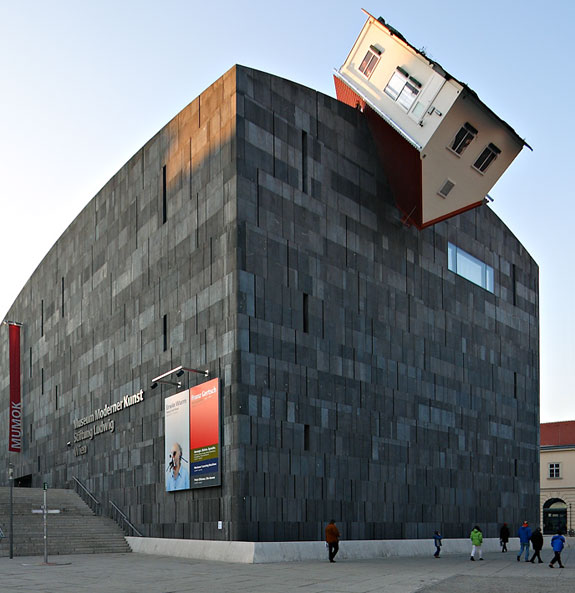 Image: Morad Travel Services

Spain ups the ante for extravagance even more with The House at the Katmandu theme park. This house differs from the other in that rather than upside-down furniture there is an entire interactive story-driven fun house inside.
This Friday's awesome, mind-boggling building design goes to The House of Katmandu in Spain! pic.twitter.com/1JIwNWwWwp"

— ConstructionChat (@ConstructChat) August 8, 2014

Time to hop across the pond to North America where upside down houses are also embraced. Of course the USA is more than happy to carry on Spain's tradition of huge houses. For example, here's one of the WonderWorks franchises of indoor theme parks.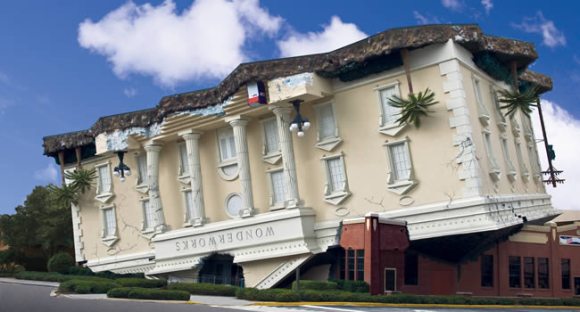 Image: WonderWorks
But there's plenty of smaller-scaled top-down homes in the US as well. Take Norman W, Johnson's inverted tract house. Although smaller in stature, this little house helped build the entire city of Sunrise, Florida where it sits. It was so successful in pulling in prospective home-buyers that Johnson was made the first mayor of Sunrise. He passed away in 1990, but his legacy lives on in all its upside-down glory.
Norman Johnson's Upside-Down House — Bangunan ini dibangun dengan arsitektur model tahun 1961 yang terkesan retro. pic.twitter.com/iHsjs6tjPr

— J&C Cookies® (@jnc_cookies) June 12, 2013

Driving across the border we come to the Canadian city of Niagara Falls where the mighty waterfalls have pulled in just about every conceivable form of tourist bait imaginable. So you can be sure there's an upside down house here as well.
▼ Actual house not directly in front of waterfalls.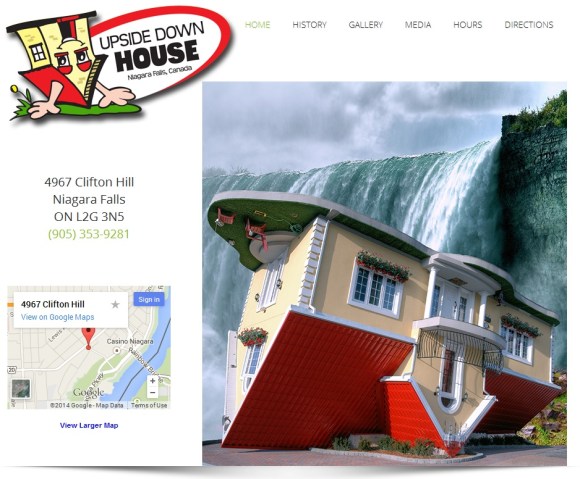 Image: Upside Down House Niagara Falls
Although technically not a house, Dennis Oppenheim's Device to Root out Evil in Calgary's Glenbow Museum is just as outstanding.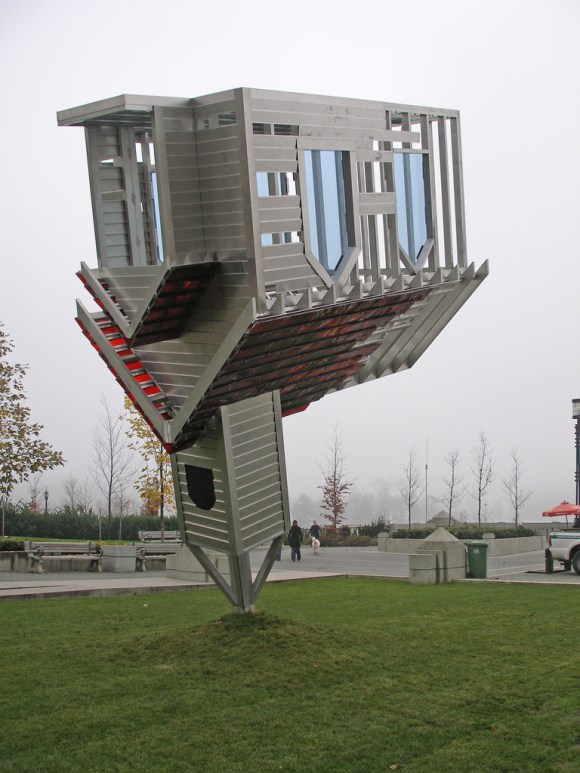 Image: Wikipedia – Thom Quine
Using the image of a church with its steeple firmly planted in the ground has proved somewhat provocative among people who feel turning religious symbols upside-down is wrong. But after looking at all these bottom-up wonders in the world, if turning things upside down is wrong, then baby I don't wanna be right.

Moving further west across the pacific we come home to Japan which is no stranger to upside down buildings either. The most famous of which might just be the now-defunct Sakasa Restaurant. This eatery has a slightly more realistic position and bright pink coloring just in case you might miss this three-storey building on its side otherwise.
さかさレストとんちん館
知ってる人? pic.twitter.com/uKG3aSFOJ2

— まんま (@manma100ik) July 2, 2014
And then we have Mahjong Hikkurikaeru which might not be much to look at but serves three purposes. First it appears to be a mahjong parlor (or what's left of one) while also fulfilling its secondary goal of being a target for bad graffiti. Finally it looks to be the only think keeping that rusted semi from floating away to truck heaven.
Mahjong Hikkurikaeru and Sakasa weren't the only victims of slow business either. The once was an upside down izakaya (drinking establishment) in Daito City, Osaka called Tonkinchan. Sadly it went over in 2006 and closed its doors for good. Apparently the people of Daito just weren't ready for getting drunk in an upside-down environment.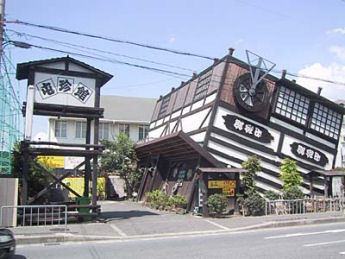 Image: Michi no Hitorigoto
Don't think Japan is only full of bankrupt upside-down restaurants though. There's also an active upside-down car dealership in Hachinohe City, Aomori Prefecture. In-keeping with national standards, however, there is a cafe on the second floor which reportedly makes a mean curry rice.

South Korea might have the classiest looking upside-down house of the lot. With some gorgeously wide windows and a right-side-up patio on the foundation it's so gorgeous we can forgive the Hyundai missing a hubcap parked in its upside-down driveway.

Thailand also has a brightly colored little house to bring in tourists to their relatively spacious Heart of Pai Resort in the Northern town of Pai. Too small for a car, this hut has an upside-down bike next to it.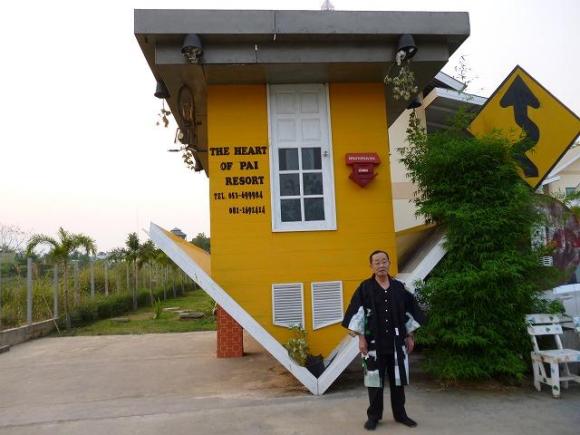 Image: Indo e GO!

Much like Russia, China seems to have gotten into the upside-down game only recently. This modern-looking home was set up in 2014 to help drum up visitors to the ancient Fengjing Water Town. The home's operators limit guests to 20 at a time out of worry that they may get dizzy and bump into each other.
These of course are but a few of the thousands of upside-down buildings across the globe. Looking back at how many of the countries on this list are currently at odds with one another, it makes you wonder if maybe…just maybe the people of the world can put aside our differences and find unity in the one thing that binds all of humanity: our love of upside-down houses.
Source: Discover Ukraine, Haus Steht Kopt, Katmandu Park, WonderWorks, Sun Sentinel, Upside Down House Niagara Falls, Glenbow Museum, E-home, ∞doors Hachinoe Expedition, Naver Matome, Indo e GO!, Reuters, Michi no Hitorigoto, How2Update, VVCenter
Video: WTVY, YouTube – RuptlyTV, Products Portal, This is Korea, CCTV News, Haus Steht Kopt