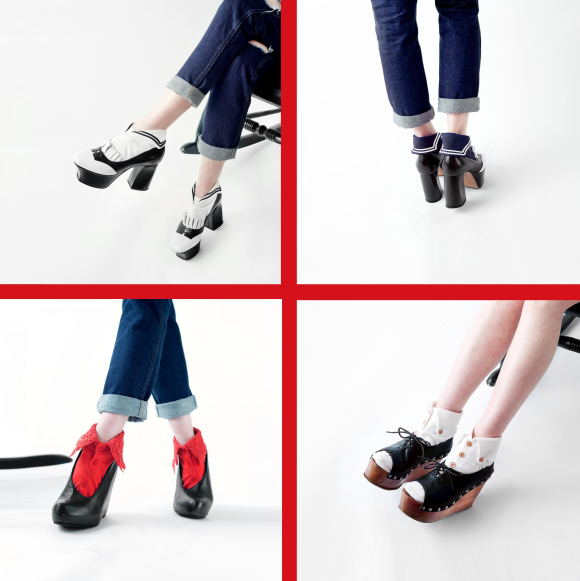 A few months ago, we took a look at a collection of truly unique socks that took their styling cues from shirts by providing cute and quirky collars for your ankles. The offbeat idea seems to have found a market, as manufacturer Erimaki Sox is back again with three new designs that add extra femininity, button-down class, and even some sailor suit-style playfulness.
Let's start with the group's girliest option, the lace collar socks.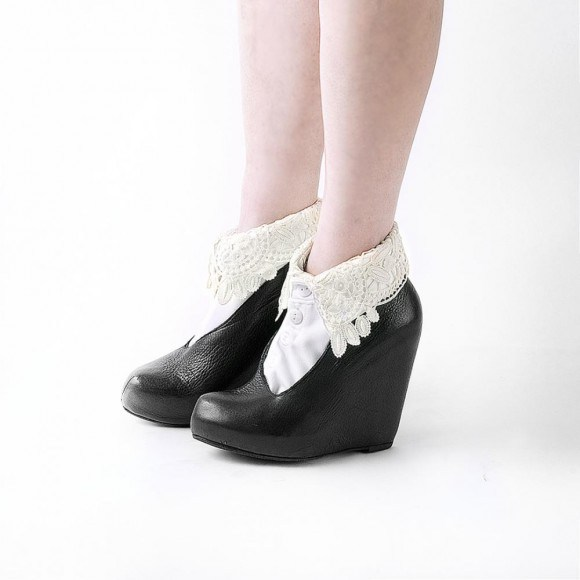 Of course, why go to all the trouble of buying such fashionable socks if you're not going to color coordinate them with the rest of your outfit? Aside from the white pair shown above, the lace collar socks are also available in red, black, and two-toned black and ivory.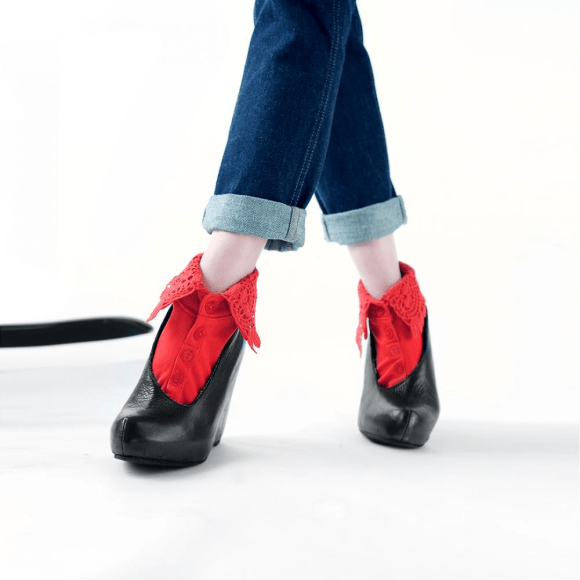 ▼ We find it hard to believe anyone in the market for collared socks doesn't already own the perfect pair of panda shoes to pair them with.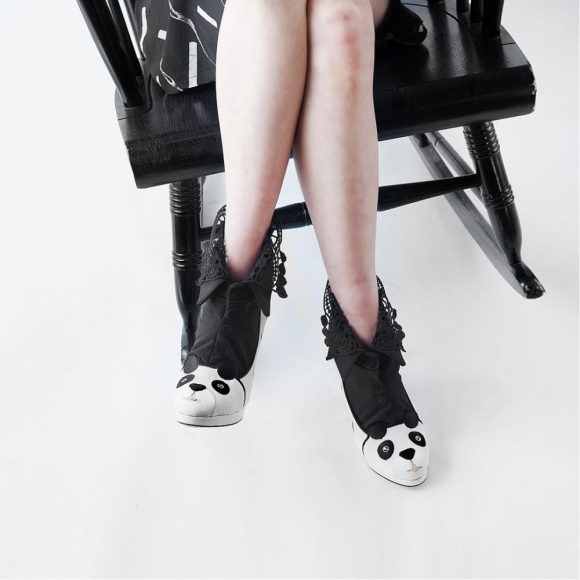 Each color scheme also has its own unique lace pattern and decorative accouterments, so if you're looking for even more justification for buying all four different types, there you go.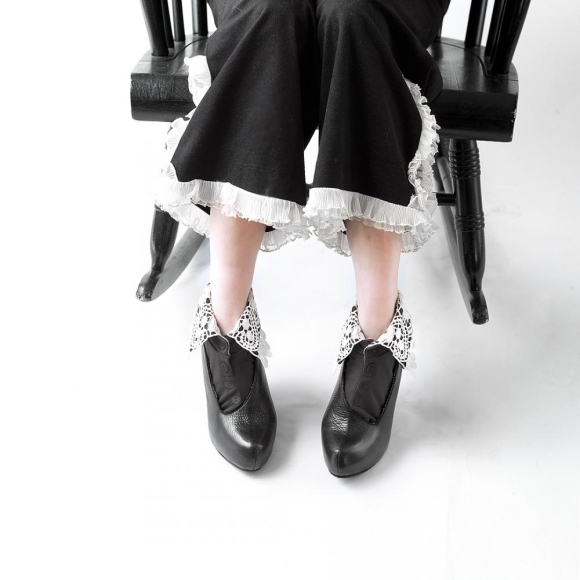 On the opposite end of the spectrum from the ultra-feminine lace numbers are the button-down collar socks.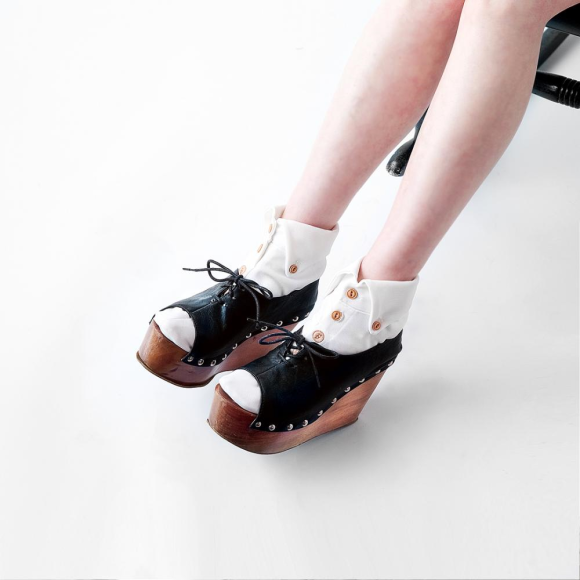 This time, shoppers have their choice of white or navy. Ironically, despite the crisp, squared-away look of their collars, these probably wouldn't work as formal business attire, although they'll definitely make an impression in social situations.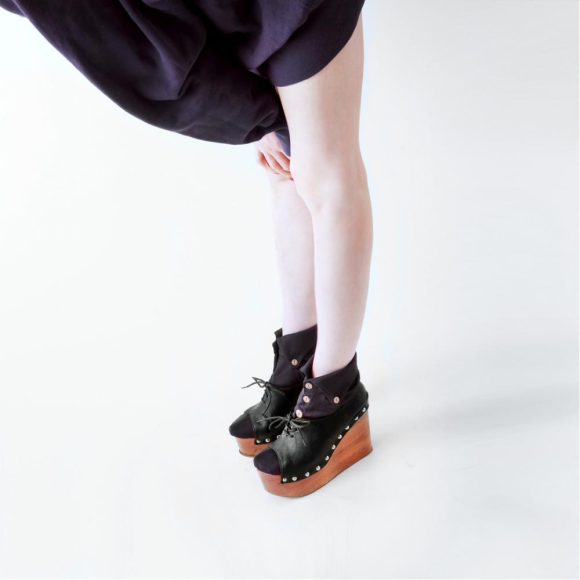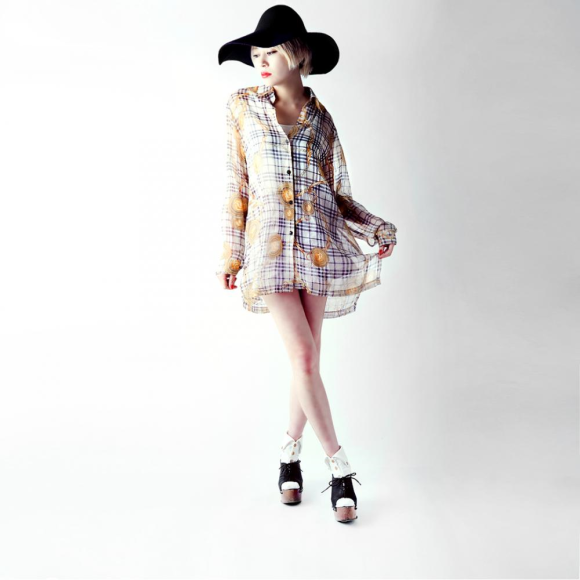 Incidentally, the button-down collar socks are also the only style listed in both men's and women's versions on the Erimaki Sox website. The only difference between the two, however, seems to be that the men's are slightly larger, listed at 26-28 centimeters (10.2-11 inches) versus the 23-25 centimeters (9.1-9.8 inches) of the ladies' lace, button-down, and sailor collars.
Speaking of the sailor collar socks, they might actually be the most eye-catching of the new lineup.
Like the button-downs, the sailor collar socks are available in white or navy, with a wide collar, styled after the kind seen on Japanese school uniforms, hanging down over the back of the shoes. As a result, these socks look cute from either the front or the back, and are a playful choice for anyone too old to attend high school and too self-conscious for full-on cosplay.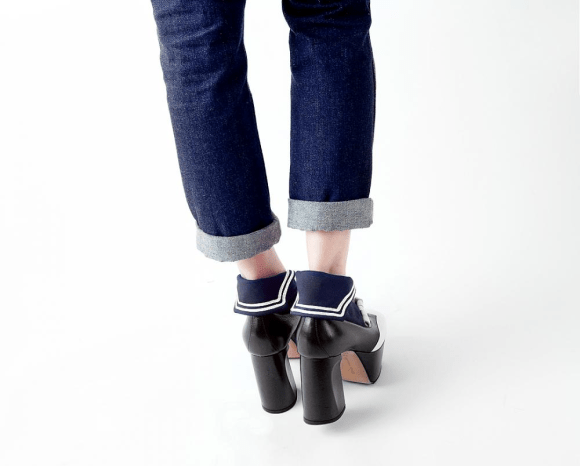 The sailor and button-down socks sell for 3,300 yen (US$28) a pair, while the elaborate needlework of the lace collar socks puts them at a pricier 4,600 yen ($39). All three shirt-style socks can be purchased here on the Erimaki Sox website, although you'll have to get your actual shirts somewhere else.
Source: Erimaki Sox
Images: Erimaki Sox (1, 2, 3, 4, 5, 6, 7, 8) (edited by RocketNews24)
[ Read in Japanese ]