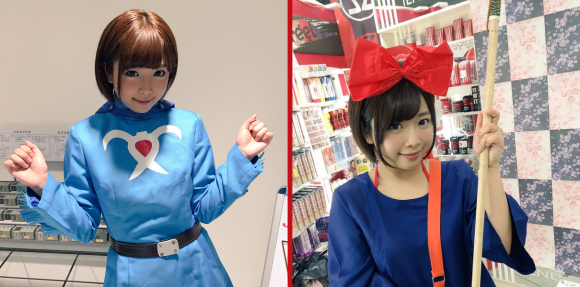 After catching so many eyes by getting naked, Mana Sakura is now getting attention for her outfits as well.
While her primary job is adult video actress, Mana Sakura's professional activities can't be thrust into such a narrow pigeonhole. For example, the 23-year-old Tokyo native is also involved in an effort to simultaneously please the eyes and save the earth by contributing to a video series on eco-friendly lifestyle changes, and now she's dabbling in anime cosplay, too.
Sakura was in Osaka recently, where she made a live promotional appearance at a branch of the Jaran pachinko parlor chain. While there, she signed autographs and posed for pictures, and all while dressed as Nausicaa, heroine of the Hayao Miyazaki-directed film Nausicaa of the Valley of the Wind.
ナウシカになったよ👗 pic.twitter.com/jR7kyVxjD8

— 紗倉まな (@sakuramanaTeee) June 11, 2016
An actress known for salacious on-screen endeavors and one of anime's most pure-hearted, conscientious heroines is an unexpected mix, but Sakura seems to have a genuine respect for the character. Though Sakura obviously has no qualms showing off her body, her costume is faithful to the conservative garb Nausicaa wears throughout Miyazaki's breakout hit.
This isn't the first occasion on which Sakura has combined a meet-and-greet in Kansai with a chance to slip on the outfit of a Miyazaki character. Last month, she showed up in Japan's central region cosplaying as Kiki, of Kiki's Delivery Service fame.
キキになったよ👻♡ pic.twitter.com/7nLQD6lB46

— 紗倉まな (@sakuramanaTeee) May 14, 2016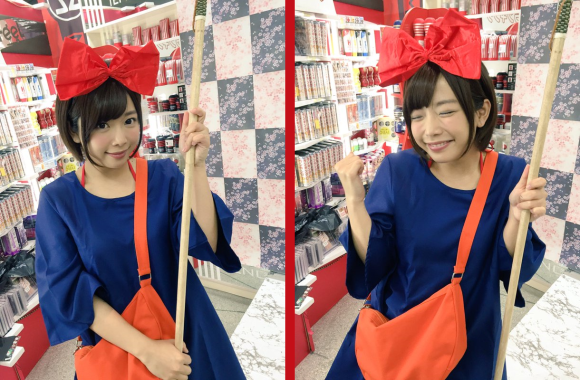 Granted, we don't recall Kiki wearing high heels, which is probably one of a handful of things the notoriously grumpy Miyazaki would have to say about all this. Somehow, though, we doubt too many of Sakura's fans minded very much, and many are no doubt looking forward to seeing which Ghibli character she'll transform into next.
Follow Casey on Twitter, where his money is on either Laputa's Sheeta or a Pom Poko tanuki.
Source: IT Media
Top image: Twitter/@sakuramana0000 (1, 2) (edited by RocketNews24)
Insert images: Twitter/@sakuramana0000 (edited by RocketNews24)