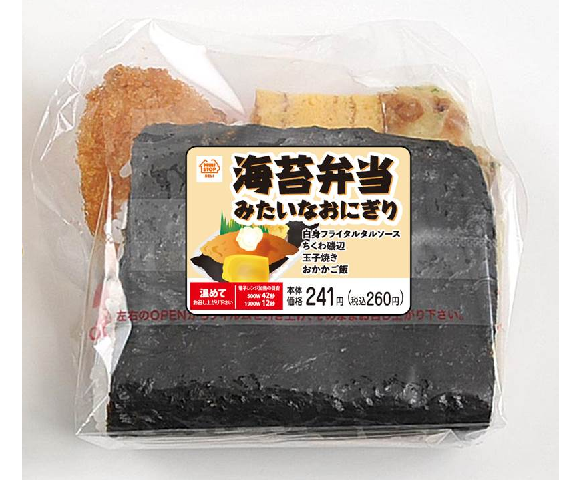 Convenience store's deluxe onigiri is a bento boxed lunch you can eat with one hand.
Every Japanese convenience store has shelves of pre-made bento boxed lunches, which are a great choice if you've got an office desk or sunny park where you can sit down and leisurely enjoy your meal. On the other hand, if you're in a rush and need something you can munch on the go without having to bother with chopsticks or other eating utensils, your needs are better served with onigiri rice balls, which are finger food that convenience stores also have ready and waiting for hungry, hurrying customers.
However, while bento are all about variety, onigiri are usually simple and single-minded, with one type of light filling such as flakes of salmon or a pinch of mixed mountain greens. So what if you want the myriad wonders of a bento, but only have time for a rice ball? Then you'll want the new bento onigiri from convenience store chain Mini Stop, which attempts to pack a boxed lunch into a single rice ball.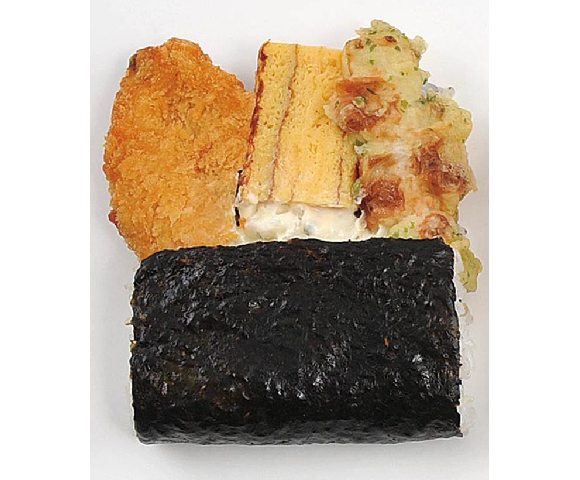 Officially called the Nori Bento Mitai na Onigiri, or "Rice Ball That's Like a Boxed Lunch with Seaweed," the heavyweight-class onigiri features a piece of deep-fried whitefish, piece of thick-cut tamagoyaki Japanese-style omelet, and a length of chikuwa fish sausage. These three star ingredients are set in a bed of white rice mixed with bonito, wrapped with a piece of nori seaweed that gives you a place to grip the palm-sized combo meal. Mini Stop recommends warming it in the microwave before eating, just like you would with an orthodox boxed lunch.
The bento rice ball is on sale as of February 20, priced at 260 yen (US$2.35), which is about twice what normal, single-ingredient onigiri go for in convenience stores. We're keeping our fingers crossed that it turns out to be a hit for Mini Stop and convinces rival chain Sunkus to bring back its bacon cheeseburger onigiri.
Source: @Press via Entabe
Images: @Press