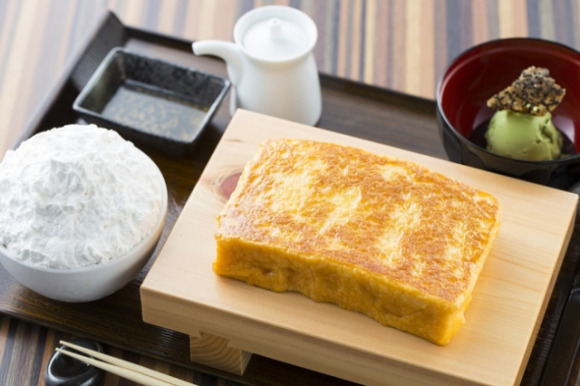 A Shizuoka cafe has 'laid' out a spread of tasty egg delights that mirror classic Japanese and Western breakfasts, as well as new ovoid desserts!
The simple egg goes a long way in cuisine. You can boil it, fry it, scramble it, poach it, separate the yolk and whip up the white into meringue, mix it into cake batter, or use it as a base for an omelet. And Japan knows their eggs better than anyone: the country boasts Sanrio's lazy egg mascot Gudetama and recent yummy 'gaming egg' innovations as well as the classic Japanese lunchbox and breakfast treat tamagoyaki, a sweet fluffy omelette which occasionally comes in sandwich form.
Speaking of tamagoyaki, it looks like Café Brunch Tamagoya, the popular egg-themed café from Shizuoka, has added a particularly scrumptious example to their line-up! It comes with an inviting bowl of steamed white rice, and the typical side bowl of pickled savory items… The perfect way to start your day!
But wait, it doesn't smell like tamagoyaki at all. Which is, of course, because it isn't tamagoyaki.
▼ When life gives you eggs, make French toast that looks like an omelet!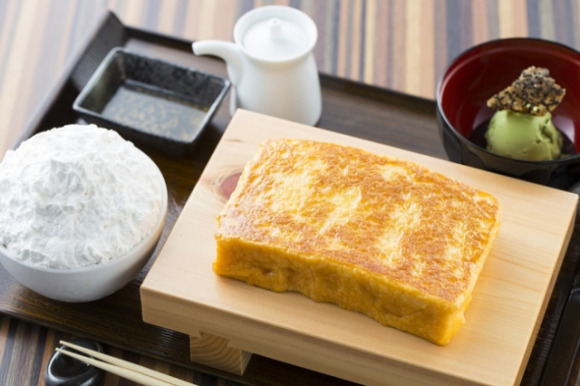 The Tamagoya (literally "egg shop" in English) café is a beloved gourmet hot spot in its hometown of Mishima, Shizuoka. People have been known to faithfully queue in droves in the hope of procuring one of their exciting sweet or savory specialties, primarily crafted from the city's prized and homegrown "Sunrise Eggs".
Their latest prize dish is that scrumptious breakfast plate, the Tamagoya-ki. Presumably the café staff just couldn't help making a misleading pun! Even the menu description runs with the theme, describing the tender, silky outside and melt-in-your-mouth luxury of the center. They could honestly be talking about toast or tamagoyaki!
▼ The secret weapon of Tamagoya, Mishima's "Sunrise Eggs"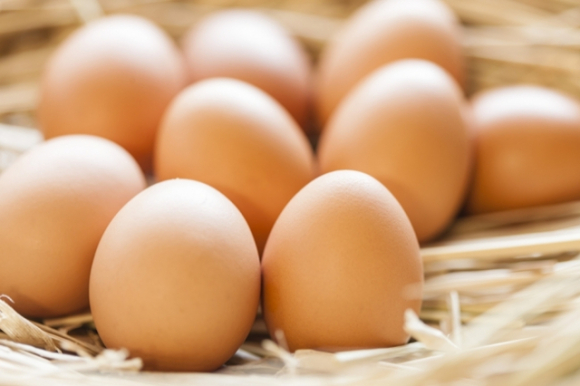 Tamagoya's unique French toast is created with Sunrise Eggs, milk, sugar, vanilla oil and a pinch of salt (plus another, secret ingredient that the chefs won't spill). All the ingredients are blended together to make a sweet, pudding-like base that they use to coat slices of bread, fresh from the ovens of the same café. After soaking in that delicious sauce for 12 hours, the bread is toasted carefully at a low, constant temperature to give it the same appearance as a traditional Japanese tamagoyaki omelet.
Let's take a closer look at the soy sauce in the breakfast set… Surely THAT can't complement a rich slab of sweet toast.
▼ False alarm: it's actually maple syrup!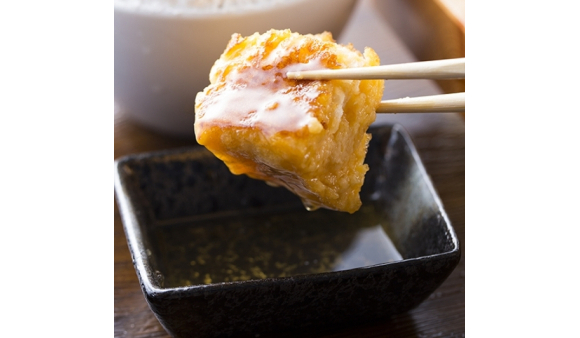 The bowl on the side? That contains semi-dried fruits. They come with a scoop of seasonal icecream, which I erroneously pegged as a scoop of wasabi (wouldn't that be way too much for one slab of tamagoyaki?) Let's not forget our ample serving of white rice, which is actually a Japanese-style parfait, consisting of black sugar syrup gelatine, warabimochi and fruits such as banana and strawberry. A soy milk blancmange coats the parfait ingredients, and the whole thing is topped with whipped cream dolloped into creamy ruffled peaks to create the illusion of rice.
▼ No wasabi, only matcha icecream! Scoop into fluffy white 'rice' and retrieve a decadent chunk of dark gelatine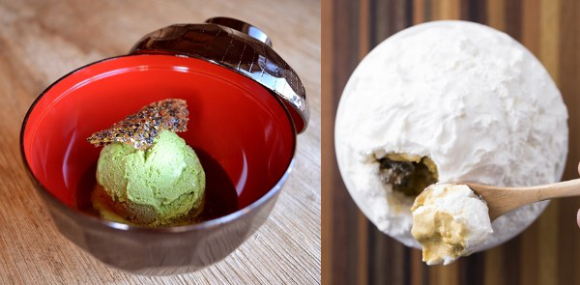 The café only prepares 10 of these gorgeous sets every weekday (20 on weekends or holidays) so you should get in line as soon as the cock crows! You can enjoy this bamboozling breakfast for 1,700 yen (US$15.60).
But wait, there's more. If you're not in the mood for all of that sweet stuff, how about a more savory angle with a fun twist? Tamagoya has you covered, with another new item: the Medamaya-ki. (The pun is wearing a little thin with this one, guys.)
The star of this set is the titular medamayaki, which we know and love as a sunny-side up fried egg. Take a bite and you'll discover that this fried egg is actually a pancake, with a rich yolk sauce perfectly formed into an orb at the top and a white milk sauce coating the rest of the disc. Served up in a cute frying pan, your eyes won't believe your mouth!
▼ A feast for the eyes and the stomach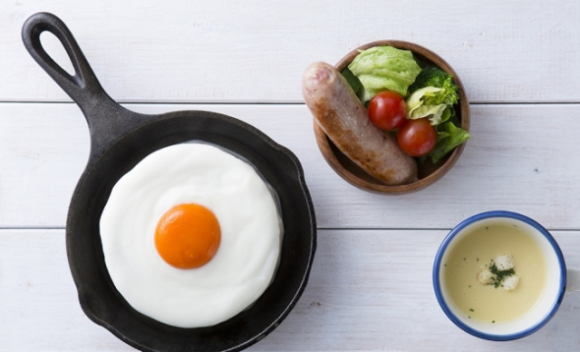 The pancake comes with a piping hot bowl of corn potage, a salad with sausage and an after-dinner coffee, all for the price of 1,200 yen (also limited to 10 meals per weekday/20 per holiday). You might have to unbuckle your belt afterwards!
If you bring along your favorite person to dine with you on both of these specials, you can qualify for a special "lovebirds" discount. They'll take 100 yen off of your combined total for a Medamaya-ki and Tamagoya-ki, and you get the added bonus of being able to share both dishes with your partner. Great incentive to get in on the dating scene, in my opinion.
Our last highlight is the Toasted Egg, retailing at 1,300 yen and served 20 times a day (weekdays and holidays)! This exciting treat consists of shaved ice colored to resemble a boiled egg, using milk, yolk and caramel sauces to create the desired effect. The shaved ice is encased in a shall of meringue, which is then toasted with a blow-torch to give it that crackly, crispy coating.
▼ Would it be out of line to dip the 'shell' in the 'yolk'…?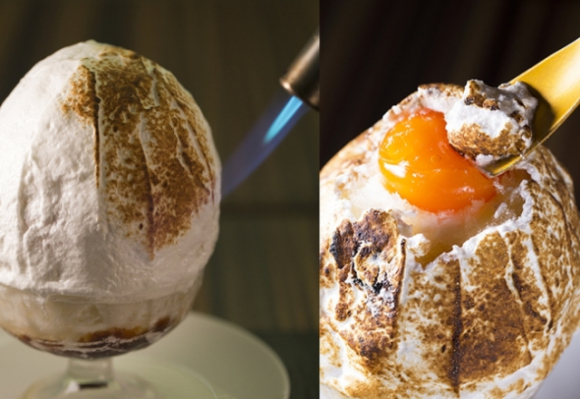 This is a boiled egg you'll be excited to crack open, and you can munch down on the shell too!
Tamagoya also appreciates that you might nest far away from Shizuoka, and so their store is well-stocked with goodies you can take back home or as presents.
▼ Pick up an "egg jelly" to go, for when you want a little egg mousse with your fruit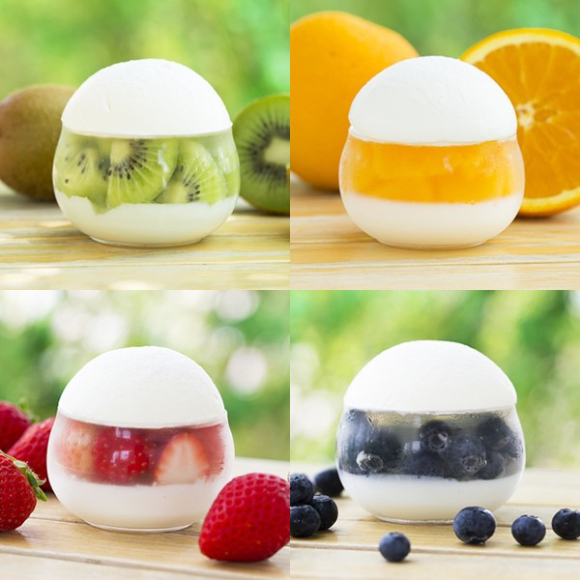 ▼ They also stock shortcakes, cream puffs, bakes and mont blancs in seasonal flavors.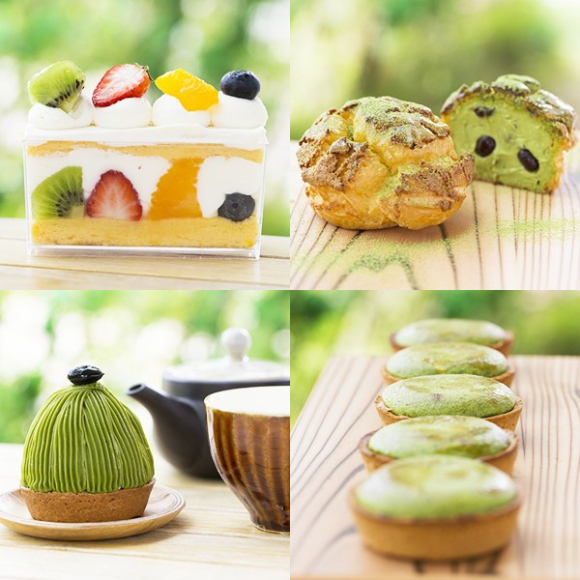 Even if you miss out on the specials, Tamagoya is a true gift to anyone with a hankering for sweets. The sweets that aren't shaped into deceptive egg art are just as incredible to the senses, and are sure to bring you back to roost again and again.
Café Information
Cafe Brunch TAMAGOYA / カフェ ブランチ タマゴヤ
Address: Shizuoka-ken, Mishima-shi, Yasuhisa 322-1
静岡県三島市安久322-1
Open: 9:30 a.m. – 4:30 p.m. (Store open until 6 p.m. on weekdays, 7 p.m. on holidays)
Website
Source, images: PR Times
[ Read in Japanese ]