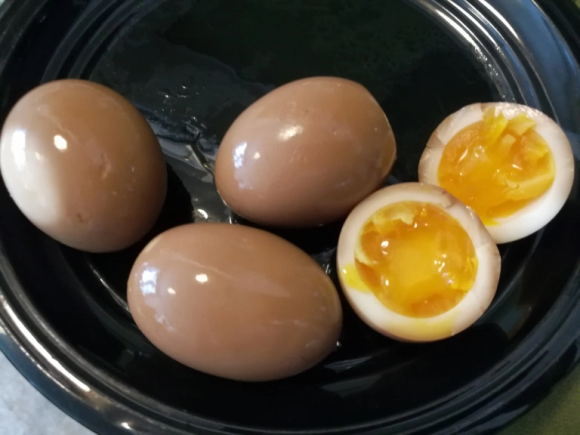 Here're the simple secrets behind these mysterious eggs that video game fans and foodies alike have fallen in love with.
Ah, gaming eggs–those delectable, protein-packed ovals that everyone on Japanese Twitter has been buzzing about recently.
…Wait, come again? You say that the term "gaming egg" has your brains scrambled?
If the first thought that came to your mind was some type of item found within a video game (my first reaction was the eggs found in various Pokémon games), then guess again. Perhaps the following recipe by Twitter user @kagecchi79 will help to lessen some of your shell shock:
【ゲーミング味玉】
1.卵を沸騰した湯に入れ、黄身が真ん中にくるよう回しながら6分ゆで、冷水で3分冷やす
2.水150ml、酒100ml、ほんだし大4、鶏がらスープの素大2、醤油200ml、みりん100ml、砂糖大1、にんにくチューブ1搾りを混ぜ沸騰させ、冷めたら殻剥いた卵を漬ける
3.15時間ゲームして待てば完成 pic.twitter.com/ysxs75aY4y

— かげっち / kagecchi (@kagecchi79) April 25, 2018
"Gaming eggs

Add eggs to boiling water. Gently roll them around in the water for 6 minutes so that the yolks gravitate towards the center. Cool them for 3 minutes in cold water. 
Mix together and then bring to a boil…150 milliliters [5.1 ounces] of water, 100 milliliters of cooking sake, 4 tablespoons of hondashi [a granulated soup stock derived from bonito flakes], 2 tablespoons of granulated chicken soup base, 200 milliliters of soy sauce, 100 milliliters of mirin [sweet rice wine], 1 tablespoon of sugar, and one dollop of garlic paste. Peel the egg shells off and place the eggs in the marinade once it has cooled.   
Play video games for 15 hours and then they're finished."
That's right–gaming eggs weren't inspired by any particular game. Rather, their key feature is that they are perfected while playing 15 straight hours of video games!
@Kagecchi79 went on to share some further gaming eggs cooking tips after his original post went viral (translations below):
"If it's too much work or you don't have the confidence, then just use men-tsuyu [Japanese sauce/broth for noodles]. I recommend the 'Somi no Tsuyu' brand. When marinating in the fridge, use an airtight container and place paper towels over the top."

"If you don't mind a light flavor, then eight hours is long enough. They're really good on top of rice after waiting for 15 hours."

"By the way, if you do marinate them for a long time, the outside of the eggs will become quite salty. In that case they're better if you lightly boil them before eating, which is  good way to spend the minute between rank matching and the start of the actual match."
Other Twitter users egg-citedly tried the recipe for themselves, and the finished product looks quite scrumptuous.
良き!!!#ゲーミング味玉 pic.twitter.com/LOJ7kptVXz

— 華蓮さんは謎解きしたい (@kalenchi) April 25, 2018
In fact, I was curious to see if gaming eggs lived up to the hype, so I decided to try making them myself with a few minor adjustments.
First, I assembled all of the ingredients together. Even if you don't live in Japan, the soy sauce, cooking sake, mirin, and hondashi should be relatively easy to find at any Asian grocery store. Unbelievably, I realized I had run out of the easy-to-use granulated hondashi and only had actual bonito flakes on hand, so I improvised by making my own dashi stock from scratch (I'd like to think that my Japanese friends would do a facepalm yet be mildly impressed). I also didn't have any garlic paste readily available so I minced some myself. By the way, I recommend using Ajinomoto's "Maru Tori Gara Soup," sold in a red packet, for the granulated chicken soup base if you can find it.
▼ Note: Ingredients are not measured to proportion. From left to right, clockwise: soy sauce, cooking sake, mirin, sugar, bonito flakes, granulated chicken soup base, garlic, and water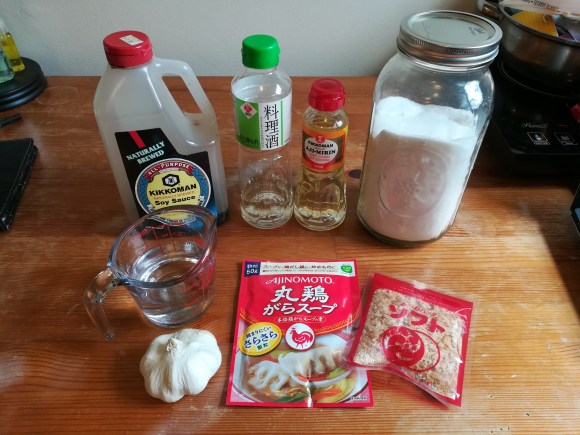 ▼ For reference: What a box of hondashi typically looks like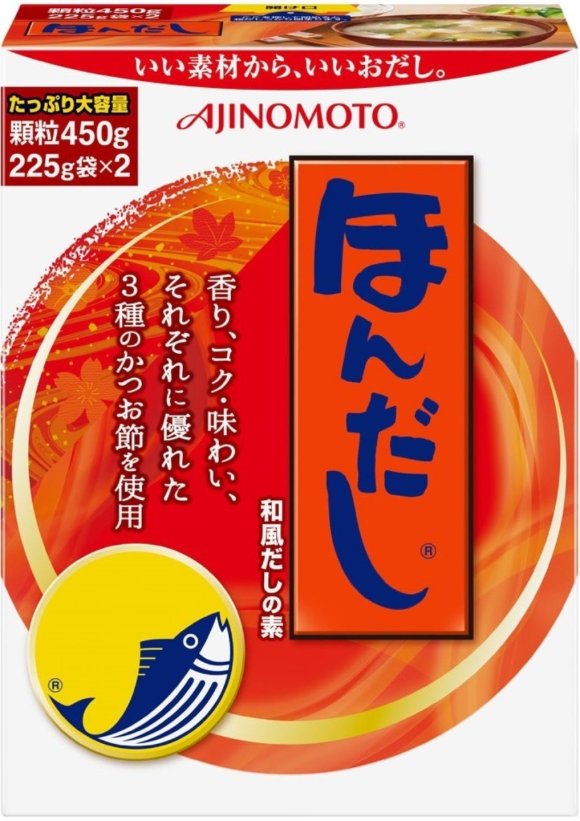 Next, I combined all of the ingredients for the marinade together and then brought the mixture to a boil: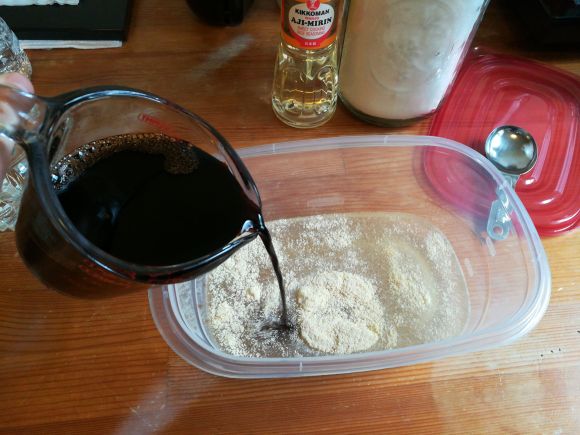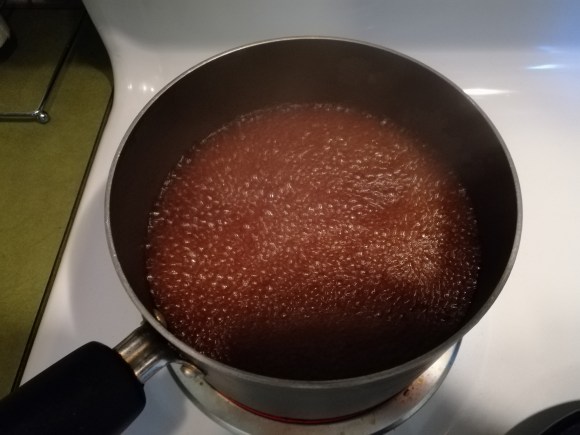 While that was cooling, I then boiled the eggs for six minutes while stirring constantly until they were soft-boiled.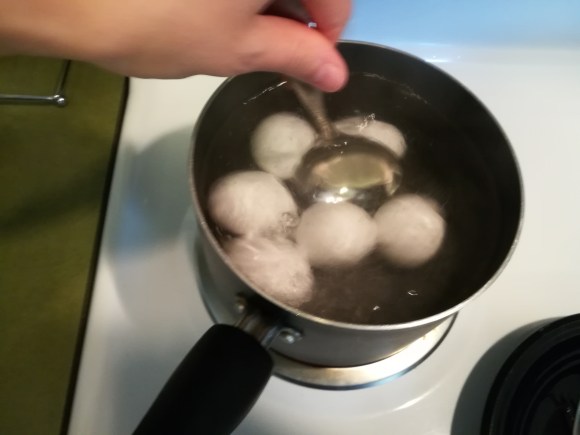 ▼ Subsequently cooling the eggs in cold water for 3 minutes
Then it was time to peel the shells off the eggs and let them begin soaking up the marinade in the fridge: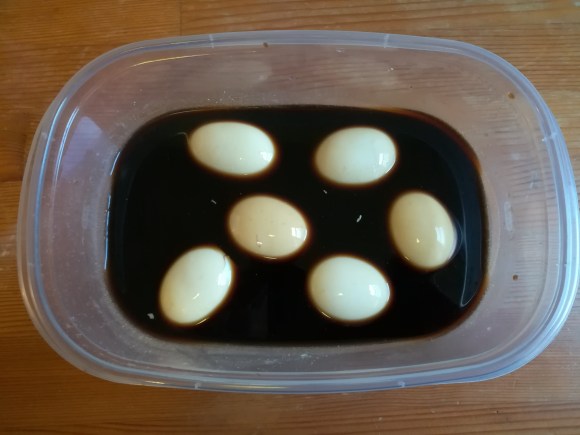 ▼ Good night, eggs! Enjoy your bath and see you in 15 hours.
At this point, I have a confession to make: I didn't follow the instructions egg-actly. Instead of hunkering down to game for 15 hours, I promptly jumped into bed and fell asleep because of an annoying thing called work in the morning. Oops…hopefully that didn't affect their taste as gaming eggs…
After returning home the following day, I opened the container to find that the eggs had soaked up the marinade egg-traordinarily well and were ready for consumption.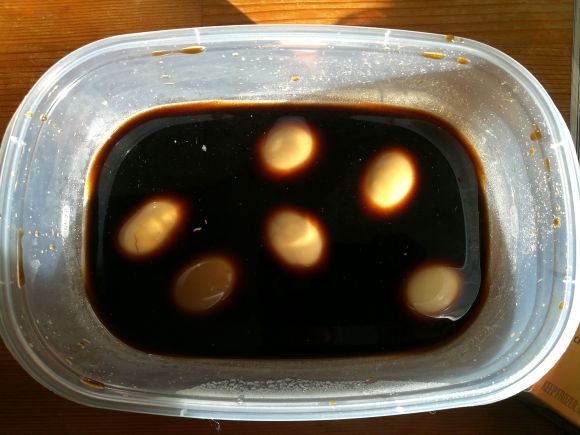 ▼ They were egg-cellent on their own or thrown into another dish. A bit salty, but packed with flavor.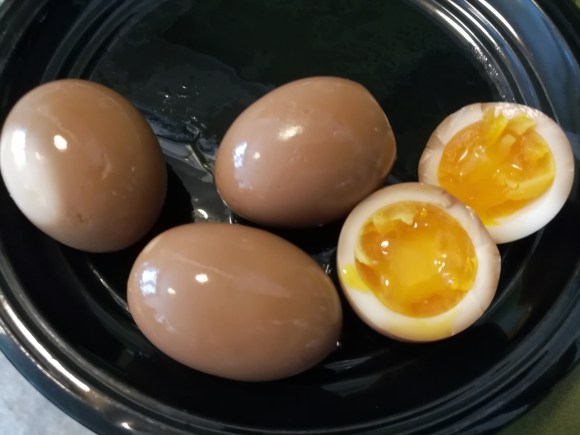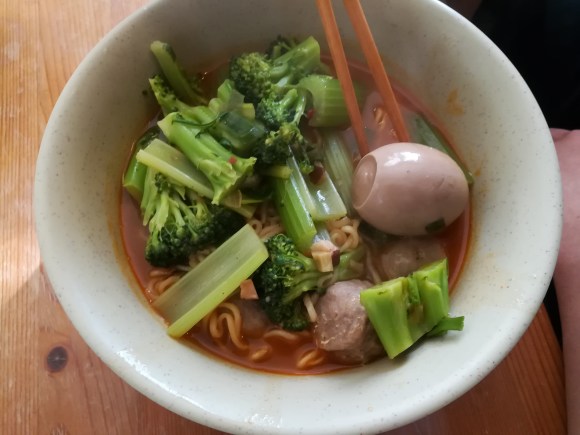 Hopefully you aren't completely egg-asperated by all of the egg puns at this point. If anyone has the resources to make a batch of gaming eggs while actually gaming for 15 hours straight, let us know how they turn out below!
Source: Twitter/@kagecchi79 (1, 2, 3, 4) via Jin
Hondashi box image: Amazon Japan/Ajinomoto
All other images ©SoraNews24