What better way to stand out from the crowd than in a pair of sushi socks! Featuring all the firm favourites, from tuna to egg roll, this unique range of legwear is gearing up to be one of the most sought-after products on the Japanese market this summer. Not only do they look great on your feet, they look even better rolled up because that's when they actually resemble the real thing! Check out the entire collection and see which ones you'd like to have in your bedroom drawers.
The socks are made in Toyama, a prefecture on the coast of the Japan Sea where trout sushi is particularly famous. The range includes seven designs: shrimp, octopus, red caviar, tuna, salmon, egg  and the much coveted masuzushi (trout sushi).
Take a closer look at the socks, packaged and unpackaged, below.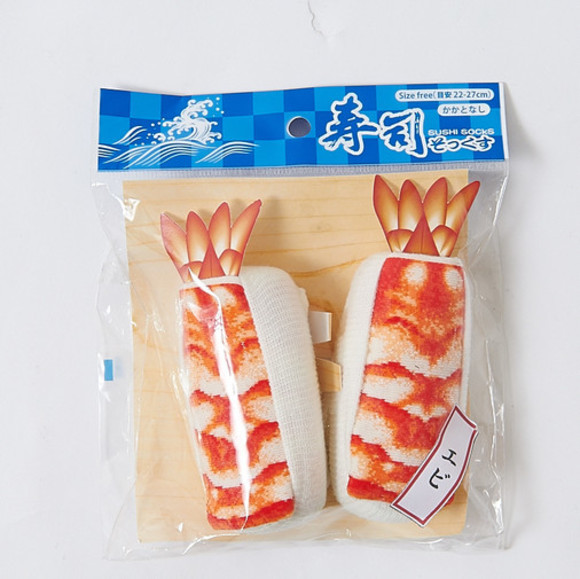 And now for two sushi you might easily confuse at the sushi train as they roll by: salmon and rainbow trout. Here, though, you can see the difference, as the salmon is presented as nigiri-zushi (rice topped with fish) and the rainbow trout is presented in the pressed style known as oshi-zushi, giving it a flatter, tighter appearance.
Toyama is famous for its pressed masuzushi, wrapped up tight in bamboo leaves, with many souvenir shops selling them in flat packs like the one below.
When you open these souvenir packs, though, you'll find three pairs of rainbow trout socks!
For a unique gift, why not pop these on a plate, cover them in cling wrap and present them to your friends with a pair of chopsticks? Perfect for dinner parties!
Best of all, you won't run out of socks as there's one for every day of the week!
Now its time to run to the online store and see if you can grab a pair when they're back in stock! Fingers crossed we won't have to wait for long!
Source: Entabe
Images: Otaku Mode